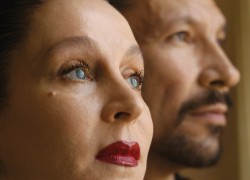 When I cast my mind back to the early years of Opera Atelier, my strongest recollection is the photograph of a baseball pitcher in the programme notes. The picture depicted the moment of repose before the pitcher "winds up" to deliver the ball, which is why this anonymous sports figure ended up as a front-man for the ideal baroque aesthetic. The pitcher's stance, with its raised hip/slouch (think Michelangelo's David and the penny will drop) was in the perfect baroque "S" shape.
I have something of a special relationship with Opera Atelier because I was the first arts journalist to write about the company. It was 1986 and they were mounting Acts 1 and 2 of Monteverdi's Orfeo and Landi's Il Sant'Alessio at the Art Gallery of Ontario's Walker Court, in conjunction with the Vatican Splendours exhibit. It was their first professional gig – meaning that they got paid.
I recall that for most of the interview, co-artistic directors Marshall Pynkoski and Jeannette Lajeunesse Zingg gave me a crash course in baroque opera-ballet, which I, in turn, transmitted to the Toronto Star readers. Much of that conversation and article revolved around that all-important "S". In fact, the "S" stance encapsulates the baroque rigour that was at the heart of any OA production, along with powdered wigs, white face make-up, perfectly rendered period costumes, and sets that were the model of perspective.
Fast forward to 2010. I'm meeting with Pynkoski and Zingg to get their mus-ings on their company's 25th
anniversary. We're in the historic St. Lawrence Hall where OA has its studio and office. (One can't imagine this couple, so steeped in the 17th and 18th centuries, spending their days in a modern office tower.) On the other hand, their ideas about period exactitude are a sea-change away from where they began. Pynkoski breaks it down to academic then, artistic now. "Authenticity was our take-off point," he explains. "We used academia as a way to identify ourselves as a baroque opera-ballet company."
Zingg points out that the number of gloves that were used in a certain baroque opera-ballet is clearly not an artistic concern today, but in those beginning years, it was. "We had to give ourselves up to the rigour of discipline," she says, "and the poring over of period documents and dance notation. We were obsessed. We had to find our language. It's only once you have mastered the authentic, that you can grow beyond style." Thus, Opera Atelier's mandate is, in their words, "historically informed" productions. The company is an "interpreter of period opera"; it does not engage in faithful re-creation.
The Ah-ha! moment happened in 2002 during a rehearsal of Charpentier's Médée. French haute-contre tenor Cyril Auvity was playing Jason and American mezzo-soprano Stephanie Novacek was Médée. As Pynkoski describes the scene, Jason is lying to Médée, working on her to fall in with his plans, and she keeps pushing at him, resisting. Suddenly, Auvity turned away from Novacek and grabbed his hair in frustration. Says Pynkoski: "It came naturally out of the singer. It had never been given as a stage direction, but I certainly wanted to keep it in. My first thought was that he'd have to be careful about his wig. Suddenly, I had an epiphany. Is this opera about a wig? Is that what we do?"
In one fell swoop, wigs were banished, make-up was toned down, and costumes were simplified, particularly the volume of the women's dresses. This allowed director Pynkoski to layer in more athletic movement for the singing actors, while choreographer Zingg could take creative liberties with the dance. Says Zingg: "Everything became so much more natural and comfortable for the artists. Nothing looked studied." As for the "S", it's still there, but as an accepted normal, as it were. More to the point, the rehearsal periods (which, incidentally, are the longest of any opera company in Canada) became far more exciting as places of discovery.
At this point, Pynkoski quotes the great French playwright/film director Jean Cocteau. "He said that every scene has a bull's eye, and that's what a director tries to hit – the reason why that scene is there. The bull's eye has become a mantra for us. Style is not the bull's eye. Style is what we use to take aim, but if style gets in the way of the story, then something's wrong. The bull's eye means drama and emotion over style."
"In other words," says Zingg, "you have to trust the vehicle. In French opera-ballet particularly – Lully, Rameau, Gluck – everything serves the story. You have to recognize the dramatic thrust which is relentless. There are no long arias to hide behind, and dance is much more than divertissements. An opera-ballet is all of a piece and everything is a perfect fit. The more you rehearse, the more colour and texture you find. You never tire of great material."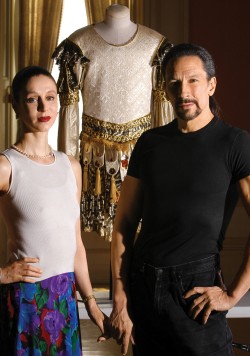 A case in point is the company's upcoming production of Handel's pastorale Acis and Galatea (Oct. 30 to Nov. 7 at the Elgin Theatre). The company had mounted a "sweet" (Pynkoski's word) production in the 1991-2  season. The intervening 20 years, however, have led to a radical rethink of the work. As Pynkoski points out, the first go-round was the typical treatment – the nymph Galatea and shepherd Acis are adorable, the music is pretty, Acis's murder by the giant Polyphemus is sad, but Acis's metamorphosis into a fountain by the semi-divine Galatea is gorgeous.
Two decades later, Pynkoski and Zingg now comprehend what initially went sailing over their heads, namely, what Ovid and Handel were really saying, and the caustic 18th-century irony of John Gay's libretto, Gay being the noted satirist behind The Beggar's Opera. They see this pastorale as a serious work. Damon, usually
treated as the benign friend of Acis, is the devil in disguise. Galatea is still adorable, but she also has an edgy side manifested in her "fierce desire." When Polythemus sings of taming his flame, it is not his own lust he must master, but the feisty Galatea. Also running through the opera is the thread that although the gods find mortals irresistible, they also destroy them. Says Zingg: "A specialty of classical literature was metamorphosis. An 18th-century audience would have known the background of the myth and understood the immense significance of Acis's transformation."
On reflecting over these past 25 years, the couple sees Opera Atelier's journey to international glory as being organic. Just as their changing viewpoint towards mounting period productions happened in a natural fashion, so did the pulling together of the creative team that made their success possible. "There is no way," says Pynkoski, "that anyone could have assembled this group of people in one go."
First, some background. Being ballet dancers, Pynkoski and Zingg became obsessed with the dance music by French composers they didn't know, which was being played by Tafelmusik Baroque Orchestra. (They had become fans of the ensemble after someone gave them tickets to a concert.) If there is dance music, they pondered, there must be dances, and so they took themselves off to Paris in 1983, performing at the salacious Moulin Rouge by night, burrowing into the archives of the Bibliothèque Nationale and the Paris Opera by day. That is when they discovered that the ballets were also full of singing. A year later, they came back to Toronto besotted by opera-ballet, and began to meet other people with an interest in early music. A company was never on the horizon.
As it turned out, in 1985, Anne Roberts, a Royal Ontario Museum curator of vintage clothing, heard about the couple and tracked them down. She invited them to perform at the ROM. Because they had danced with the Canadian Opera Company, they knew singers and a harpsichordist. A friend made faux-18th century costumes, and so they developed a performance that was more a lecture/demo. "At this point, our company was a phone on the dining room table," says Zingg.
But like Mickey and Judy putting on a show in the barn, the seeds of Opera Atelier were being formed. The late viol player Peggy Sampson introduced the couple to Jeanne Lamon, artistic director of Tafel-musik, which began an association that continues to this day, with the ensemble as the orchestra for Opera Atelier productions. When a jury at the Toronto Arts Council derided Opera Atelier for calling itself an opera company when it didn't have a resident music director, enter David Fallis of the Toronto Consort, husband of Tafel-
musik bass player Alison Mackay. Set designer Gerard Gauci came aboard after a picture of a baroque dancer he painted appeared on the cover of the CBC radio guide. They found costume designer Dora Rust-D'Eye through her children who attended their dance school. She was a retired public health nurse who happened to be an excellent seamstress. Lighting designer Kevin Fraser also materialized by osmosis. "People just appeared at the right time and we all learned our craft together," says Pynkoski.
And the future? A big event of the 2011-12 season is a co-production with Glimmerglass Opera of Rameau's Castor and Pollux with costumes by exclusive New York couturier Ralph Rucci. (The $150,000 costume budget is the largest in the company's history.) Also coming down the pipe is a three-opera season, and dabbles into the 19th-century repertoire. That wish list includes Beethoven's Leonora (the forerunner of Fidelio), early Rossini and Wagner, and reaching up to Debussy's 20th century Pelléas and Mélisande.
When I point out that eyebrows might be raised at a baroque company mounting these operas, Pynkoski bristles. "When we put them on, it will be because we have something important to say about them. Opera today is static. It makes us angry. I love what opera can be, but I hate what it is."
Becoming one of the most famous baroque opera-ballet companies on the planet was the outcome of the first 25 years. The next 25 should be very, very interesting as Opera Atelier widens its repertoire and gives established opera companies a run for their money.
Paula Citron is senior dance writer for The Globe and Mail, arts reviewer for The New Classical 96.3 FM, dance previews contributor to Toronto Life magazine, and associate editor of Opera Canada magazine.