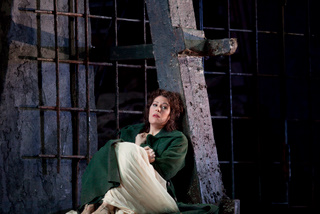 It was almost three years ago that soprano Sondra Radvanovsky walked out onto the stage of the Luna Gala at Roy Thomson Hall and sang the Bolero from Verdi's I vespri Siciliani. The audience was enthralled – and puzzled. Who was Sondra Radvanovsky, and what was she doing at a gala celebrating Canadian opera singers?
"People came up to me asking where I came from," Radvanovsky told me when I spoke with her in New York City this past January.
"I told them that I've been living in Oakville for six years.'" I was sitting with Radvanovsky in a café close to Lincoln Center, where she had sung the opening performance of Verdi's Stiffelio with the Metropolitan Opera the previous night. Just down the street was the apartment she was staying in with her Canadian husband, Duncan Lear.
Radvanovsky hasn't sung here in Toronto again, in concert or in opera. But that is going to change. On March 20 she is giving a concert in Roy Thomson Hall with baritone Dmitri Hvorostovsky, a frequent and much-loved visitor to Toronto. On May 8 she sings the Verdi Requiem with the Grand Philharmonic Choir under Howard Dyck. And next October she opens the new season of the Canadian Opera Company with her first Aida.
Radvanovsky is regarded as the leading Verdi soprano of her generation. Her repertoire is well-stocked with Verdi operas, including what's become her signature role, Leonora in Il Trovatore, which she has performed something like 165 times. Yet she also sings many other operas, ranging from Eugene Onegin and Rusalka to Cyrano de Bergerac, Manon Lescaut and Susannah, with Maria Stuarda and Norma coming up.
After living here for nine years, Radvanovsky is still widely referred to as an American singer. Even the COC describes her as "the stunning American soprano" in their brochure for next season. So I started our interview by asking her whether she felt Canadian in any sense. Her answer surprised – and delighted – me.
I call myself Canadian. I live in Canada. I don't have a Canadian passport, but I'm a landed immigrant. So Canada really is my home. I was born and raised in the States, but once I found Canada, it just felt like home to me.

Does the fact you're doing this concert in Toronto mean anything special you?
Yes, absolutely. I'm so excited. It doesn't get any better for me than singing in Toronto.

You've been singing with Dmitri Hvorostovsky a great deal in the past couple of years. I heard you in Trovatore with him in San Francisco, and the rapport between you two was evident. It made the story even more complicated and dramatic.
From the minute Dimitri and I sang with each other there was chemistry on stage. You can hear it on the duet CD from our concert in Moscow almost two years ago. That was the first time that we had sung together. We're always joking and teasing each other. He's like my brother, we get along so well.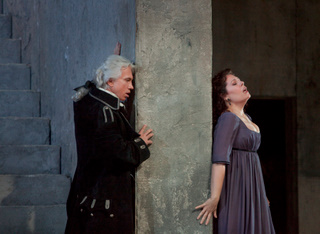 Why are you doing a duet from Eugene Onegin, when the rest of the programme is mostly Verdi?
Dmitri had said he wasn't going to sing Onegin any more, because he had done enough Onegins in his life. But it had been my dream to sing Onegin with him. So I said, "Fine, then you're doing the closing duet with me."

Would you like to sing more often in the Toronto area?
I'd love to sing more at home. It's nice to sleep in your own bed. I've hardly been home since August.

I know, because the only way The WholeNote could catch up with you was for me to come to New York. But that will be changing, since you are finally singing with the Canadian Opera Company.
Yes, I'm opening the season with Aida in October. It's my Toronto opera debut, and it's also my debut singing the role of Aida. So I'm really, really excited. I'm also going to do a little concert in the COC lunchtime series during the Aida run. I'll be singing with the COC a lot in the next few years.

Do you find much difference between the States and Canada?
There's a different mentality. I prefer the Canadian mentality because Canadians are so much more rooted in Europe, and that for me is very important. I find Canadians more open and liberal. And I really like that.

So you plan to stay in Canada?
I love Canada. I never want to leave Canada – never.

How did you meet your husband?
Through Michael Schade. My husband and Michael went to St. Michael's Choir School together. I was singing Musetta at the Met and Michael was singing The Magic Flute. He said, "My best friend is in town, so let's go to dinner." I hesitated. But we had dinner - and Duncan and I were married a year later.

Having your husband here with you must make a huge difference in your life.
Huge – he travels with me all the time. He's my rock. The travelling is a really tough part of this job, so it's great. He's my business manager. I sing, and he does everything else.

Was it difficult for you and your husband to decide where to live after you were married?
During the first year of our marriage I was still living in New York and he was working in Canada, but that was impossible. So we really had to think long and hard. Europe was an option because my husband was born in Britain, so he has EU citizenship. But I said, "You know, Duncan, I really love Canada. There's no reason for me to stay here in the States." We lived near the lake in Oakville, on the same street as Michael. But we've just bought a house in Caledon, on ten acres.

Plácido Domingo is conducting you in Stiffelio. You've worked with him so much – has he had an influence on your career?
I really don't think I'd be here right now, singing at this level, without him. He is a huge part of my career. He's a great musician, and he does so much for opera.

What is it like having him conduct you, especially after having sung with him so much?
It is surreal, actually, to look down in the pit and see his smiling face. Last night he was blowing me kisses after my first aria and I started thinking about how it was because of him that I decided to become an opera singer. It was when I was 11 years old, and I saw him on TV in Tosca.

Last night in Stiffelio, I really felt your intense commitment to what was happening dramatically.
I love being on stage. That's something that I see in Plácido. He needs opera to sustain his life – and I really have that same passion too. When I don't sing for a couple of days I get into a funk. Singing is a part of me. Being on stage is such an adrenalin rush. I get to live another life for three hours of my own life.

You made Lina so believable.
That's what I try to do. It's very fulfilling for me as an actress. I was a theatre major in college as well as a voice major, so I always try to bring out what the character is feeling, and show what I would do if I were feeling those things. I've never betrayed my husband, as Lina did, but we've all had those thoughts about another person, or whatever, so how does it make me feel and how would I react?

I have to be really on my toes with someone like José Cura, who is singing the role of my husband, Stiffelio. José is a real singing actor. He's magnetic, really. And we are both quite intense. So every night we do things a bit differently. That's exciting to me, because if it were always, "Okay, on this beat I stomp my foot and on this beat I raise my hand," I'd be bored to tears. I don't want to just stand there and sing. People don't go to opera just to hear beautiful music. They want to see drama.

Does that mean that the ensembles should be as dramatic as the arias?
They are. They're the inner thoughts that the characters are having on stage. Just because there's more than one person singing doesn't mean you stop acting. I don't think that's what Verdi wanted.

You do sing lots of other repertoire, but Verdi seems to be your main focus.
I love, love, love Verdi – the lines, the music. It just does something to me. My goal in life is to sing every Verdi role that I can.

A couple of years ago you were saying that you will never do Aida, and now you are doing it in Toronto. Are there any Verdi roles that at this point you think you will never do?
I think my days of singing Gilda in Rigoletto have come and gone. La forza del destino and Un ballo in maschera are planned. And I still want to do Otello, Simon Boccanegra and Nabucco.

What about baroque music?
I don't like singing it. Mirella Freni told me, "You know Sondra, the audience will know if you don't like what you're singing. They sense it. Sing what you love and they will love you."

Mozart? You did some earlier in your career.
I despise it! I love listening to other people sing Mozart. But I feel like I'm in a straightjacket when I sing Mozart. It's beautiful music – it's just not the beautiful music for me. Everybody says that Mozart is so good for the voice. But for me early Verdi does the same thing.

When you gave a solo recital in Russia last May, the Russian press was reporting that your great-grandfather was decended from Russian nobility.
That's what I was told. My great-grandmother worked as a servant to a Russian prince outside of Moscow. My grandmother was illegitimate, but the rumour was that the prince was her father. She grew up in Czechoslovakia, married a Czech, and moved to the States before my father was born. Unfortunately I never really got much of the history.

Your voice matches so well with Hvorostovsky, who of course is Russian. Do you think your voice is Slavic in colour?
I think so. I have the dark colour. But I also have that Scandanavian brightness from my mother, who is Danish. It's like Birgit Nilsson – that laser quality, that focus in the voice. People sometimes call my voice steely. I think the steely quality is what makes it carry out into an opera house.

What singers do you admire most for your repertoire?
Maria Callas and Leontyne Price – but for me Callas is really it. Opinions about her are really divided. With my voice too, people either really love it or really hate it. I have a fast vibrato. I can't do anything about it – it's what God gave me. Something about Callas' voice just speaks to me. It was not a beautiful voice, per se, especially up high. She was never afraid to make an ugly noise for effect on stage. But she does every dynamic, every inflection in the score. It's acting with your voice – that's what I'm trying to do.

Verdi, for example, gives you everything in the score. He tells you how to sing it – the dynamics, the words, everything. But many singers overlook the expressiveness of the voice for vocal tricks or for stage tricks.

Like Leontyne Price, you have that ability to sing very softly and still reach the back of an opera house as large as the Met.
A voice teacher once said, "You know, Sondra, you can sing really loudly, but sometimes it's more impressive to sing softly because it will grab the audience's attention. They won't expect it. So never sing louder than the point of lovely. Once you go past that point, it's no longer expressive – it's just loud." You really have to be judicious about where you give 150 percent, and where you sing softly, too. There has to be a balance, because you never want to lose your audience's attention.

You recently revealed that you had surgery on your vocal chords eight years ago.
Yes, it's very common. It's like a sports injury. But there is such a stigma attached to it, and I wish there wasn't.

Why is there that stigma?
Because people assume that you misused your voice.So many people think that if you have surgery, you're not singing properly. If a football player tears a rotator cuff, everyone says, "He'll be back, no problem." But if a singer injures her voice, everyone says, "You see, I told you she is singing repertoire that's too heavy," or, "She just doesn't know how to sing properly."

But there are, unfortunately, singers who have wrecked their voices. We put a lot of wear and tear on the voice, so we need to develop a good technique, or else the voice will crack sooner or later. The problem nowadays is that the record companies and the opera houses push young singers before they are ready.

How did you avoid that?
I had a very good foundation and I was surrounded by smart people who gave me wonderful guidance. They would say, "Sondra – not yet. No, you can't do Aida or Tosca yet. Take it one step at a time." Larger voices like mine take longer to develop. Even minor changes make a huge difference.

The greatest gift I could have would be to sing on stage and sit in the opera house at the same time. I would love to hear my voice live, just once. But since that's impossible, I need to have another set of ears – my teacher, my coach, my husband, or my manager – listening and saying, "Be careful, Sondra, pay attention to this."

My voice has gone through a big change in the last year and a half, since I left my former voice teacher. I had been with her for 17 years, but we no longer quite saw eye-to-eye on technique. I came to this big realization that I own my voice. I know how to sing. That has given me new-found confidence.

Upcoming Performances in the Toronto Area
• Sondra Radvanovsky and Dmitri Hvorostovsky perform at Roy Thomson Hall on Saturday, March 20 at 8.00 with L'Orchestre de la Francophonie conducted by Constantine Orbelian.
• Radvanovsky sings on Saturday, May 7, at the Centre in the Square in Kitchener with the Grand Philharmonic Choir and the Kitchener-Waterloo Symphony under Howard Dyck.
• Radvanovsky performs with the Canadian Opera Company at the Four Seasons Centre on October 2, 6, 9, 12, 15, 18 at 7.30

Metropolitan Opera HD Broadcast
Radvanovsky will be in the HD broadcast of Live from the Met in April of 2011, along with Dmitri Hvorostovsky.

Recent Recordings
• Dmitri Hvorostovsky & Sondra Radvanovsky: Verdi Opera Scenes, with the Philharmonia of Russia, Constantine Orbelian, conductor (Delos CD)
• Sondra Radvanovsky: Verdi Arias, with the Philharmonia of
Russia, Constantine Orbelian, conductor (Delos CD)
• Alfano: with Sondra Radvanovsky and
Plácido Domingo, Orquestra de la Comunitat Valenciana, Patrick Fournillier, conductor (UNITEL DVD)

Websites
www.imgartists.com/?page=artist&id=91
www.facebook.com/pages/Sondra-Radvanovsky/43465428333