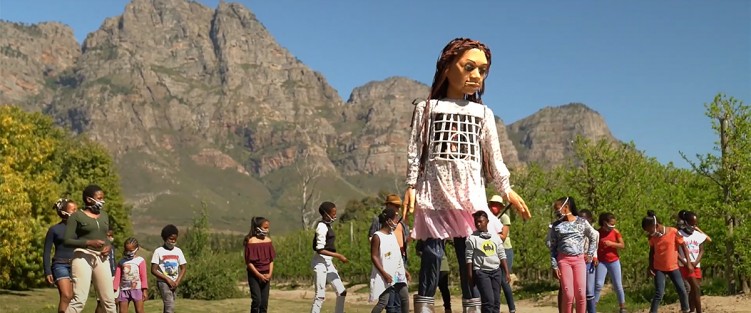 "Amal" is an Arabic name, translated to English as "hope". "Little Amal" is a 12-foot-tall puppet of a ten-year-old Syrian refugee girl, created by Handspring Puppet Company. "Walk with Amal" created by The Walk Productions has made Little Amal into a symbol for human rights, and specifically refugee rights: since July 2021, Little Amal has walked 9,000 km in 13 countries looking for her mother, following the same tremendously dangerous route that millions of refugees of the global majority take by foot.
Now Luminato Festival is bringing Little Amal to the Greater Toronto Area from June 7 to 11, for 13 Walk with Amal parades, spanning Brampton to Scarborough, and colouring Toronto's concrete-and-condos aesthetic with vibrant, celebratory arts of all forms. Each walk will tell a particular story in Little Amal's quest, and every walk will be a unique worthwhile experience, with completely different arts. If you are lucky enough to go see them all, you will have the opportunity to know the full theatrical journey of Little Amal's story.
Why bring Little Amal to Luminato?
I chatted with Luminato Festival's artistic director Naomi Campbell and producer Caroline Hollway about Walk with Amal.
Campbell shares: "When I first heard of it… it had an attraction immediately to me, both as a beautiful art project that was obviously going to have a tremendous impact, and that was telling a really important story for our times. I got to experience the magic of the creature herself in New York in the fall. It's transformative."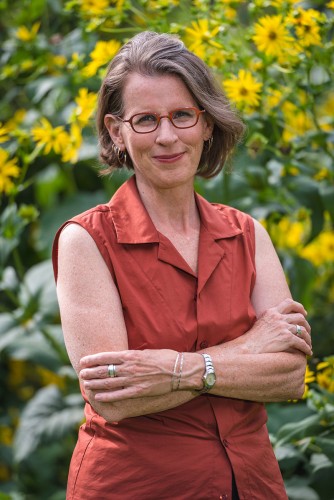 The other great appeal of the project, she says, is how many other people it can include. "We're working with dozens of organizations and hundreds of artists. We can take her to different parts of the city. Anybody who happens to be passing by is just going to stop in their tracks and go 'what is going on? Who is she? And can I participate?' Professional artists, community artists and the general public can all be on the ground together at the same level, and be part of the same event."
Hollway points out that half of the world's refugees (15 million people), are minors. "I think we as a society really need to be thinking about how we embrace people who come to our shores. They come here because we are lucky enough to have land and a society that can welcome them." The public is increasingly questioning the value of the arts in our communities. Walk with Amal's grounding of art in life, art for everyone, and art as a medium for our communities' sustainability, is a reminder of its value.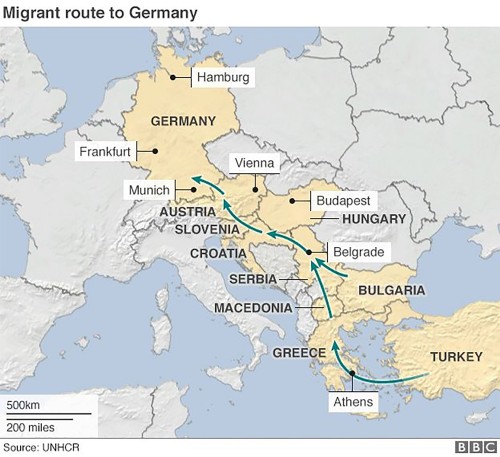 Window into The Walks
This is possibly one of the most widespread arts events Canada has experienced: Multiple organizations – almost 100 collectively across the five days – are involved in each parade. For Luminato, Walk with Amal shows the power of creating cross-organizational support networks, for more widespread audience engagement and for more meaningful service to our communities.
Each parade has a lead artist who is curating it. Hollway described Luminato's process of bringing together partners for each location. They started with identifying the areas where most refugee families live. Then they invited refugee-inclusive organizations there to collaborate. Inevitably, each invited organization would ask Hollway to invite several more in their network, and the list of collaborators grew. Hollway was amazed at the pre-existing network of social, and governmental organizations already working together to support people with refugee status. Rather than asking whether or not they could join, Hollway asked "How would you like to be involved?" paving the way for participants to envision their own artistic collaborations for each walk.
This highly participatory, process-based approach to planning Walk with Amal is intriguing, in how it might allow more fruitful multicultural artistic collaborations.
Radical Joy
Joy and celebration are at the core of Walk with Amal, with energy and sheer artistic beauty. "She will be honoured with songs, gifts, and with flowers, and all sorts of things," Hollway said, because most participating organizations want to focus on the joy: "Those who migrate here also need to celebrate their lives. They need to have music, they need to have friends." This radical joy is what transports audiences to an alternative reality of what could be possible for our city.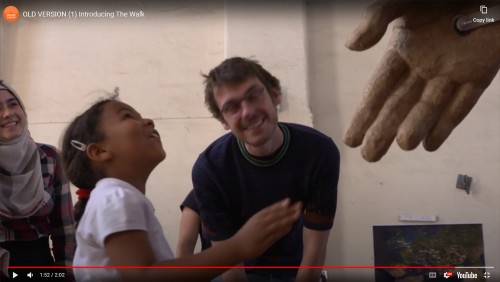 A Syrian refugee I connected with offered this thought: "Just like little Amal, I've been roaming this earth for ten years looking for a place that I can call home again…she represents a whole generation of people who, in spite of their will, left everything they had ever known, and had to rebuild themselves, taking pieces of the countries they visited with them, in the hope of finding peace…The label 'refugee' does not define us. We are citizens of the world despite what we went through and where we came from. [Amal] reminds us that what people call 'casualties of war' are not just numbers. We are your neighbours, your friends, and possibly your family. Having a symbol like her gives us hope and makes us feel seen and heard despite the politics and the agendas."
In keeping with this focus on joy, the more sobering realities of difficult refugee migration are less explicit in the parades. So is there a danger that audiences will misunderstand the full extent of the refugee crisis? Luminato Festival has an education kit on its website, which deepened my compassion toward migrants. However, it does not offer insight into the difficulties, and particularly the racism, refugees of colour face. In some of the Walks, Luminato is also partnering with War Child and Médecins Sans Frontières to provide educational and action information, including Médecins Sans Frontières doctors occasionally demonstrating some of what they do in real time upon refugees' arrivals. How do you find a balance between radical joy and struggle?
What About Music?
"There cannot be a parade without music!" Campbell says. "I'm interested in Toronto not just being downtown. The range of communities that we have is so often expressed through so many different kinds of music in Toronto." She mentions the significance of having musical performances by professional artists with refugee status. Having racialized refugee artists on Luminato's stage provides a sense of worthiness and respect for the wealth of culture they bring to Toronto, stretching racial barriers despite their marginalization.
There is a great variety of musical genres and styles being showcased at each parade. There are various choirs involved in the walks, alongside instrumental ensembles and professional bands from across the GTA. The classical music industry typically assumes white eurocentric music-making to be the definition of excellence. Walk with Amal steps out of the holds of this white aesthetic idealism, with classical musicians being only a part of the overall professional music programming. This pluralism in artistic curation is a leap in the right direction, showing the possibility of leaning into what makes Toronto – the most multicultural city in the world – so beautiful.
What is Little Amal's legacy?
This question is on the Walk with Amal website, so I posed it to Campbell and Hollway. "We've done some blind dating" Campbell gleefully shares, talking about how Walk with Amal includes them connecting organizations that would otherwise not meet, in the hope that this would spark future collaborations between them. How can hope, as a fine sentiment, translate into action for social legacy in the city, specifically in regard to the organizations in the 13 parades?
Campbell points me to an insight expressed by Amir Nizar Zuabi, artistic director of the Walk: "There are places that this 12-foot-tall puppet, not a real person, has had access to in terms of people in power – people [who] will meet a puppet of a ten-year-old girl," Zuabi says. "But will they meet a real ten-year-old girl who's just arrived from across the ocean and who is without support and home?"
The insight applies to organizations like Luminato as well, Campbell says: "The challenge that arises is being as inclusive of actual refugees as they have been of Little Amal. It also applies to the public: upon encountering Little Amal, will they then have enough curiosity to search about refugee experiences?" Hollway concurs: "I think it does all come back down to that little tagline, 'Don't forget about us'."
Indeed this is the hope, especially for refugees of colour. Yet, in this post-pandemic era are we – Luminato, and all of us artists – called to do more than hope? Will the entrenched music and arts institutions involved in welcoming Little Amal start systematically including refugees of the global majority in ways beyond arbitrarily welcoming them into spaces that still hold racist expectations of assimilation, tokenization, or othering? What is Luminato's own responsibility, if any, in ensuring that the entrenched organizations it invited into its Walk with Amal will make concrete changes to their exclusionary practices once she leaves?
Without a doubt, the act of organizing Walk with Amal has already impacted the city. What will Luminato's role be in turning Little Amal's impact into a social and institutional legacy? If we define culture as what we collectively value, what we preserve, and how we treat each other in community, is artistically commenting on a social issue enough? Or are we in a new era, when artists and arts leaders are called into a new purpose to propel society's culture into new directions? The arts are forms of expression: in our current world, to have spaces for free expression is to have power – to nurture democracy. Luminato has the opportunity to pave a new way forward for the role of arts and culture in our social and political fabric, simply by carrying on what it has started here.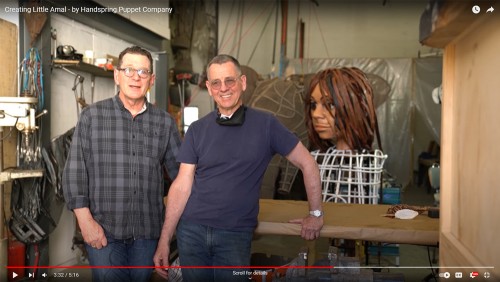 "Don't Forget About Us"
Walk with Amal leaves us with this plea: "Don't Forget About Us". Luminato has sparked an important conversation – by bringing Little Amal here, and by demonstrating the beauty and feasibility of pluralistic festival leadership. Now I ask you to do your part: attend the parades; be mesmerized, be transported to new possibilities, be connected with others, and be viscerally affected, so that perhaps you won't forget.
Little Amal will surely be welcomed into Toronto, and with her magical presence will remind us of the refugees of colour we ought to welcome with open arms in our neighborhoods. Upon her departure, how will we ensure, in our lives and workplaces, that she, and those she represents, will not be forgotten? What will we each make of Little Amal's legacy?
See Below for Amal's Toronto journey:
Walk With Amal Toronto: June 7 to 11, 2023
Wed, June 7
Union Station, 5-7:30pm – A New City, a New Experience
Little Amal is greeted at Union Station and led to Nathan Phillips Square by drummers and butterflies. Includes Dreamwalker Dance Company with Phil Davis, Joshua "Classic Roots" DePerry, Isaiah Gilsen, Digging Roots, Queer Songbook Youth Orchestra, Kuné Music Collective, Doctors Without Borders/Médecins Sans Frontières, Immigration, Refugees and Citizenship Canada (IRCC), Institute for Canadian Citizenship, National Ballet of Canada
Thurs, June 8
Scarborough, noon-1pm – The Scarborough Scene
At Albert Campbell Square Amal is introduced to the five stations of Hip Hop, giving her joy and confidence in herself and her purpose. Includes Randell Adjei and R.I.S.E. Edutainment, Toronto Public Library, Fondation Michaëlle Jean Foundation.
University of Toronto, 2-3pm – Graduation to Gratitude
Searching for her friends Basil and Adrian from Handspring Puppet Theatre, Amal encounters refugee scholars and University of Toronto music students and is swept up in the University's Convocation rituals. Includes therapeutic clowns Fern and Jazz, Lawrence Switzky & UTM Drama, Adrian Kohler & Basil Jones (Handspring Puppet Theatre), Jackman Humanities Institute, U of T Music Department, Red Pepper Spectacle Arts, The Hospital for Sick Children.
Regent Park 6-7pm – Regent Park Community Stories
Amal plays soccer at the Athletic grounds then checks out the neighborhood. On her way, she encounters the image of a Red Dress, and learns about missing Indigenous women and children through story and ceremony. Includes Herbie Barnes & Theresa Cutknife, MLSE Sports and Entertainment, Community Music Schools of Toronto (Regent Park).
Fri, June 9
Brampton, noon-1pm – Brampton's Many Mothers
Bramalea mothers respond in different ways to Amal's distress as she searches for her mother. Includes Sharada Eswar & Jumblies Theatre, Brampton Arts Organization, Brampton Multicultural Community Centre, Gather Round Singers, The Hive, Newcomer Bus, Brampton Library, Broadening Horizons.
Thorncliffe Park, 3:15-4pm – The Scents of Home
A pop-up book from the Thorncliffe Library reminds Amal of the scents of home. Includes Shadowland Theatre, Aga Khan Museum, TNO: The Neighbourhood Organization, STEPSpublicart, Thorncliffe Park Women's Committee, North York Arts, Toronto Public Library, East York Town Centre, Thorncliffe Park PS.
Rogers Centre, 6:15-7:30pm – Dancing the Seasons
After navigating bustling baseball fans, Amal encounters dozens of young dancers at Harbourfront, who introduce her, through their various styles of dance, to the four seasons in Canada. Includes Robert Binet, Canadian Opera Company, Harbourfront Centre.
Sat, June 10
Mississauga, 11am-noon – The Games of Home
Little Amal has been wanting to play the games she knows and loves from home, and finds fun with new friends in Mississauga. Includes Leen Hamo, The Canadian Arabic Orchestra, Frog in Hand Theatre, Mississauga Polish Day, Peel Multicultural Centre, Arab Community Centre.

Etobicoke, 3-4pm – Food is the Way to the Heart
Amal is hungry and searching for something familiar to eat. The residents of Mabelle Avenue offer a visual parade of favourite dishes. Including MABELLEarts, Arts Etobicoke, Newcomer Kitchen, COSTI, Montgomery's Inn.

Esplanade, 6:30-7:30pm – Finding Home, Walking in Audacious Hope
The Esplanade neighbourhood reenacts their rich history of home through stories, dance and pageantry in the streets of old Toronto, where Amal is met by rousing voices raised in song. Includes KasheDance, Jamii Esplanade, Market Lane School, Nathaniel Dett Chorale, Performing Arts Lodge, St. Lawrence Market, Canadian Stage, TO Live.

Sun, June 11
The Bentway, noon-1pm – The Bentway Animal Parade
Racoons, blue birds, mice, foxes… oh my! Little Amal experiences urban wildlife in unexpected places and she is delighted, frightened, and everything in between. Includes The Bentway Conservancy, Red Pepper Spectacle Arts, Fort York Library.
Yonge-Dundas Square, 3-4pm – Walk for a Better Future
Amal looks for a break from the hustle and bustle of downtown Toronto, discovers a friend in need of her help and is reminded of the hope and resilience of hundreds of thousands of young people across the globe fighting for a better future. Includes Why Not Theatre, War Child Canada, Clay and Paper Theatre, Muse.
Waterfront, 6pm-7pm – Farewell Little Amal
Toronto bids farewell to their new friend when Little Amal leaves across Lake Ontario to continue her search for her mother, encouraged by dancers, musicians, wise words, sweet songs and even tiny puppets. Includes Common Boots Theatre, Globe Theatre, Ronnie Burkett Theatre of Marionettes, Orchestra Toronto, NAWA (Arabic Women's Choir), Sabbara, Doctors Without Borders/Médecins Sans Frontières, Waterfront Toronto.
Natalie Fasheh is a leader and artist with a focus on social impact, working with communities of varying ages and lifestyles as an administrator, choir conductor, teaching artist, composer, consultant and writer. nataliefasheh.com.