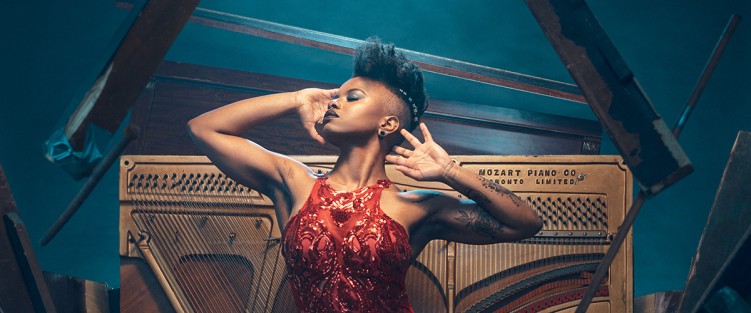 When pianist and composer Morgan-Paige Melbourne recorded her first album, it was during the March 2020 lockdown. She did it on her own, with one podium microphone and an iPad. She placed her mic underneath the piano to capture the gritty sound of the keys working. She recorded the ambient sounds of the city. Sometimes she sang. The resulting EP, Dear Dysphoria, is beyond genre: it is an emotional soundscape, an artful negotiation through our challenging times via formal compositions, improvised music and songs.
With some assistance from her sibling, Genia, with mastering and violin (and with the addition of a new microphone and a two-channel mixer), Melbourne produced a second album titled Dear Serenity. She then went on to create videos for some of the pieces, filming and editing them all on her iPad. Did I mention that she does everything on the first take? The more I talk with this extraordinary and multifaceted artist, the more I am astounded.
Trained as a classical pianist, Melbourne has a licentiate diploma in piano performance from the Royal Conservatory of Music. "It is the equivalent to a bachelor's degree, and you can go into postgraduate studies from there," she informs me. Melbourne has had significant success in the contemporary and classical music worlds. She has performed internationally, at Toronto's Koerner Hall, and recently in Besançon, France where she was composer, musical director and principal accompanist for the Ciné Concert silent film festival.
Despite deep roots in contemporary and classical music, Melbourne has always been open to all styles of music. "My parents were touring musicians. The only thing they did not play was classical music and I ended up being trained in it," she says. "I grew up on 90s R&B, hip hop, jazz, blues, country, reggae and soca. I love heavy metal. I find my inspiration in everything."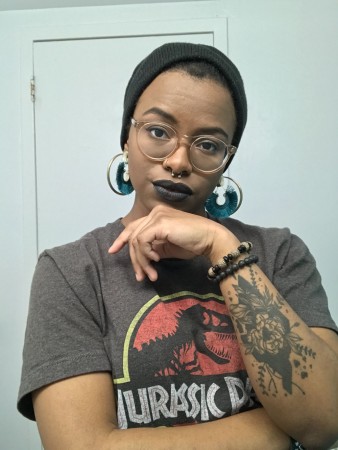 Beyond Opera
Tapestry Opera's artistic director and general manager Michael Hidetoshi Mori first encountered Melbourne's work at the lifetime achievement celebration of composer Alexina Louie, held at Toronto's Arts and Letters Club in 2019. Melbourne performed one of Louie's pieces. Mori says that what he witnessed was a very young woman playing extraordinarily difficult music with passion, poise, grace and exceptional ability. "Since then, I've seen the whole songwriting side to Morgan, as I follow her on Instagram," he adds. "She has the chops to be up there with the best of the interpreters of contemporary classical music and also has the sensibility of a singer-songwriter. She is already exploring what it's like to be a multidimensional artist."
In early 2020, Tapestry Opera was able to pivot their programming and presentations rapidly in response to the COVID-19 pandemic. "We're a new works development company," explains Mori. "Reinvention was important to us before the pandemic hit. The capacity for change was there already. We decided to rethink a season, boldly called 'Immune to Cancellation,'" he laughs. They reinvested some of the budget of the cancelled 2020 production of the opera Rocking Horse Winner, originally presented by Tapestry in 2016, into training performers and staff on recording software and technologies for collaboration. The opera was successfully presented online and on CBC Radio, reaching a much larger audience than it would have playing to full houses in a Toronto venue.
The contemporary opera company first came on my radar with the presentation of a fully improvised online concert by jazz musician Robi Botos in October 2020. Mori felt that working with Melbourne would be another great fit for their innovative programming. He contacted her, suggesting a performance in collaboration with a dancer. "This felt like an exciting potential to bring the storytelling you can do with dance [together with the] storytelling that Morgan brings with her whole package of being a composer and interpreter," he says.
Take One
Melbourne's resourcefulness and improvisational focus has on some level come from working with limitations. She works at home with an electric piano, not the acoustic piano of competition and concert stages. "I do a lot of sight reading, and I hear the music in my head," she says.
Her clarity of vision started early when she entered the classical music competition world. "'Oh, I'm surprised that you are here and you played like that,' one adjudicator told me. Some other performers told me that Black people don't belong in classical music, and that I should be playing jazz," she recalls. "They would do this, nearly every time, ten minutes before I had to go up to perform."
Such comments came from teachers, adjudicators, other performers and their parents. "I went into competition when I was nine. This occurred every year until I was 17, when they realized that I'm not going anywhere. It was insane!" she says. "Early on, I had to learn how to block out a lot."
In response, Melbourne developed the skill of razor-sharp focus, which allows her to perform deeply and well on the first take – of anything. In her brilliant self-made video for the piece 'Say Their Names', she stands looking at the camera, going through all manner of emotion, while the names of Black people murdered by police appear and dissolve around her onscreen. The performance was recorded on the first and only take.
Where Do I Go?
Melbourne brings her compositions, improvisations and voice to a bold new genre-bending performance for Tapestry Opera, titled Where Do I Go? This sonic journey is a coming-of-age story, exploring struggles with society, mental health and a young woman's evolution towards resilience and success.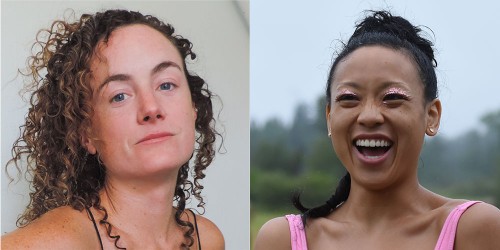 The presentation is a collaboration with contemporary dancer Natasha Poon Woo and director/choreographer Alyssa Martin, of Rock Bottom Movement. Poon Woo brings "additional layers to the narrative, communicating a version of these messages from the perspective of movement," says Melbourne.
Presented by Tapestry Opera via livestream on March 27, 2021, this performance is one of many to come from Morgan-Paige Melbourne, a truly exciting, multidimensional artist. Where will she go? Keep watching. I see her on a trajectory that will take her through a multitude of cultural venues and concert halls across Canada and abroad.
Gloria Blizzard is a non-fiction writer, poet and penner of songs, whose wordsmithing has appeared in numerous literary publications, magazines and sound recordings. She is currently completing her first full-length book, a collection of essays, and can be reached at www.gloriablizzard.com.