In these still surreal times defined by restrictions, we are all increasingly hungry for live performance. With opera and theatre still considered too dangerous or problematic to bring back quite yet,dance has begun to return, although to unusual venues.
The Canadian Stage Company, for example, has opened their stage in the heart of High Park – which has stayed empty of its usual Shakespearean performances this summer – for three exciting weekends of dance performances. Week One: September 26 and 27, Solo in High Park featured some of the city's top soloists in a variety of styles from tap to flamenco, house, and contemporary. Week Two: Dusk Dances,October 3 and 4, featuring the work of three Dusk Dances contemporary choreographers, and Week Three: Red Sky, October 9 to 11, showcasing the thrilling physical style of this Dora Award-winning Indigenous company.
And while the National Ballet of Canada has had to cancel their usual fall season at the Four Seasons Centre for the Performing Arts – including perennial holiday favourite The Nutcracker – they too are making more experimental appearances, at both Harbourfront Centre and the Art Gallery of Ontario. Harbourfront's Brigantine Room will welcome physically distanced audiences to live performances of Robert Binet's Group of Seven-inspired, The Dreamers Ever Leave You, October 9 to 17; and at AGO Live on October 22 and 23, audiences will get to take an even closer look at the creative process as they are invited into Walker Court to observe open rehearsals of a newly commissioned work by Kevin A. Ormsby.
For both these companies, there will doubtless be other unusual excursions to write about in the months ahead, but right now, at Harbourfront and at several venues around the city, it's the sixth edition of FFDN.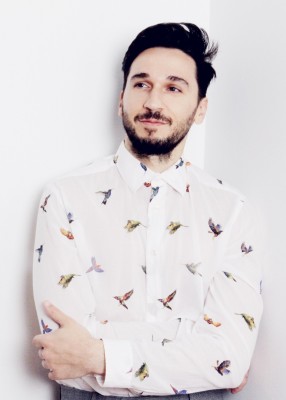 FFDN for short: Fall for Dance North Festival was co-founded by artistic director Ilter Ibrahimof toreflect Toronto's multiculturalism, with the aim of creating an atmosphere of shared discovery that will entice people to attend live dance performance throughout the year. Of necessity this year's live performance element will be much smaller than it usually is, but it will still exist amidst FFDN's 2020 exploration, in collaboration with over 100 artists and technical experts, of expanding the ways in which audiences engage with dance. "It was eye opening," Ibrahimof told me, "to discover how many ways there are to connect with our audiences, even though dance is primarily a visual art form, ideally experienced live."
Keeping "Live" at the core: Most FFDN events will be experienced by the majority of audiences through live streams via a new "Netflix-like website," but Ibrahimof was insistent on keeping a live element at the heart of the festival, The popular Open Studio, for example, usually located at Union Station, is moving to Meridian Hall's West Lounge where audiences can watch choreographers and dancers at work within aglass-walled mini-studio. The other hugely popular Union Station-based free event, Big Social, where anyone could show up to watch and take workshops in various styles of social dance has taken a futuristic step forward – transformed into an augmented-reality experience at Harbourfront's Natrel Pond. Spaced around the pond on social-distancing circle decals, audience members will focus a smart phone or other device on a target image in the centre of the pond to launch an almost holographic six-and-a-half-minute moving image collage of three couples dancing in tango, swing or vogue styles to a specially composed soundscape. Not the same thing as dancing oneself, or as advanced, yet, as a Star Trek-like Holodeck, this new invention, Ibrahimof hopes, will "remind us that one day we will be able to dance together, again, hip to hip and hand in hand."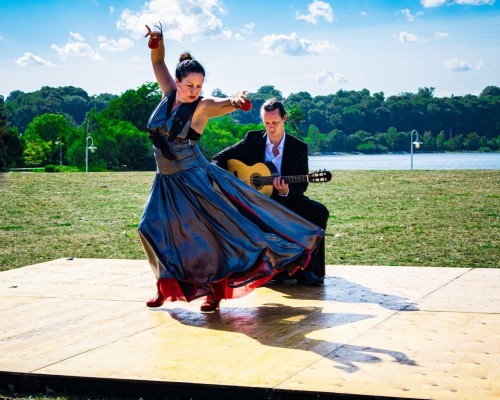 Live premieres: Also performed live, but streamed to audiences, will be three of the six world premieres in FFDN's Signature Program in a gala-like show from Harbourfront's Fleck Dance Theatre on the afternoon of October 3, with Ibrahimof and a number of surprise celebrity guest hosts welcoming the virtual audiences and introducing each new work. Despite the need to reinvent, Ibrahimof told me he 'really wanted to still be able to present a show in the theatre even if it meant we produced it simply for a camera crew,' as the signature shows have always been the heart of the festival, bringing together exciting new and cutting-edge choreographers from across Canada and around the world. Although the planned program changed "probably 10 to 15 times because of the need to meet all the safety protocols and travel restrictions", they still ended up with six world premieres to showcase."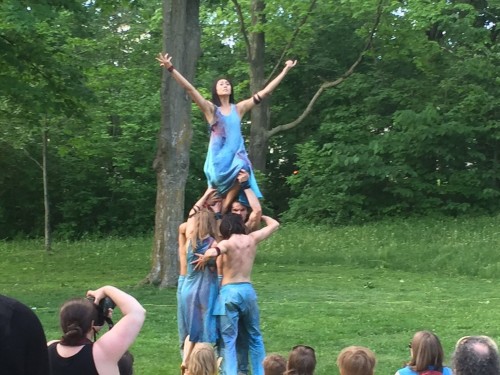 The three live premieres will be Flow, choreographed by Jera Wolfe, danced by award-winning Indigenous dance company Red Sky to a projected video and audio recording of the score as played by Chicago's Third Coast Percussion (who were not allowed to cross the border); Poema Ibérico, choreographed by Vanessa Garcia-Ribala Montoya of Les Grand Ballets Canadiens de Montréal, and performed by National Ballet of Canada star Sonia Rodriguez with fellow NBoC dancers Piotr Stanczyk and Spencer Hack; and Dialogue with DNA, choreographed and performed by Mafa Makhubalo, a new work in the percussive gumboot dance style which emerged as a form of communication among workers in the inhumane mines of South Africa where they were forbidden to speak.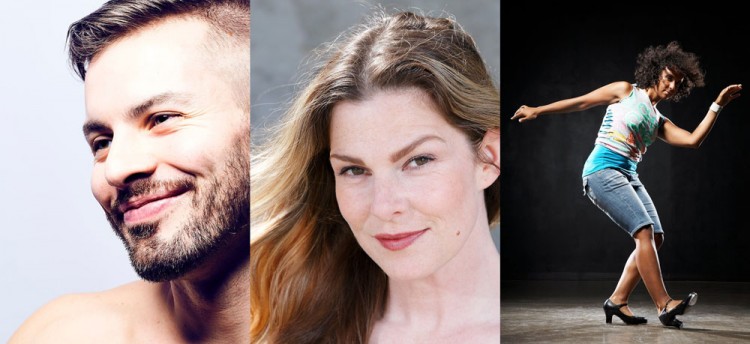 Of the three other premieres, Proximity, choreographed by Netherlands-based Joshua Beamish and performed by Beamish with regular Crystal Pite dancer Rena Narumi, will be filmed in a theatre in the Netherlands and sent to FFDN as a polished, edited film. The final two, Terra, from Calgary's Decidely Jazz Danceworks (DJW) choreographed by Kimberley Cooper, and Fool's Gold, choreographed by Canadan tap expert Lisa LaTouche, will both be recorded at DJW's studio probably in more of a livestream performance capture style.
Watch party solace: To make up for having to watch the show on a screen, FFDN have come up with a fun way to enhance the experience. You can buy individual $15 tickets or organize a watch party complete with personal host and gift bag. "For the past five years," Ibrahimof told me, "we have been meeting so many people in our audience who have been making it a tradition to come to our shows with certain friends every year, saying 'It became my thing with my grandparents,' or 'I always come with my bridge club,' that we wanted to give them an opportunity to create a similar environment at home (or even at a distance), and so came up with this idea. About 50 artists associated with us have signed up to be hosts, and ticket buyers can choose from the list on the website. Your chosen host will connect with your party by Zoom both before the show and after for a post show Q&A. Watch party buyers will also receive a gift package including printed programs, a tote bag and other goodies."
Dance through the ears: Perhaps the most radical innovation this year is that FFDN invites us to experience dance and dancers through our ears instead of our eyes, through the exploration of some ideas Ibrahimof and his team had had on the "back table" for several years, but had never had the chance to fully explore due to the demands of producing their usual live shows. One of these was to have a festival podcast. However, he didn't want a podcast that was just dancer interviews, he was looking to create "something a little more journalistic, a little more on location." Accordingly, back in 2018 what he did as an experiment was "invite my neighbour Eric, who is a sports guy, to go to his first-ever dance show at FFDN, and I asked him to take me to my first-ever baseball game. We recorded the whole experience then and are using the recordings this year for our first podcast episodes, including a follow up interview I recorded this year."
The new FFDN podcast, Mambo, debuts on September 29 with another new lighthearted, if not downright goofy, episode: Lost Objects, inspired by the New York podcast Everything is Alive where every week the host chooses an object, hires an improv actor to play that object, and then interviews him or her. This episode will bring actors from Second City into the festival family to take on the roles of objects which now, thanks to so much of the festival being online, are "lost and forgotten," such as staff festival badges, the company car, or the sharpie used by dancers to sign posters. Clearly a lot of fun to create, this expands on Ibrahimof's wish to introduce audiences to aspects of dance that they might not know or think about. "There is something really special about audio storytelling that can connect with our audience in a very different way."
Online album: Another new audio project dear to the artistic director's heart is [in]verse, a collaborative online album featuring poems chosen and read by celebrated Canadian and International dance artists, set to classical music selections arranged and performed by Canadian cellist Arlen Hlusko. Hearing Ibrahimof talk about the impact this project had on him personally made me want to listen to it right away.
"I had never heard these people that I know so well in this light before," he said,'and it really made me know them better. From the poem that they chose, the way that they delivered it, the way I could tell it meant something important to them, it revealed something new to me about them as artists and as people. I think getting to know the people behind the art form, their stories and inspirations, their connections to the wider world is really important, and this year gave us the opportunity to dig deeply into that."
With such a passionate and enthusiastic artistic director and such an ambitious innovative program, the Fall for Dance Festival is growing at a good pace into the role it aspires to, of being a true nexus for dance in Canada in an international context.
FFDN runs from September 28 to October 18. All streamed content will remain available online on demand until the end of the festival only. Everything is free except the Signature Program for whichsingle tickets are $15; watch party packages are $150. For more information and a full schedule please see the FFDN website at www.ffdn.com
Jennifer Parr is a Toronto-based director, dramaturge, fight director and acting coach, brought up from a young age on a rich mix of musicals, Shakespeare and new Canadian plays.