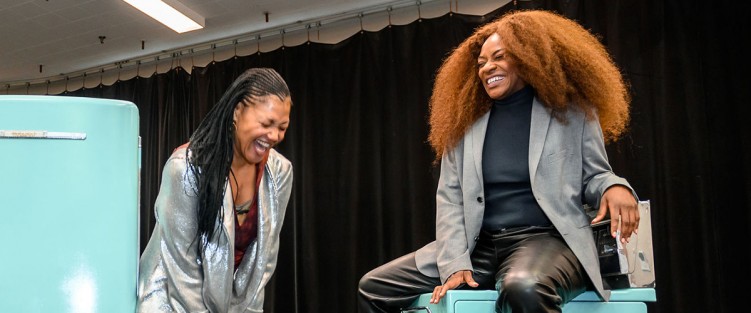 "Change your mind and change your life." This is what Canada's beloved "Queen of R&B" Jully Black said to herself when she agreed to make her musical theatre debut as Caroline, the leading role in Caroline or Change for The Musical Stage Company and Obsidian Theatre, opening this month.
At first, she told me, she had said "No" to the invitation. "I said no to myself, no to my agent, mostly out of fear and dealing with vocal challenges." Yet, when she realized in hindsight that those challenges were coming from emotional trauma, she began a deep research process into "the connection between silence and holding things in, between emotions and your vocal chords, between spirituality, neural pathways, and cognitive reflexes," and came to the courageous decision that taking up this invitation would be – a thought she would repeat several times in our conversation – "a great opportunity to be a living witness and example of 'change your mind and change your life'."
Although an acclaimed and multiple award-winning performer and recording artist for 20 years, with an impressive list of credits that includes a year as correspondent for CTV's daily entertainment program eTalk, and hosting various award shows and TV specials, Black had never before performed in a musical. She had been part of the cast of Trey Anthony's breakout Canadian hit play Da Kink In My Hair that played at the Princess of Wales Theatre in 2005, and repeated her role in a few episodes of the TV series that followed (as well as writing and singing the theme song), but Caroline would be a very different challenge. Caroline is regarded as one of the most powerful female roles in the entire musical theatre canon, and Caroline or Change is sung through, rather than being a mix of songs and dialogue. This would be a physically as well as artistically demanding role and she would be leading a cast of top Canadian performers for a company widely acknowledged to be one of, if not the top, producer of thought-provoking, socially conscious musicals in Canada.
So how did this invitation come about? The first step was back in 2018 when The Musical Stage Company invited Black to take part in Uncovered: Joni Mitchell & Carole King, that year's edition of their annual theatrical concert series that gathers together top musicians from Toronto and further afield to explore the repertoire of two connected singer songwriters, with an emphasis on unearthing the stories within the songs.
As Black told me: "It was about a year after my mom passed, so doing [Uncovered] was about the journey of self-discovery, and 'What does my life look like now without her?' It was good for me, something that gave me a little bit of fear, a new challenge that I was taking on, by myself without anyone that I knew. It gave me the chance to strip away the whole imagery of Jully Black and honour another artist by exploring their songs. It was like a new beginning. I felt like I was 16 all over again, discovering that music is the one love that will never leave me." Black was a great success in this concert and returned to blow audiences away a year later in 2019's Uncovered: Stevie Wonder & Prince, in particular with a heartbreaking interpretation of Stevie Wonder's My Cherie Amour, sung as if by a mother giving up her child for adoption.
In between came the invitation to play Caroline in a year's time. When I asked music director Reza Jacobs if the inspiration of casting Black came from this experience, he said: "Absolutely. Jully has within her tremendous strength and vulnerability and has access to both of those at the same time and that seems integral to the fibre of Caroline, plus, of course, she has that amazing voice." Artistic director Mitchell Marcus agrees. Musical Stage had produced a multiple Dora Award-winning production of Caroline or Change back in 2012 and had been hoping to remount it ever since, but as time passed and the decision was made to build a new production from the ground up, they began exploring the idea with Jully.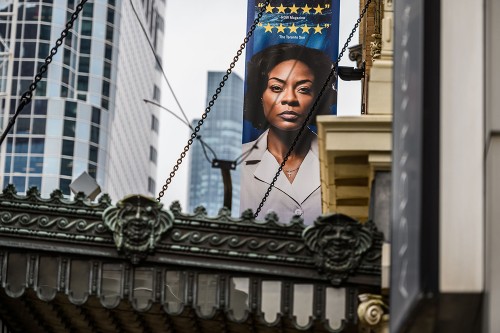 Described by The Boston Globe as "the first great piece of musical theatre of the 21st century," Caroline or Change, which debuted at New York's Public Theatre in 2003 and transferred to Broadway in 2004, rests very much on the shoulders of its leading lady. Paraphrasing Marcus' synopsis:
Caroline is a 39-year-old single mother of four, a black maid working for $30 a week in the Jewish Gellman household in 1963 Louisiana. Day in, day out her routine is the same: a bus ride to work, laundry, cooking, cleaning, and a bus ride home. She has long suppressed her feelings of want and need in exchange for getting by and not causing trouble. But this preference for the status quo is rocked when a seemingly inconsequential event occurs: Caroline's employer instructs her to keep any pocket change that she finds while doing the laundry, as a way to teach Noah – the nine-year-old child of the Gellmans – a lesson about minding his money. With the civil rights movement unfolding around her, years of suppressed feelings of inequity and anger bubble up to the surface from the opportunities that extra pennies and nickels provide.
The powerful semi-autobiographical book by Tony Kushner (Angels in America) and rich score by Jeanine Tesori (Fun Home) have been described by stage director Robert McQueen (who also directed the 2012 production) as "a perfect fusion of text and music." Music director Jacobs agrees: "As with all of Kushner's work it's an entire universe onstage, and it's really a perfect musical setting." The score draws on many different styles of music including "Motown, rhythm and blues, klezmer, and various different ages of classical music, but it never comes across as pastiche, Tesori is able to take these different genres and serve the dramatic moment and not make it about the genre. She completely immerses herself in the world and then it seems that she is humble enough to leave without any trace that she was there. There is a clever use of anthropomorphized appliances, particularly the radio played by three women who sing in a variety of different styles to comment, articulate, encourage, frustrate, or sympathize with Caroline. There is also one beautiful sequence where Caroline and her daughter Emmie switch the radio back and forth and the difference you hear in the feeling and vibe of the music encapsulates the difference between the two in generation and attitude."
This focus on mother and daughter, and the story itself, also had personal echoes for Black whose mother had been a domestic worker for a wealthy white family in Jamaica in the 60s – a family who later helped her emigrate to Canada. This personal connection was part of what encouraged Black's decision to take on the role of Caroline, to acknowledge her own old personal stories but also to leave them behind, to immerse herself in this character, to jump into a year of intense training in order to "get to know the blank canvas of Jullyann Inderia Gordon, again."
The regime she described to me was intense: physical training building up to running 10K while singing or talking to fans online in order to build her stamina and vocal power; working with a vocal coach for the first time in her life (the famed Elaine Overholt) to increase her range from her natural alto to soprano; and working weekly with music director Jacobs to learn the score. She is revelling in the rehearsal process which she describes as being like part of a relay team with exceptional teammates, and is working personally every minute to be "very present, to really stand in every word I am singing."
Two days before we spoke she had had a breakthrough while singing Lot's Wife that had everyone in the room in tears. This is Caroline's tour de force solo, described by Jacobs as "a song that has in it all the heartbreak of frustrated dreams butting up against self-imposed limitations and limitations from the world; seeing a blossoming future in your daughter; wanting to move forward but also afraid to; wanting to dissolve and die, but also needing to continue and live." Immersing herself in this song in rehearsal, Black suddenly realized that Caroline was her mother's best friend, her "Aunt Jenny" when she was growing up, a woman who, like Caroline, was caught unable to change in spite of the world changing around her.
So much of this story is about ordinary people facing extraordinary change, and all the members of the company I have spoken with talk about how this drew them to the show and how they expect audience members will find it as relatable and cathartic as they do.
Caroline in the musical is not able to "change her mind and change her world" but her daughter Emmie, is. Her solo ends the show with hope and with the words, "Change come fast, and change come slow, but everything changes, and you got to go."
Caroline or Change plays at the Winter Garden Theatre January 30 to February 15, coinciding with Black History Month.
Jennifer Parr is a Toronto-based director, dramaturge, fight director, and acting coach, brought up from a young age on a rich mix of musicals, Shakespeare and new Canadian plays.