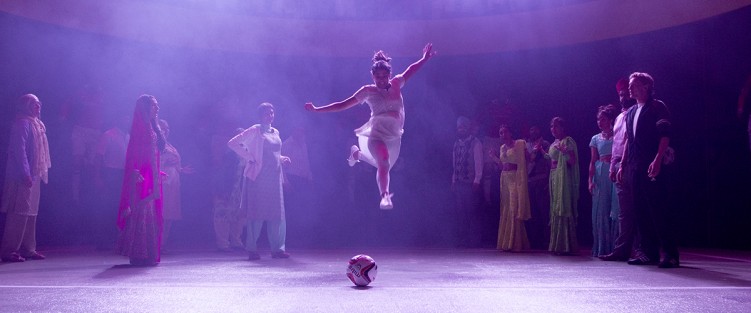 "Anyone can make aloo gobi, but who can bend a ball like Beckham?"
One of the most exciting shows coming up in December is a new production of Bend It Like Beckham: The Musical, the musical version of the beloved hit film by British South Asian filmmaker Gurinder Chadha. For anyone who loved the movie this is a must-see event that promises to be both thrilling and a lot of fun.
What was it about the movie Bend it Like Beckham that resonated so profoundly on both sides of the Atlantic when it came out in 2002? Was it the football (soccer)? Yes, in part, particularly in an exciting World Cup year when the whole world seemed to be mad about English star player David Beckham; but even more, it was the universal story of two girls fighting against all odds to follow their dreams that caught the imagination and hearts of audiences.
Jules – played in the film by Keira Knightley – is a rather bossy, confident girl who dreams of turning pro. But her mother doesn't understand and does everything she can to have her daughter act in a more ladylike fashion. Jules discovers Jess – played in the film by Parminder Nagra – playing football in the park and recruits her to join her girls' team. Jess, as a younger daughter in a traditional Punjabi Sikh family, has even tougher obstacles to face, with neither parent wanting her to play, but instead, to act like a lady, focus on going to university and learn how to cook traditional Indian dishes such as aloo gobi. The story is centred on Jess with Jules as the best friend who encourages her. This struggle and friendship, and the ultimate success that both girls find – including getting their families to eventually understand and support them – is very satisfying to watch, as well as fun. Chadha, the creator, director and co-writer, has a light touch with her subject matter, and an irreverent, witty hand with the context, drawing on her own adolescence and struggle to break the rules and forge a new path.
So successful was the movie's initial release that, as Chadha told me, "for the longest time people tried to get [her] to make a sequel," something she was never interested in doing. Then, by chance, she saw the musical version of another hit film, Billy Elliot, and was struck by how "different and yet the same," the show was from the film; here, she thought, might be a way to satisfy people's longing for more BILB by exploring the possibility of making a musical version. Things began to move fairly quickly. She pitched the idea to producer Sonia Friedman who suggested composer Howard Goodall (Classical Brit Composer of the Year Winner) and lyricist Charles Hart (Phantom of the Opera and Aspects of Love); Chadha herself began creating the new script with her husband and screenwriting partner Paul Mayeda Berges, then spending intense "wonderful" hours working with the composer and lyricist, until the show started coming alive – on the way becoming, Chadha believes, "a much deeper experience emotionally."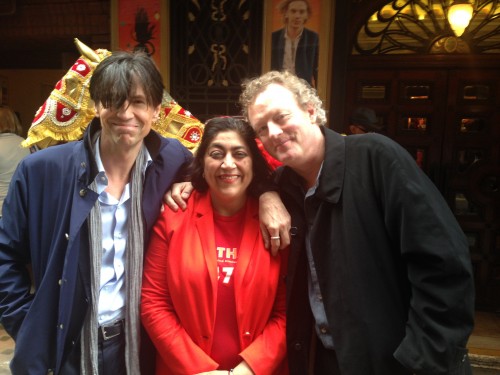 Composer Goodall echoed much of Chadha's delight in the working process and the story when I talked to him, though he told me when he was first approached that his initial response was, "It was very flattering to be asked but shouldn't they be getting an Indian composer to do it?" He was reassured by the writer and producer saying that they wanted his expertise in creating musical theatre and that, while the show "does have a strong Punjabi Bhanghra element to it, it is not the only element," so he said yes. He soon found an associate, "a wonderful chap named Kuljit Bhamra" who would supply the Indian percussion and became what Goodall described as "my tutor, in a way, for the Indian aspect of the score." This was essential, Goodall says, to avoid any of the music feeling like a pastiche of another culture's sounds; he "passionately wanted to absorb all those influences and then write from within myself the music that belongs to each character."
From the song for Jess' parents when we first meet the parental generation, "the ones whose sacrifices made everything possible," which is reminiscent of the Indian diaspora, to the lyrical anthemic solo for Jess, Glorious, which runs through the piece, to the "more pop-y, thriving rhythmic sounds for the football matches," all the music is based on character and story, "not a copy of anything, not at all anchored to the film's exact time period, but aiming to create a musical world that only belongs to this piece – so that it belongs to these people in this place, to who they are and their feelings at this moment."
Part of the process to achieve this goal was the usual one in musical theatre: holding multiple workshops to zoom in on various aspects of the show, from a simple piano-and-singers workshop to fine tune the narrative and score, to a unique workshop where they "got together with some dancers and the England Women's Football Team, the Lionesses, to try and work out how to do the football."
This, Goodall says, was something that had to be solved through movement and dance, but it also had to be solved musically and structurally, "particularly as the great climax of the story, onstage, as in the film, is when Jess is playing in a final football match at the same time as her sister is getting married. In a movie you can cut between the two as much as you like and in the audience's mind these two things are happening simultaneously. You can't really do that onstage. So, in the end, how we achieved a similar effect was by my creating a wedding/football final that was one huge piece of music where all the different songs and themes from the football and Sikh wedding, and all the other characters from earlier in the story, were interwoven into a great vertical climax, with everything layered on top of each other and happening at the same time – and that of course is the wonderful alchemy of musical theatre."
This became one of the things the creative team was most proud of in their original world premiere production in London's West End in 2015 (that ran for almost a year to full houses and critical acclaim). It will feature again in the Toronto production currently in rehearsal.
This new production in Toronto came about through an invitation to Chadha from Canadian Corey Ross, CEO of Starvox Entertainment, who saw and loved the show in London. Chadha and the team agreed: as she said, "the movie originally launched at TIFF years ago, so I thought it was a great idea, and that people in Toronto would understand and appreciate the sentiments of the show." The new production is also giving the creators the chance to fine tune the musical in preparation for a potential further life on tour in North America and around the world. To do so they have assembled a new international team that includes Canadians Madeline Paul (director), Mark Camilleri (music director), Sue LePage (set designer) Sean Mulcahy (costume designer), John Lott (sound designer) and – to heighten the excitement of the football matches – the new choreographic team of Daniel Ezralow (Sochi Olympics) and Longinus Fernandes (Slumdog Millionaire). Chadha is overseeing the whole as artistic producer, and composer Howard Goodall is working with the team non-stop, though mostly online from London. The cast is also almost entirely Canadian with a couple of performers from 
New York, and one from London.
Bend It Like Beckham: The Musical begins performances on December 7 and runs to January 5 at the Bluma Appel Theatre at the 
St Lawrence Centre: benditmusical.com.
Jennifer Parr is a Toronto-based director, dramaturge, fight director, and acting coach, brought up from a young age on a rich mix of musicals, Shakespeare and new Canadian plays.