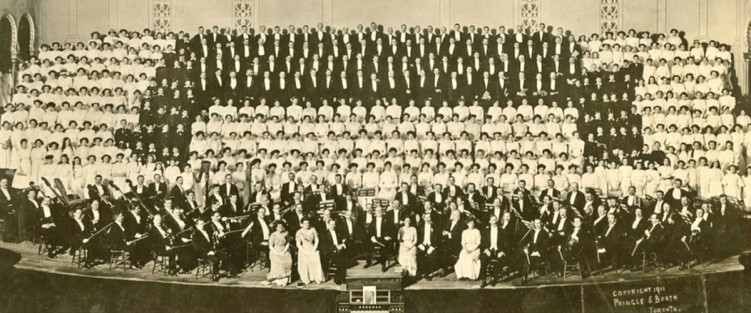 Remarkably, the Toronto Mendelssohn Choir has had only eight conductors in the course of its 125-year history that will be celebrated in an anniversary gala concert at Koerner Hall this coming October 20. Even more remarkable, five of those – Augustus Stephen Vogt (1894-1917); Herbert A. Fricker 1917-1942; Sir Ernest MacMillan (1942-57); Elmer Iseler (1964-1998); and Noel Edison (1997 to 2018) – account for almost 120 years of the 125. This is not to say, however, that the length of an individual's tenure is the sole indicator of its importance.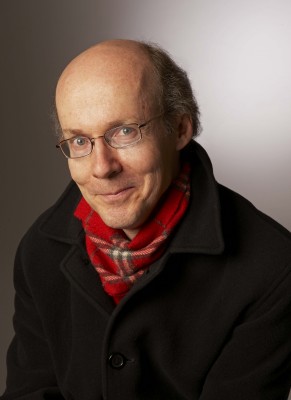 There's an old saying that if you want something done well, give it to a busy person. David Fallis, who took up the reins as the TMC's interim artistic director in 2018 after the abrupt departure of Noel Edison, and will step down at the end of the coming season, is a case in point. By TMC standards it will have been a very brief tenure, but he will have made his mark at a pivotal moment for the choir.
By the time this issue of the magazine has been published, he will have led the Choir's September 28 Singsation workshop, and the TMC will be at work preparing for the October 20 anniversary concert, which Fallis will conduct, and beyond that, their annual Festival of Carols (December 3 and 4) at Yorkminster Park Baptist Church, with the Toronto Symphony Youth Orchestra as their guests. There are also the TMC's own upcoming guest appearances to prepare: Beethoven's Ninth, with Orchestra Toronto, in an October 27 concert titled "Freude," commemorating the 30th anniversary of the fall of the Berlin Wall; and the Toronto Symphony Orchestra's November 7 and 9 opera-in-concert performances of Massenet's Thaïs. Oh, and then (for Fallis not the TMC) there's the small matter of conducting Tafelmusik for Opera Atelier's Don Giovanni at the Ed Mirvish Theatre, in a five-performance run, commencing October 31.
Fallis dropped by the WholeNote office for a flying visit en route to rehearsing the University of Toronto MacMillan Singers (who are also between conductors), and we tried to touch on one topic at a time, more or less in order of appearance.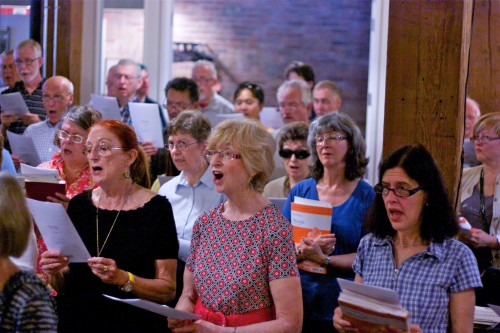 The TMC's "Singsation Saturdays" is an ongoing series of workshops that are generally very well attended by a wide range of participants, from across the GTA, who are united by a love of choral singing. There will be five this season, each led by a different eminent conductor and organized around a particular topic or theme. The theme for Fallis' September 28 session is music composed for the TMC over its 125-year history. "For this Singsation," Fallis says, "we're doing How They So Softly Rest by Healey Willan. Interestingly, the Healey Willan Society website says it was written for the Mendelssohn Choir, but I once saw a Hyperion recording of it (can't remember the choir) that said it was written for the choir at St. Paul's. We'll claim it anyway! Also commissions we've had with Peter Tiefenbach and Tim Corlis, and one piece commissioned by the Mendelssohn Youth Choir when it existed, from Derek Holman."
That Fallis would choose to focus on commissioned works for his workshop should come as no surprise, given his work as longtime artistic director of Toronto Consort, and given the TMC's own track record: "The Mendelssohn has a long history of commissioning new Canadian music, although sometimes irregularly," he says. "I've certainly encouraged them to keep doing it, especially if they want to maintain their leadership in choral music."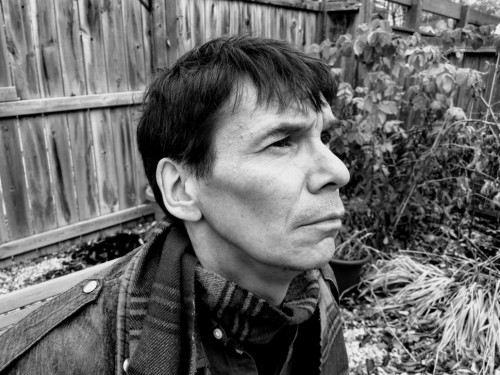 "Singing through the Centuries" is the title of the October 20 Koerner Hall anniversary gala concert, the idea being to include repertoire spanning the three centuries in which the choir has sung. It won't be a "Mendelssohn light" concert though, with three substantive works on the program: Gabriel Fauré's Requiem representing the 19th century; Igor Stravinsky's Symphony of Psalms the 20th; and Andrew Balfour's Mamihcimowin (The act of singing praises) a new TMC commission from a composer with a distinctive and powerful musical voice, who, as Carol Toller wrote, for The Globe and Mail earlier this year, is "drawing on his First Nations identity to nudge the the Canadian classical-music scene out of its stodgy Eurocentric traditions."
"I just received the full score," Fallis says, with a gleam in his eye that speaks volumes. (It is Thursday September 19 as we sit chatting, which means only four Monday rehearsals before the concert.) "It's not much more difficult than the Stravinsky."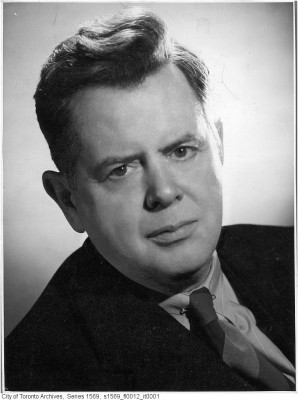 As for the Stravinsky Symphony of Psalms, it speaks, by association, to a time in the history of the choir spanning all the way from the 1930s and Sir Ernest MacMillan's early interest in Stravinsky, to a CBC Symphony Orchestra recording of the work in 1962-3, with Stravinsky himself conducting, and featuring Elmer Iseler's Festival Singers. A year later Iseler began his unmatched 36-year conductorship of the TMC, bringing the Festival Singers with him as a professional core ensemble within the choir, much as later on Noel Edison would do with the Elora Festival Singers. In 1965, at the sesquicentennial of the Handel and Haydn Society of Boston, the TMC under Iseler, according to the Canadian Encyclopedia of Music, "presented a program that included, among other works, Godfrey Ridout's The Dance; [Sir Ernest] MacMillan's arrangement of the French Canadian folk song Blanche comme la neige; and Stravinsky's Symphony of Psalms ...". On October 31 1965, the Boston Globe reported, "There is something fresh, stimulating, vital, about the Iseler-Mendelssohn combination, and the result vocally and musically is remarkable. Diction is superb. Chords and polyphonic textures are always in perfect balance."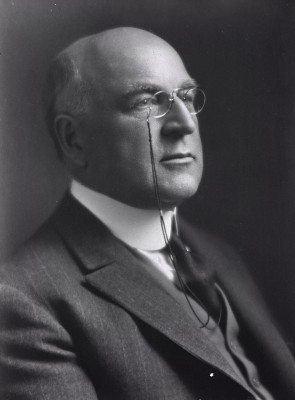 As for the opening work on the October 20 program, whether or not the Fauré Requiem was actually performed during the Mendelssohn's first five years of existence under Augustus Vogt's leadership, I have not been able to ascertain, even after poring over the almost complete set of early program books in the TMC's own library. Vogt, as organist-choir director of Jarvis Street Baptist Church from 1888 to 1906, would have known the Fauré. "Unlike Mozart and even Vivaldi," Fallis points out, it was written to be used in a church setting."
Vogt's connection with Jarvis Street Baptist helped establish the preconditions for the TMC to come into existence, but the event that triggered it at that specific time was undoubtedly the opening of Massey Hall on June 30 1894, with an inaugural concert presentation of Handel's Messiah. It could not have been the Mendelssohn Choir by that name as the choir for that concert, for the simple reason that the size of the choir was Mendelssohnian – 500 choristers – reflecting in the burghers of this town a predilection for oratorio on a grand scale, such as that which had accompanied the first performance of Mendelssohn's own Elijah in Birmingham 48 years earlier. It's likely that many of Vogt's Jarvis Street church choir were among that first Massey Hall contingent, including core members of the fledgling TMC.
David Fallis' own first recollections of the TMC make for a nice story too. "I think I sang with them before I was aware of who they were," he says. "I was in the treble choir – from the Canadian Children's Opera Chorus, under Lloyd Bradshaw – called for in the score of Benjamin Britten's War Requiem. It was the Canadian premiere at Massey Hall, under Walter Susskind, in November 1964. I must have been all of eight years old. It made quite an impression. Lois Marshall, Victor Braun and Peter Pears all sang it."
It was a performance that marked the transition from Walter Susskind's caretaker conductorship of the TMC; conductor-in-waiting, Elmer Iseler, actually prepared the choir for the performance. Fallis went on to sing the War Requiem, again with the CCOC, for the TSO under Seiji Ozawa. "It was a few years later," he says, "and my voice was breaking by then."
Come the end of 2019, Fallis will relinquish performance conducting duties for the TMC as guest conductors take the podium for each of the three winter/spring concerts. But Fallis was a key member of the team figuring out the artistic details of the three visits.
First up, on February 22, will be Chicago-based John William Trotter, in a program at Yorkminster Baptist titled "Romantics and New Romantics." Next, on April 8 and 10 at St. Anne's, in a program titled "Sacred Music for a Sacred Place," will be Gregory Batsleer, currently dividing his choral duties between Huddersfield and Scotland. Last, on May 30, it will be the turn of Montreal-based Jean-Sébastien Vallée, who will conduct a program titled "Great Poets in Music" at St. Andrew's Church (at King and Simcoe).
"The repertoire for each of the concerts is very carefully chosen," Fallis says, "reflecting the artistic priorities of the TMC, and a balance of music, old and new."
Assessing the chemistry between a guest conductor and choir is more difficult than with a symphony orchestra. Typically, the TMC devotes "a month of Mondays" to prepare for a concert, rather than, as a symphony orchestra would, ramping things up in the week before the concert. "Realistically," Fallis says, "you can't ask guest conductors to come back to town four weeks in a row for one day to watch how they rehearse with the choir." Instead, Fallis explains, each of these three conductors is being asked to stay on till the Monday after their performances, to lead the choir in a first rehearsal of material for a "hypothetical next concert."
It's a nice extra detail.
An interim conductor doesn't get to make the same kind of imprint on an orchestra or choir as a permanent hiring would. One inherits a "sound" and does not seek to change it using blunt instruments like the annual re-audition process to filter for one's preferences. Besides, large choirs are infinitely less agile than smaller ensembles responding to change. "That being said," Fallis says, "every conductor is in some sense, a stylist. You work with your material, and you focus on things you care most about achieving. Things like attention to text, for example ...something I believe strongly in."
Short as his stay will have been, he will have left his mark.
David Perlman can be reached at publisher@thewholenote.com