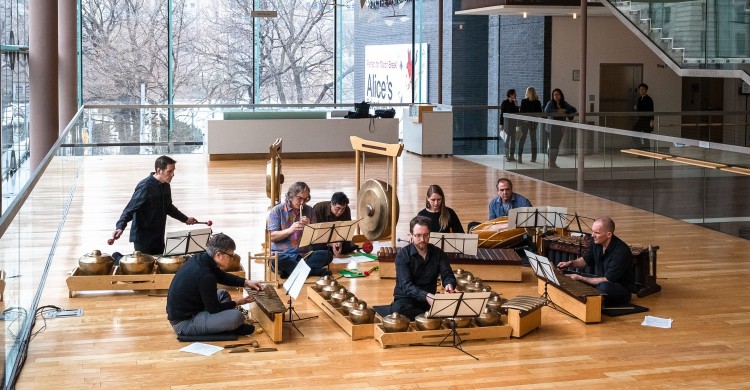 I've been writing The Wholenote's World View column for around a decade. Well over a generation before that I was invited to be a founding member of Evergreen Club Contemporary Gamelan (ECCG), the first Canadian ensemble of its kind. Clearly wearing two hats, I've always been explicit about outing myself as an ECCG member when writing about the group in my column.
On the occasion of ECCG's 35th anniversary season however, rather than a somewhat self-deprecating aside in the column (which follows elsewhere in the issue) I've received special dispensation from my esteemed publisher to give a somewhat fuller account of the group's career and an unapologetic shout-out for the group's upcoming November 25 Aga Khan Museum concert. After all, who better than an insider to make sense of this band's arcane music, and to share a story or two?
I agree that ECCG's music and 35-year career is admittedly difficult to pigeonhole. Pioneering a made-in-Canada approach to the exploration of links between post-classical and world music even before those terms became mainstream, ECCG's repertoire is a confluence of its founding core members' musical training and multiple professional practices. Over the years most have been percussionists, among the country's top drummers and mallet freelancers. On the other hand there has also been a violist, a flutist, guitarists – including founder Jon Siddall and longtime member Bill Parsons – and an ex-bassoonist. The latter? Me! Before I picked up the ECCG's suling (bamboo end-blown ring flute) in 1984. A lifetime convert from bass to treble winds, I've never looked back.
Despite being difficult to slot in a genre, ECCG's eclectic musical approach has captured the imagination of leading Canadian, American, European and Indonesian concert composers. Musicians, singers, choirs and instrumental ensembles from several genres have also chosen to perform with ECCG. Our music has attracted the interest of international audiences, such as those that attended ECCG's June 2018 concerts in Munich, Germany. This interest has resulted in a number of tours over the years starting in 1989, and taking us to Indonesia, the gamelan heartland, in 2002.
November 25, the Aga Khan Museum will celebrate the 35th anniversary of Evergreen Club Contemporary Gamelan with a concert that touches on many bases. It will feature the premiere of a new work by Canadian composer Peter Hatch, whose composition thematically explores the environment of his new BC island home. The presence of returning guests, Indonesian musician/composer Ade Suparman and dancer Nurrika, will signal ECCG deep collaborative ties with the rich performance culture of West Java. Their residency will culminate in joint performances of several works. Finally, the group will also honour the centennial of American maverick composer Lou Harrison – one of its founding musical mentors – with a suite of his works arranged by yours truly.
Right from its first season, ECCG's primary goal has been to create a Canadian-based repertoire which it would commission, perform, tour and record. Has ECCG been successful in meeting these aims? Well, it has generated some 300 works, the sum total of which is a brand new repertoire not replicated anywhere. The group has recorded 15 albums and presented 35 concert seasons in Toronto.
Throughout all this activity, ECCG's primary aim has always remained – paradoxically to some – to perform music on its degung instruments which ultimately explores and expresses a core Canadian ethos and identity.
During our 2002 Indonesian tour, the ECCG was invited to headline the Yogyakarta Gamelan Festival, along with Toronto's Maxine Heppner Dance Company. When we arrived I was asked by a young Indonesian organizer what our music was like, having never heard it. Considering an appropriate response, I replied, "We play Canadian music on degung instruments." After the festival wrapped, we made our way to the tour bus and said our goodbyes. He turned to me and said with a wry smile, "Now I know what Canadian music sounds like."
Andrew Timar is a Toronto musician and music writer. He can be contacted at worldmusic@thewholenote.com