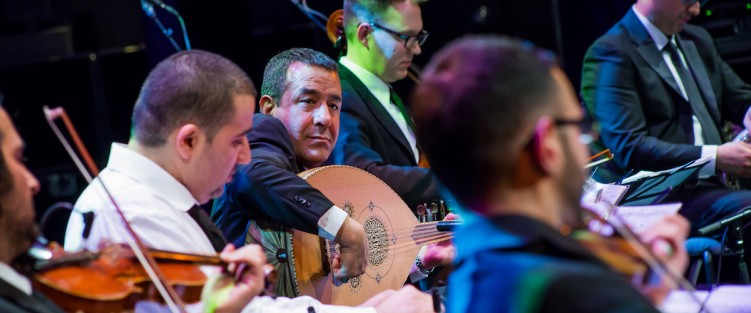 The Festival of Arabic Music and Arts (FAMA) was launched last year, produced by the Canadian Arabic Orchestra (CAO) in partnership with the Festival du Monde Arabe de Montréal. Presenting a series of concerts, in the Toronto region and in Montreal, of both Arab and non-Arab artists, it aimed to appeal not only to Arabic audiences but also to a broad spectrum of Canadians.
In the fall of 2017 FAMA staged 60 concerts of music, stand-up comedy and theatre by international and local performers. FAMA returns this year, October 26 to November 10, with an even more enterprising expanded program, presented in 11 venues across the GTA. The lineup features music, theatre, exhibitions and film from Arab countries including Syria, Palestine, Lebanon, Morocco, United Arab Emirates, Iraq and Egypt, as well as several performances by the CAO, which remains the driving force behind the GTA undertaking.
The Mississauga-based CAO was co-founded in 2015 by the husband-and-wife team of qanun expert and orchestra president Wafa Al Zaghal, and pianist Lamees Audeh, its music director. Fuelled by their twin passion for Arabic and Western classical music, they initially began with a modest ensemble of five musicians. Their expanded orchestra today includes a string section of violins, viola, cello, bass, plus piano, clarinet, ney/nay (Arabic reed flute), oud (Arabic lute) and three percussionists. The instrumentation reflects the CAO's goal of combining Western and Arabic classical instruments and musics.
FAMA, and the CAO role in launching it, caught my attention this time last year and I spoke with Audeh at the time. "Our repertoire is evolving, along with the makeup of the orchestra," she noted. "Our approach puts less emphasis on [Arab] ethnicity and rather more on the [Arabic] music itself. We wish to connect expatriate Arabs with their classical Arabic musical culture … maintaining this cultural heritage in the hearts and minds of the Arab community in Canada and presenting it to future generations. But at the same time we want to engage with all non-Arab communities. Our aim is to build bridges between Canada's diverse communities ... multicultural dialogue among the tapestry of Canadian society through music."
The shifting demographics of the GTA is one factor impacting FAMA's approach. On its website it notes that the "GTA, comprised of the City of Toronto, Durham, Halton, Peel and York is home to about 6.5 million people speaking approximately 200 languages. … Arabs constitute about four percent." According to my lazy arithmetic, that's over a quarter million GTA residents who identify as Arab, a considerable core audience base, within a much larger musically engaged and potentially interested population.
Venues this year range from public spaces and mid-sized theatres, to large concert halls. With the aim of reaching core and wider audiences where they live, work and play, they are strategically and widely dispersed: Mississauga, Oakville, North York, but also in Toronto's cultural core: at the Hot Docs Ted Rogers Cinema, Jane Mallet Theatre and 918 Bathurst Centre for Culture.
The 2018 Festival opens October 26, close to the CAO's home base, at the Living Arts Centre-Hammerson Hall, Mississauga with a concert by the multi-award-winning Lebanese singer and popular music songwriter Marwan Khoury. Khoury has had numerous highlights in his three-decade-long career: His Kil Al Asayed (2005) album made him a music star throughout the Arab world, topping charts. Last year he signed with the Al Araby TV Network to host a TV music show titled Tarab with Marwan Khoury where he performed evergreen Arabic songs with Arab guest stars. It's a foregone conclusion that his GTA fans will make this concert a hot ticket event.
Dalal Abu Abneh
Digging for more details on the ambitious scope of the festival, I spoke on the phone with CAO chorister (and FAMA manager) Omar Najjar. "We strive for partnerships, searching for synergies with presenters and venues," Najjar said. "The bottom line is that we want to reach all our communities where they make their homes. For example many in the Jordanian community live in the northern end of Toronto, so we are presenting Dalal Abu Amneh's concert within easy reach at North York's Lyric Theatre. But first we will present her at 918 Bathurst Centre for Culture, Arts, Media and Education."
Singer Dalal Abu Amneh was born in Nazareth in 1983. By the age of 13 she was performing Palestinian folk songs at public events. She became well known for rendering the songs of Umm Kulthum (1904?-1975), among the greatest and most influential singers of the 20th century. More recently her song Bokra Jdeed (A New Tomorrow) made it to the shortlist in the 2006 EuromedCafe international song contest for "intercultural dialogue between the two shores of the Mediterranean."
Amneh actively mixes tarab (classical Arabic singing) and Arabic folk music, focusing her practice on characteristic rhythms and maqamat, a system of melodic modes used in Arabic music. In addition to her career as a professional singer, Amneh is pursuing her PhD in Neuroscience at the Faculty of Medicine at Technion University, Israel.
November 1, FAMA presents Amneh in Nur Sufi at the 918 Bathurst Centre for Culture, Arts, Media and Education. Amneh takes the audiences on "a holistic spiritual journey that combines Sufi whirling with music," set to some of the works of three outstanding mystical Sufi poets, Rumi, Ibn Arabi and Al Hallaj. Joining her is the Syrian-born American composer and cellist Kinan Abu Afach, along with violin, qanun and percussion. Rumi Canada's Tawhida Tanya Evanson, whose Sufi whirling is a form of active meditation, will join the musicians. Cognizant of the 918 Bathurst Centre's former life as a Buddhist temple, and infused with the scent of incense, Nur Sufi draws on the Sufi mystical tradition to set the mood for a special concert experience for the audience. A gallery of Sufi and Arabic calligraphy complements the performance.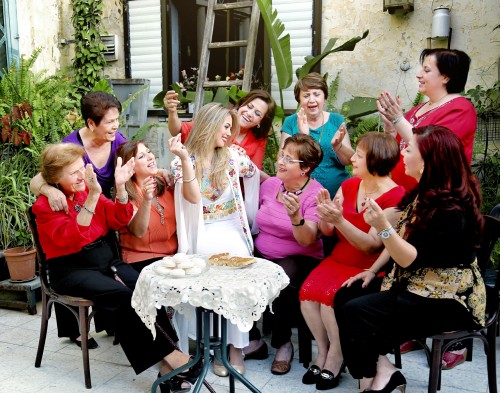 Then on November 3, Amneh's concert Ya Sitti (Oh Grandma) takes the stage at the Lyric Theatre in North York. The show is an extension of Amneh's audio-blogging about her Palestinian heritage in order to document its current practice. Ya Sitti evokes the environment in which this heritage is kept alive. In addition, Amneh aims to restore the cultural sprawl of folk music practiced in the Great Levant and the surrounding Arabic area by choosing songs originating in Palestine, Damascus, Baghdad and Cairo.
Accompanying Amneh on this pan-Arabic journey is an actual group of grandmothers – the theme of the concert. As she explains, in the past these grandmothers used to sing to themselves behind closed doors. Amneh's project proudly brings them out on the public stage, showcasing their role as the birth mothers of song, highlighting their extraordinary contribution in the inheritance and preservation of their heritage. The grandmothers not only sing with Amneh but also share the stories and history of the songs, illuminating the lives of ordinary women.
Small Wonders
I asked FAMA manager Omar Najjar where the resident CAO Choir comes into the picture. "The choir is directed by Wafa Al Zaghal, who is also the festival's CEO," said Najjar. "As a member of the choir, I feel choral singing is an important aspect of Arabic music that perhaps not many in the broader Canadian community are aware of. We include both male and female singers, typically singing in unison, with interspersed solos. A good example of the involvement of choral music and the diversity in our program can be seen at our 'Small Wonders' concert, with the participation of the Maronite Youth Choir of St. Charbel Church in Mississauga. The Maronite Church is an Eastern Catholic Church [and one of the oldest in Christianity], yet people of the Maronite faith are very much part of the greater Arabic community."
November 5, FAMA presents Small Wonders at the Maja Prentice Theatre, Burnhamthorpe Branch Library in Mississauga. In addition to the Maronite Youth Choir, this fundraiser will showcase young talent nurtured by the Canadian Arabic Conservatory of Music (CACM), directed by Lamees Audeh. Children ranging in age from 6 to 16 will perform on traditional Arabic instruments such as oud, qanun and Arabic violin, as well as on classical violin, clarinet, guitar and piano. Small Wonders also features Zaytouna Dabke, a Mississauga folk dance group concerned with preserving Palestinian and Arab culture and heritage, particularly among youth.
Though admission is free, donations will be accepted towards sponsoring CACM tuition for deserving children.
The CAO itself
The resident Canadian Arabic Orchestra is featured in three festival concerts.
November 4 at the Aga Khan Museum, Syrian flamenco guitarist and composer Tarek Ghriri accompanies flamenco dancers with members of the CAO in a program titled "Flamenco Arabia." Presented in partnership with the Aga Khan Museum's annual Duende Flamenco Festival, Ghriri explores common ground between Spanish flamenco, traditional Andalusia and contemporary Arabic music.
November 9 at the Lyric Theatre, North York, poet and singer Hassan Tamim presents "Sounds of Iraq," in collaboration with the CAO, taking the audience on a musical journey to the land between the Tigris and Euphrates rivers, to one of the ancient cradles of poetry and music.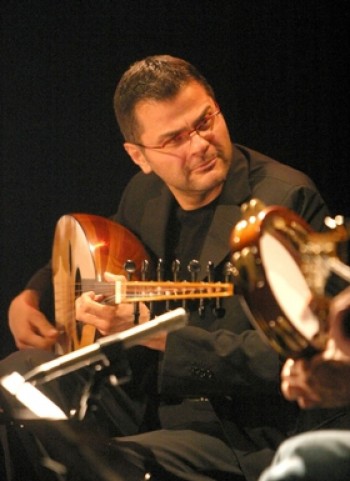 The festival's grand finale takes place on November 10 at the Jane Mallett Theatre, St. Lawrence Centre for the Arts, in downtown Toronto. "Tribute to Sayyed Darwish" features Lebanese oud master, singer and composer Charbel Rouhana with the 20-piece Canadian Arabic Orchestra and Choir.
Widely considered the "father of modern popular Arabic music," the Egyptian singer and composer Sayyed Darwish (1892-1923) believed that music was not merely for entertainment but was an expression of human aspiration which imparted meaning to life. He wrote the melody for the national anthem of Egypt, and his songs remain popular even in the 21st century. His remains rest in the "Garden of the Immortals" in Alexandria, Egypt, his hometown.
This large-scale tribute to one of the Arab world's leading maestros, a leading light of the Arab music renaissance of the early 20th century, is a fitting way to sum up FAMA's vision and set the stage for the future.
The Festival of Arabic Music and Arts (FAMA), produced by the Canadian Arabic Orchestra (CAO), runs from October 26 to November 10. Consult canadianarabicorchestra.ca/fama for all the details.
Andrew Timar is a Toronto musician and music writer. He can be contacted at worldmusic@thewholenote.com