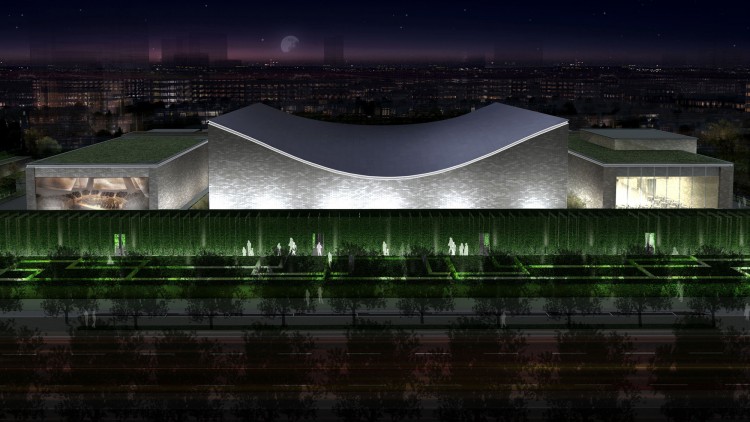 It was all of 40 years ago that Andrew Davis sat down at a Hero baby grand piano in a Shanghai department store, puzzling shoppers with his rendition of Henry Mancini's Moon River. All the conductor of the Toronto Symphony Orchestra had to do during that brief visit was stop to look at something and a crowd would gather to look at him.
Westerners were a curiosity in those days following the Cultural Revolution, with people still wearing Mao suits and black bicycles crowding the streets. Today's Shanghai is a different place, a forest of gleaming skyscrapers with shops peddling Gucci, Versace and Prada and streets on which a cyclist can find himself sandwiched between a Lexus and a Mercedes.
No one who has visited China during the intervening years can fail to be impressed by the country's rate of modernization. In the countryside the pace is understandably slower. In the cities it is sometimes breathtaking and not least in the realm of the arts. A few years ago in Beijing's state-of-the-art performing arts centre I witnessed a production of Verdi's Nabucco superior in quality to the one I had witnessed months earlier at the Mariinsky Theatre in St. Petersburg. Both starred Placido Domingo. A few weeks ago I witnessed a production of Wagner's The Flying Dutchman imported from Erfurt, home of one of Germany's most modern opera houses, that looked entirely uncompromised on the stage of Shanghai's elegant Grand Theatre.
All this is by way of saying that – Rodgers and Hammerstein notwithstanding – it is not only in Kansas City that everything is up to date. Shanghai (population 13 million) has set itself the task of becoming one of the world's top tier international metropolises.
Its music conservatory, China's oldest (vintage 1927), is just as clearly determined not to be left behind. Host to an annual Shanghai New Music Week, it brings to China's largest city the sounds of today, inviting major interpreters from far afield to collaborate with native musicians in its performance.
That is where Toronto's Soundstreams comes in. At last month's 11th Shanghai New Music Week the conservatory's concert halls welcomed performers from Amsterdam, Athens and Paris, in addition to Ontario's capital city, to join their Chinese counterparts in a series of afternoon and evening concerts. Additional off-campus orchestral concerts featured the Zhejiang Symphony Orchestra in Shanghai Symphony Hall, a handsomely modernist venue architecturally inspired by the Philharmonie, home of the Berlin Philharmonic.
It would be an exaggeration to claim that these concerts reached a wide audience. Like those of Beijing's comparable festival they are conservatory-sponsored projects, aimed primarily at the open ears of the young. Tickets are kept cheap; lectures and concerts are T-shirt-and-shorts informal.
In his introduction to this year's New Music Week, artistic director Wen Deqing identified as its theme "the fusion of tradition and modernity, of the Eastern and Western, and of China and the rest of the world." He might almost have borrowed the title of a once-famous book by Wendell Willkie, One World.
The September 14 official opening concert by the Zhejiang Symphony Orchestra featured the world premiere of a new work by Ye Guohui, head of the composition department of the Shanghai Conservatory, but it also included the Chinese première of Quatre Instants by the celebrated Finnish composer Kaija Saariaho. Indeed, Saariaho was even the subject of a Concert Portrait, as were her French colleagues Frédéric Pattar and Gérard Pesson and her Japanese colleague Toshio Hosokawa. There was also an entire recital by the Greek pianist Ermis Theodorakis devoted to the cerebral music of the German composer Claus-Steffen Mahnkopf.
To Soundstreams fell the distinction of presenting a program of new music from North America, relatively little of which has been performed at this week-long event over the years – a reflection, its artistic director admits, of his background. His own advanced training as a composer took place mostly in Europe.
Soundstreams brought over an ensemble of two pianists (Midori Koga and Greg Oh) and two percussionists (Dan Morphy and Ryan Scott), together with mezzo-soprano Andrea Ludwig for this program, which comprised a pair of American works by John Cage and Steve Reich along with three from Canada – R. Murray Schafer's Tantrika, Juliette Palmer's Five (Hand in my Pocket) and Nicole Lizée's Promises, Promises.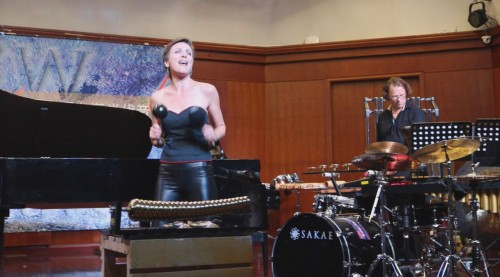 Lizée accompanied the musicians to Shanghai to give a lecture on her musical ideas as well as take part in an "International Composers Masterclass Concert" for which Soundstreams provided the players. Although four of the participating composers were Chinese, the jury also heard music by a composer from Germany as well as Paulo Brito, a Brazilian-born American currently pursuing a doctorate at the University of Toronto, who played his own piano music with a virtuoso flair. What all these emerging composers brought to the masterclass was an awareness of current trends as well as a professional level of craftsmanship.
Clearly, much has changed in Chinese musical culture since the Cultural Revolution, when Western music was regarded as decadent and modern Chinese music was sometimes composed by committee. Not that Soundstreams was unaware of the change, having performed five years earlier at the modern music festival in Beijing. Artistic director Lawrence Cherney has made a point of cultivating links between Canada and China and has even lectured on Canadian music at the Shanghai Conservatory
"Canadian governments have talked a lot about cultural contacts over the years," he explained over coffee and a croissant at a shop across the street from the conservatory, "but the current government actually has an active policy. Shanghai is one of 13 cities internationally in which the government is pouring resources into enhanced contacts. Culture really is important now."
As evidence of the change, Cherney cites recent government approval for a forthcoming Soundstreams European tour of a program of music theatre by Claude Vivier, the Quebec composer murdered in a Paris hotel room in 1983, who has become far better known abroad in death than in life.
"It is an incredible time to be telling Canadian stories abroad," he says. "Until now we have been more successful in film, literature and maybe the visual arts. We are not trying to prove anything. We hope to give a flavour of what Canadian music has to offer. And I feel very proud that we now have a pool of musicians who can perform virtually anything. It has been made clear to me here that they want us back."
Mere hours after consuming his croissant Cherney found himself aboard a train bound for Beijing, with Hong Kong to follow and then Tokyo, as he continued a 36-year career as Canadian music's unofficial ambassador. "There is nothing like meeting people in person," he smiles.
William Littler is a Toronto-based writer focusing on music.