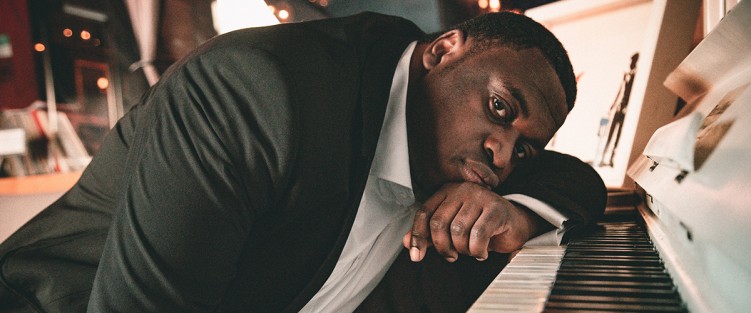 It is a Sunday morning, March 18, 2018, and jazz pianist Thompson Egbo-Egbo and I have made time for a fairly leisurely chat in The WholeNote offices at 720 Bathurst Street. Sunday is a lot quieter in the office than the rest of the week these days, as assorted heavy machinery takes a sabbatical from the nearly completed sacred task, right under our windows, of levelling all the buildings on the city block that was Honest Ed's empire.
Egbo-Egbo will be at Koerner Hall twice this coming April (once onstage and once backstage). The onstage Koerner appearance is April 11 at 7:30pm, the 14th Annual Jazz Lives gala/fundraiser for Jazz.FM91. Billed as a celebration of Nat 'King' Cole's centenary, Egbo-Egbo will be keeping company with Jackie Richardson, Mary Margaret O'Hara, Robi Botos, Tom Wilson, Heavyweights Brass Band, Lori Cullen, Bill McBirnie, Danny B, Drew Jurecka and the JAZZ.FM91 Youth Big Band. "I'd better start practising," he says.
Ten days later, April 21, is the eagerly anticipated Koerner appearance of Cape Town titan, jazz pianist Abdullah Ibrahim with Freddie Hendrix on trumpet and Ibrahim's band Ekaya, in an evening featuring new arrangements of late 50s Jazz Epistles original compositions woven in with Ibrahim's classic catalogue.
"I am looking forward to that show," Egbo-Egbo says. "If you can get a ticket," I reply. (It has been sold out for months.) "Secret is, I will be watching from backstage," he says. "They will be doing a little VIP reception after, they always do a little VIP thing, and my trio will be playing that reception. I had a choice of which to play and that was the one I chose. I have never seen him live and it will be great for the guys to get the chance to just watch and enjoy. I remember back in the day when IAJE (International Association for Jazz Education) was in town, I got to watch Ed Thigpen play with Russ Malone and Benny Green, with Oscar Peterson onstage and I was volunteering, opening the doors for those guys. So it's going to be exciting."
Meanwhile, the Thompson Egbo-Egbo Trio (Jeff Halischuk on drums and Randall Hall on bass are the other two) will have put in a fair bit of practice – four March Tuesdays at The Rex, in the 6:30pm-8:30pm slot. Repertoire for the gigs revolves around their trio's first album – A New Standard, it's called. It was recorded as an indie project a year or so ago and is now being re-released by Entertainment One Music – a first step of another leg of Egbo-Egbo's musical journey.
One of the great things about the residency at The Rex, he says, is settling in. "Settling into the music, settling in with the same players. Similar to the time we've spent at Poetry Jazz Cafe in Kensington Market, it's like paid rehearsal time. You get to work through the music. For me there's a freedom in knowing that in this setting I'm allowed to make a few mistakes in order to find stuff. And that will make what we do next, next record, next evolution or whatever, that much better. Ideally we are trying to shed our skin of stuff to find whatever the next butterfly is."
"Why A New Standard?" I ask about the album name.
"Partly it's about picking repertoire," he says. "You know, you go to Humber, or whatever music institution, and they give you the standards and you've got to learn these tunes; and then you get out in the real world and realize there's all these other tunes. I mean, you sit at the piano in a piano bar and you'd better be able to at least fake Piano Man so that after the first 30 seconds, when they usually stop listening, it still sounds like the same song. So part of it was that. Realizing that there are new 'standards' being set all the time that you have to know. The old guard has to meet the new guard, and out of that you have to create your own standards, so to speak."
He carries on: "Another part of it is to do with the realities of life for a gigging musician, when you're finding yourself in a different space musically all the time – a little bit of jazz and little bit of pop depending on where you are from moment to moment. It's easy to buy in to a kind of disdain for music that's three minutes, or 2:40, that sort of stuff. But I found myself thinking about the old jazz records – if you listen to some of the old records, that's all they were. Size of the cylinder, one head, one solo head out. Which is not far from where the pop space is for music."
"So is there a danger of finding yourself betwixt and between?" I ask. His response is a shrug."Some people will call it jazz, some people won't; most of the jazz people won't call it jazz, and the people who aren't jazz will call it jazz. Whatever … The way I see it, if someone turns the radio on for the music that's there, can we be there? It may not be a pop tune but can I present it in a way where it's not a 12-minute song? Can I get it compact to match the way it's being absorbed? Six minutes or so, that was my thought process. Let's just try and present the music a little differently, you know? We all listen to all kinds of music which does that."
Egbo-Egbo, Halischuk and Hall all went through the Humber jazz program, at the college's Lakeshore campus in the city's west end. But the story of their working together has more twists and turns than that. Halischuk and Egbo-Egbo were exact contemporaries but did not intersect musically at the time. "Jeff was in the A Band," Egbo-Egbo explains. "Which band you were in was quite competitive for some people. I have to say it wasn't for me, not because it couldn't have been, but just because it wasn't on my radar at the time. I just thought, 'Oh, some people got picked to play in that band.'"
His drummer at Humber was Sly Juhas but "he met the door lady at some venue we were playing and they hit it off, ended up moving to Germany." After that he played with many drummers, then one day needed someone to sub on a particular gig. "Saw Jeff on Facebook and went 'Hmm, I wonder if he would play with me.' Reached out, he said 'Yeah sure, I'd love to.'"
Something clicked, he says. "For me, Jeff really played the way I heard the music, the way I envisioned drums being played on everything I do, so at that point it became 'How often can I get him to play with me?' And I was fortunate because it stuck. He really elevated what we were doing. I think it's interesting that ten years before we hadn't really played together. But there's always relationships along the way in music that never happened before; that's the way things go sometimes."
Bassist Randall Hall had been at Humber a full decade before Egbo-Egbo. "Randall was one of those guys who had done Humber and never finished it. Music was great at the time, there was a lot of playing to be had. Then, as luck has it, he came back to finish his studies right at the end of my time. We ended up playing together and sticking around. He's been there since very early on playing with me and it's worked out really well."
"Did you also gig all the way through Humber?" I ask. "Yes," he says. "It's interesting, the different philosophies people bring to it. I didn't have the same supports some people had – that's neither good nor bad, just a fact. It meant I didn't interact as much with other students as I could have, or should have, maybe. All those gigs, four, five, sometimes six nights a week ... Also, to be honest, I mean I grew up downtown and didn't want to be out at campus when I didn't need to be. So I was jetting a lot. On the one hand I had a tough go financially figuring it out. On the other hand, I was very fortunate that I had private scholarships to pay for my time at Humber."
When Egbo-Egbo talks about growing up downtown, he's talking specifically about Regent Park, on Toronto's inner-city east side, the child of parents who immigrated here from Nigeria when he was four years old. The inner city east side is still his home base. He sits on the board of Dixon Hall Music School, where he got his own musical start – that's how he met entertainment lawyer Chris Taylor, who now heads up Entertainment One Music. It's also how he met Mitchell Cohen of Daniels Corporation, who has followed Egbo-Egbo's progress for years and helped finance the production of the new album.
"Somewhere, I can't remember exactly where," I say, "you're quoted as saying something like 'Before you can talk about making best choices, you have to have choices to make."
"There's an easy version of that," he says. "You grow up, you see bad things happening around you. You choose to join in or you choose something else, if there's something else to choose. But I don't go with painting me as some kind of a hero. I'd love to say I was smart enough to recognize the opportunities afforded to me. People look at you and say 'Wow, look at you, you did so well.' But truthfully, why shouldn't I have? Lots of people from Regent Park did well. You just mostly hear about the ones who don't. I was surrounded by a lot of opportunities, so much opportunity. I was not a rich kid but from an early age, because of music, I grew up like a rich kid. Looking back, it seems almost impossible that I would miss the road I took. Take the time to unpack it, there was a whole community of people who invested in me like a thoroughbred.
"I have always had support and help for what I am doing; even now I remind myself that I have always had a community. If you don't have one, you'd better figure it out, for music or anything else."
For Egbo-Egbo, "anything else" now includes a recent decision to add a career in commercial real estate to his toolkit. "It was an interesting choice" he says. "I had no background or knowledge in real estate. But I asked myself 'Do I go back and do an MBA or go into law?' I'd done eight years of school, didn't want to remove myself from the workforce. I'd met people in that sector through my music so at the minimum I would have people who care about what I do to answer questions for me."
"What's ironic and beautiful over the last year and a half since I started out," he tells me, "is that the music has been subsidizing my real estate career. The income I used to look down on has actually helped me survive the transition. My first deals have come directly from my music network. I tell myself I am going into real estate to help me take care of music and monetarily it's been the other way around. It's so interesting how it all connects. No matter what I have done so far, music always takes care of me. Financially, emotionally, mentally. One way or another."
"So how do you think you can find a balance?" I ask.
"Not so much a question of balance as alternating binges," he says. "When I first started I was so busy I was not really practising. So I worried about making sure the music was continuing. I look at it this way. If you're doing things musically that you don't want to be doing, in order to do the things that you do want to be doing musically, then do something else with the time you spent on the musical part you don't like. I am a performer, not into teaching, and it's getting to where I don't have to worry only about taking care of myself. My parents are getting older; as immigrants they don't have the work history, pensions, and whatnot; at some point you have the responsibility to help out. They made the sacrifices for you. Roles switch as life changes.
"It's like starting a new conversation with myself," he says. "I still want to do music, still want to write, never have done anything other than music. Maybe real estate will help inform the musical choices I get to make in ways I can't imagine. Maybe it will give me the resources to make music a 'best choice' for other people the way it has been for me."
We look out the window at the heavy machinery sitting silent on the Honest Ed's site, a small oasis of possibility in an impossibly overheated downtown real estate market.
"Life in the inner city can be isolating, but it's not actually isolated," he says, as if in conversation with himself. "Downtown there is always somewhere close by you can go. Where you can be with people. We have to find ways to build that closeness in parts of our city where isolation is the fact."
David Perlman can be reached at publisher@thewholenote.com.