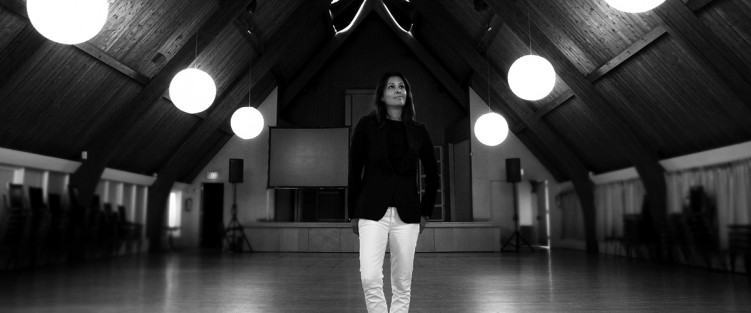 It was October 11 when I got in touch with Daniela Nardi, newly appointed artistic and executive director of the 918 Bathurst Centre for Culture Arts Media and Education, less than a five-minute walk north of the Bathurst/Bloor subway station.
Coincidentally, October 11 was also the opening day of the 12th edition of the Music Gallery's X Avant New Music Festival, which would, in other years, have had nothing to do with this story, because it would have been mostly presented at the Music Gallery's usual home at the Church of St. George the Martyr on John Street, just south of Grange Park. This season, though, adjacent condo construction woes are, literally, shaking the Music Gallery to its foundations, leaving the Gallery and its partners scrambling for alternative venues.
Now it seems that 918 Bathurst has emerged as the answer to at least some of their prayers. As David Dacks, artistic director of the Music Gallery says: "We are beyond excited to present the majority of the [XAvant] festival in the beautiful main hall of 918 Bathurst ... The Centre has been a welcome new partner in helping us to stage the festival with a similar sense of occasion as our audiences have come to expect from the [St. George the Martyr] church environment."
I started out my conversation with Daniela Nardi by asking what she thinks the qualities of 918 are that Dacks was referring to when he said "similar sense of occasion."
"There are many possible layers to that" she replied,"the first being physical. That is, the music events presented at St. George the Martyr certainly had a vibe – not just another concert hall or club setting but a unique space. Combined with the Music Gallery's top-notch sensibilities for presenting concerts, the musical experience was a special one, a particular one, unlike any other concert experience. And this is the same for 918 Bathurst. Our space is an ex-Buddhist temple, with its A-frame roof, all the wood, midcentury detailing. There is no other space like it in the city hence the musical experience created in this space is special, is unique. And the acoustics to boot are truly wonderful. Above all, though I think it has to do with a similar sensibility when it comes to the value in presenting quality. Both the Music Gallery and 918 Bathurst adhere to this sensibility as a mantra; coming to things from the same viewpoint allows us to be in sync, work together seamlessly in order to create the kinds of experiences we believe to be memorable and substantive."
WN: The first time I became aware of 918 Bathurst as a venue was back in March 2012 when b current and Theatre Archipelago brought Nicole Brooks' Obeah Opera there for its first workshop production. I don't even know how long before that the Centre was already a going concern. Even since then, to be honest, it's been on my radar more than my itinerary, despite the range of ensembles and presenters who feature in these pages who've used it, or are planning to – Ensemble Polaris, Afiara Quartet, TorQ Percussion, Opera 5, Tafelmusik, Toronto Creative Music Lab, Music Gallery, Teo Milea ... It seems like it still remains for many (artists and audiences), one of those "best kept secret" places – a "How come I never knew about this place" kind of thing. Fair comment?
DN: Absolutely a fair comment. It is Toronto's best kept secret, it is a gem of a space and it is pretty remarkable that not enough people know about it. I hope to change that. The space is like no other space in the city and it is the perfect size. You can seat 200, it is intimate, the acoustics are great. We have a piano thanks to the Music Gallery and hopefully going forward with our partnership, 918 will house the other piano the Music Gallery owns. It is easily accessible by subway, part of the downtown core, part of the Bloor Street Culture Corridor. And this is just the start. But to go back to the question, I believe that not enough has been done to promote this space as a performance space. It has been a great staple for the community that surrounds it and has survived by word of mouth. Given its size and architecture, it is most suitable for most arts/music presenters in the city. Considering the programming, we would like to create, as well as to continue, our partnerships and collaborations, we hope to demonstrate the fact that 918 is a unique cultural hub, a cultural sanctuary if you will, a cultural destination.
Say more about the "sanctuary" aspect. There's the main hall (which was literally a sanctuary in the spiritual sense). And what else?
Yes, the Great Hall was used as a Buddhist temple – and you can still feel the good vibes. But we do have two smaller skylit rooms which we call the SunRoom and StarRoom which are primarily used for gallery showings, installations, also good for smaller more intimate concerts, meetings. We also have a slew of rooms in our lower level which are great for classes and meetings, a and fully equipped kitchen suitable for catering of events.
"Artistic and executive director" is your official title and you're just starting in that role, right? So I am wondering to what extent you were aware of the Centre yourself as an artist, prior to applying for the position?
Yes I just started in July, then went off to Edinburgh to perform at Fringe so really I haven't even had my first 100 days yet! But on the artist side of things, yes I did know about the space, had been in it a few times for other performances and was quite enamoured with it. Never did I think I'd end up here doing what I am doing.
Are the "executive" and "artistic" challenges ahead distinct and different from each other in your own mind at this point? Which ones wake you up in the middle of the night?
The two roles are distinct and different from one another. Executive, to me, is about managing all the moving parts which make the facility function: from day-to-day, nitty-gritty matters to more big-picture items like fundraising, strategic planning and marketing. This role is about making the venue go so that the art can soar.
The artistic director role is where my artist side can be creative, where I get to play. Discovering and showcasing the creators, thought-leaders and visionaries of our city is truly inspiring and satisfying. I say satisfying because being an artist myself, I am grateful for the opportunity to give other artists a space to do their thing and as a result, contribute to Toronto's cultural landscape.
What keeps me up at night more are the items on the executive side of the checklist. Now being in this role, I can understand how presenters would talk about their bottom line. There truly is one! I find myself, when I am talking to artists, saying things like "I still need to keep the lights on," which shocks me at times, like a parent saying "Because I said so." But this is the reality. I want to keep this space running, sustainable and viable so that all creators can do their thing – and how to do that? THAT keeps me up at night.
And why are you the right person for the job?
Why? Well, first I don't see this as a job. I have been in the arts all my life. I bring love, passion and hard-earned wisdom to this role. My skills set comes from the school of hard knocks, not an MBA program (not that there's anything wrong with that). I have a drive and truly a passion to showcase the arts. I am driven to give an audience an experience. Whether it is through my own shows as an artist or from presenting other inspiring creators, I am motivated by the desire to move an audience member, to give them a moment where they can suspend themselves, be present and have an experience like no other.
I have the impression that much of the artistic and musical programming over the years has taken the form of the Centre being available to partner organizations (so mainly as a venue). But does 918 have plans for more events/series of your own?
Yes, I do have intentions of creating our own programming. 918 has not done that for some time. I see our programming as multidisciplinary, with strong emphasis on music. But as our tagline suggests: Where It All Happens. THAT is what I would like to see.
From art to theatre, music to dance, film to literature from all cultural groups, I want to see 918 be the place where it all can happen. I want 918's reputation to be the place where people come to find out what is happening in the Toronto cultural landscape, what artistic and cultural contributions are being made. To be life-enhancing. Tall order perhaps but I'll try.
Planning arts and culture in the city seems to fall into two camps: there are those who talk about big plans for "making Toronto into a real music city," and those who think it is already one, and worry about "keeping it real" in the face of forces, economic, political, social, that weaken the existing social and cultural fabric. I'm interested in your own thoughts on this. Also, where 918 Bathurst fits in.
First and foremost, Toronto is an amazing music city. We are finally coming into our own. Developing a personality, a character. Having been born and raised in this city, I have seen it grow, shape, form itself. No more are we comparing ourselves or thinking ourselves less than our American colleagues. We have it going on – and we are proud. Finally.
How I believe 918 fits into "keeping it real" is by staying committed to quality. By staying committed to giving audiences what is good and not what is expected. The moment you lose sight of that commitment is the moment it all starts to fall apart, when you do start to fall prey to the forces.
Perhaps this all sounds like new-agey rhetoric but if you ask what does it take to keep things real, you will observe that it's about being true to what one believes. And when one is committed to that, nothing can shake it loose.