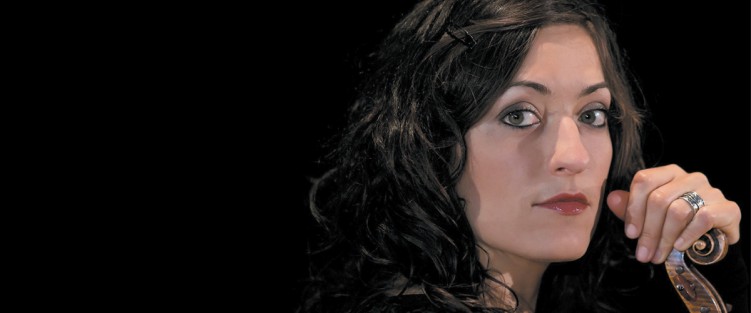 On October 11, 2017 at 8pm (or shortly thereafter), on the stage of the hall named after her distinguished predecessor, Tafelmusik Baroque Orchestra's new music director will take that sharply drawn-in breath characteristic of leading a period ensemble from the first violin. And with the downbeat that follows, as the first notes of Giuseppe Battista Fontana's Sonata XIV for two violins, dulcian and continuo float out into Jeanne Lamon Hall, it will be safe to say that Brescia-born Elisa Citterio, only the second music director in Tafelmusik's illustrious 33-year history, will be well and truly at home.
It won't be Citterio's first appearance with Tafelmusik. That took place, in the selfsame hall, from November 5 to November 8, 2015, in a program titled "Baroque Masters" and featuring works by Corelli, Fasch, J.S. Bach, Locatelli and Vivaldi (his Concerto for two violins and two oboes in F).
It won't even be her first official appearance as the orchestra's anointed music director. That will have taken place three weeks previously, from September 21 to 24 at Koerner Hall and September 26 at the George Weston Hall. But for Tafelmusik as an organization, October 11, 2017 will be the culmination of a five-year process that started in the orchestra room in the basement at Trinity-St. Paul's in October 2012, when Jeanne Lamon advised her orchestral colleagues of her intention to step down as music director. And for Citterio it will be a defining moment – her first opportunity to present herself to Tafelmusik's audiences in all her musical capacities: who she is (virtuosic soloist, orchestral leader, team player and imaginative curator) and, both literally and metaphorically, where she is coming from.
In a blog post still available for reading on Tafelmusik's website, violinist Jula Wedman wryly recalls Lamon's October 2012 announcement of her intention to retire from the position she had held for 33 years: "For the first time ever in an orchestra meeting," Wedman says, "the room was completely silent." Tears and prosecco flowed. And then the search was on, with Wedman as one of two musicians on an 11-person search committee spearheaded by veteran arts headhunters Margaret Genovese and Dory Vanderhoof.
In her blog post, Wedman reflects on the positive aspects of the ensuing two-year process for the musicians themselves: "I saw how the orchestra grew and changed as we worked with each wonderful guest director," she wrote. "I saw how our feelings of despair over the news of Jeanne's retirement changed to acceptance and support for her new lifestyle and our new relationship with her. It was wonderful to have such a long process. We needed it. We became more flexible as a group, we became more open to new ideas, we became less reliant on Jeanne and more self-sufficient as a group."
Remarkably, given the thoroughness of the process, Citterio only emerged as a contender in November 2015, and, even at that late date, as much a matter of luck as good management. "We had a concert in November 2015 with no director," Wedman explains. "We also happened to have just hired a new violist from Italy, Stefano Marcocchi. I remember talking to him one day backstage before a performance at Koerner Hall, describing all of the things I thought Tafelmusik was looking for in a new music director. The name that came first and foremost to his mind was a name we hadn't heard before – Elisa Citterio." Wedman recalls being struck by Citterio's virtuosity as a soloist, her "super-efficient rehearsal style, and her high level of attention to detail," and "the way the music grew and changed every day, coming to life in different ways in each concert. ... The moment I will never forget that week was about three minutes into the first concert. The orchestra was feeling stressed (first-concert jitters) and I looked up at Elisa – she had a big beautiful smile on her face that said to me, 'This is exactly the place I am supposed to be right now. I love this!'"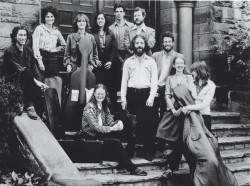 Plans to have her back at Trinity-St. Paul's in February 2016 for an all-Mozart program didn't come to fruition, so it wasn't until September 2016 in last season's season-opening concert series at Koerner Hall that what turned out to be the decisive second date took place. "This time she and her partner Mirko brought their two-month-old daughter Olivia," Wedman writes. "Elisa was playing the very first concerts after her first child was born! We were stunned that in the face of utter exhaustion, [she] still brought the same boundless energy and joy for the music with her. The rehearsals were organized and efficient, her ideas and cues were clear, creative and easy to follow, and I don't think I heard one out-of-tune note from her during the entire rehearsal period and concerts! … Many of us remarked how fresh Handel's Water Music (a piece we have played many times) felt under her direction."
Sitting in the balcony for that September 22, 2016 season opener, and of course with benefit of hindsight, I can distinctly recall the feeling that what was happening between conductor and orchestra on the stage that night might be more than a one-night stand. In fact, if there was anything to criticize from an audience member's point of view, it was that the musical conversation unfolding on the stage was all about them, rather than directed at us – like overhearing an intensely intimate conversation from the next booth over!
From that point on things moved quickly, as these things go. An offer was made by phone call to Italy, around the turn of the year.
"I was home, nursing Olivia, four months old by then, " Citterio recalls, in a hastily arranged interview in The WholeNote offices back in May 2017. "Sometimes life-changing news comes at such normal moments. I remember thinking, just ten minutes ago I had a walk in the village, went to the supermarket! For me it was a feeling that this was taking on something huge at a time when things have just changed anyway. But maybe it's a chance for things to be more busy but less crazy. I think the biggest change and really different is the responsibility for things not only on stage."
How long did it actually take her to decide to come? "I waited one month to give news to my family," she says with a smile. But clearly the opportunity to take on a role that will enable her to express and explore a fully rounded musicality beyond that of virtuoso and orchestral violinist had enormous appeal.
And so it is that October 11 to 14, audiences will have the first opportunity to witness Citterio's multifaceted musicianship, close up and personal, in a program that is entirely of her choosing. "I didn't plan the whole season," she says, "because planning started before my appointment; mostly just some suggestions for the first program and the second one and the fourth."
Of the three programs she mentions, this is clearly the one she is most invested in. "I want to give something of my background, so including Fontana and Marini, both from that background, is very natural. Landscapes around Brescia have changed over the years, but relatively not so much. There are lots of places with historical ruins that were already ruins in Marini and Fontana's time. And we have caves with prehistoric art which could have been familiar to them… I can't explain in words what I feel playing this music. It is somehow so familiar to me, and not because I have played it so often or heard it."
And this sense of connection extends beyond the music itself. "My violin, for example," she says. "It is a Marcello Villa instrument made in 2005; but it is inspired by Gio Paolo Maggini's instruments – a 16th-century luthier from Brescia, and contemporary of Fontana. In fact, they even died in the same plague in 1630. So when I play this music with this instrument I imagine I can create the same sound the composer heard. It is not logical but it is how I imagine it. I would like to give this to the Toronto audience."
Looking beyond Citterio the curator/programmer to Citterio the orchestral leader and team player, it's worth noting the care with which the October 11 program as designed brings individual focus to different players and sections within the ensemble: from bassoonist Dominic Teresi, whose passion for the Fontana dulcian sonatas predates Citterio's arrival on the Tafelmusik scene; to the sharing out of the violin solos among the ensemble; to the Vivaldi C Major Concerto for two oboes which gives an opportunity for the ensemble's oboists, John Abberger and Marco Cera, to shine.
And as violin soloist, Citterio's own moment in the spotlight will be "Autumn" from Vivaldi's Four Seasons (she will be playing "Summer" in the opening concert in September, and each of the other two movements at concerts in January and February 2018). It's a deft touch, especially in a year when the complete box set of Tafelmusik's recordings has been released, featuring Jeanne Lamon in the same work, making for fascinating comparisons as the season unfolds.
Deep emotional through-line of the October concert notwithstanding, it would be a mistake to see Citterio as a die-hard Baroque traditionalist wedded to a hundred years of repertoire no matter how obscure. "I am not planning this repertoire all the time – we are strings, two oboes, a bassoon and continuo so there are limits to the repertoire available; also our audiences expect the great works (and can enjoy new takes on great works as much as new works). Myself, I can't pretend to play well all music from Monteverdi to contemporary but for an orchestra like Tafelmusik it is important to touch dfferent periods. We also have to educate the ear. Period playing can lead to illuminating performances of a much wider range of music – Haydn, Schumann, Brahms, Verdi."
"Nineteenth-century orchestral sound is so opulent and dense," she continues. "Strip away the huge sound and you can listen for different things. With gut strings and period instruments there is a defined sound for each string and each instrument. In Italian we call this huge sound minestrone Wagneriana. How would you say that in English?" We settle on "Wagnerian pea soup" as a culinary alternative. "It does not have to be like that," she says.
This October 11, almost exactly five years from the day Jeanne Lamon announced to her shaken orchestra that she was stepping down, her successor comes home to the hall that has been the company's home base for its whole history. It would be folly in these fluid musical times to predict for any new music director a 33-year sojourn. But the stars do seem to be auspicious for Citterio's stay here to be a fruitful new chapter for both her and Tafelmusik.
David Perlman can be reached at publisher@thewholenote.com.