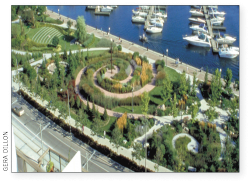 This will be the 17th consecutive year that Tamara Bernstein has programmed Thursday and Sunday concerts right through the summer in the Music Garden at the west end of Harbourfront - 19 concerts a season "for many years now." She was on a train when we tracked her down by email: "actually, the first of three trains, if I've grasped things correctly – from Dublin to Ennis, Ireland – a wee vacation."
What keeps her coming back to this particular summer project year after year is, first off, the love that audiences and performers have for these concerts.
"Our large audiences prove that there is nothing inherently 'elitist' about classical music – that everyone – not just connoisseurs; not just adults – can enjoy sophisticated genres like string quartets, early music, South Asian ragas, and so on.
"And, of course, I love the accessibility of the concerts – the fact that people of every age, economic and educational background, ethnicity, etc., can come together and enjoy wonderful music performed by outstanding artists. Things like this create quality of life beyond 'getting and spending,' and give a city a soul. This is becoming more and more urgent in Toronto as ever-rising housing prices stress the budgets of those who live here – whether it's families, young people, or pensioners - all of whom are well-represented in our audiences.
"I love being able to work with such a large palette – 19 concerts gives me a lot to play with, and a chance to reflect some of Toronto's cultural diversity. And the fact that the concerts are free means that I don't have to worry about whether something a bit off the beaten track will sell. Audiences, meanwhile, can take a chance on musical genres or styles that may be new to them. It's also enormously satisfying to present young artists, or artists whose regular audiences may be somewhat rarified, as our audiences are large, diverse and very appreciative.
And the least enjoyable part of it? Her reply is succinct. "Speaking personally, I remain disappointed by the increased traffic at the Toronto Island Airport in recent years – we've had to add a third set of speakers to deal with it."
I point out to her two programs that stood out for me as examples of her curatorial style and methods: cellist Elinor Frey on June 29, and violinist Edwin Huizinga with guitarist William Coulter on August 24.
"These two concerts indeed check a number of my curatorial 'boxes'," she replies and reels them off: Bach; period instruments; contemporary music; traditional music; and a very high performance standard.
"J.S. Bach's Suite No.1 for unaccompanied cello was the inspiration for the Toronto Music Garden: this is a great excuse (not that one needs one!) to include his music – and at least one of his cello suites – on every season. This year Elinor Frey opens the season with his Second and Fourth Suites for solo cello. I'm a big fan of 'early music' in general; in addition to Elinor Frey and Edwin Huizinga, this year's lineup includes countertenor Michael Taylor, recorder player Vincent Lauzer, and other specialists in historically informed performance.
"Elinor Frey's concert also demonstrates our commitment to new and recent music: along with the two Bach's Suites, she'll perform a 2015 piece for Baroque cello, written for her by Toronto composer Linda C[atlin] Smith. Later in the season, Vincent Lauzer will give the world premiere of a piece we've commissioned for him by Montreal composer Maxime McKinley.
"For his Music Garden concert, Edwin Huizinga is teaming up with Grammy-winning guitarist William Coulter, performing wonderful arrangements of works for violin by Bach and Vivaldi. They'll also perform traditional music (in this case, Celtic), which is also an important part of Music Garden programming."
Her audiences are a mix of long-time faithfuls, people drawn by a specific performer, and, always, many who just happen upon the event. But the distinction is not particularly important to her.
"I've always believed that classical music performed by outstanding performers will connect with all audiences. Happily, every season confirms that!"