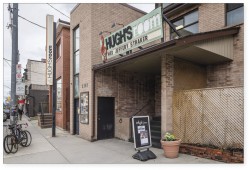 It was just over 16 years ago that Richard Carson contacted me and said, "Hey kids, we're going to put on a show." Richard called me because he knew I had a background in the production side of folk music (Mariposa, the Flying Cloud at the TRANZAC, the Oasis, etc.). When he described what he had in mind I started to get excited: the best musicians, the best sound gear, great food and drink. All I had to do was tell him what was the best sound equipment to buy and away we'd go.
I informed Richard that I had had almost no experience working with the "best gear," as I worked in the folk business. So I talked to a couple of other folkie techs, Anne Keillor and Dave Lang, who knew way more about gear than me, and we put together some quotes for the club. Richard looked at the quotes and decided that maybe "the best" was a bit pricey and asked if it could be done for less. And we found a way.
We opened the club with a couple of 750-watt-powered speakers, no subwoofers, a 16-channel board and the ability to deliver two monitor mixes, in case we went all crazy and had more than one musician on stage during a show.
And since that opening day on April 13, 2001, the sound system has evolved like everything else in the room. I could go on about how great the PA is and will be more than happy to provide anyone interested with a gear list, but I am of the firm belief that the club hasn't existed for 16 years because it has great microphones. Even the best microphone doesn't sound very good if what is going into it is poor. There is a sound tech expression, "polishing turds." In 16 years there has been very little polishing done in Hugh's. Or rather it has been confined to the silverware and menus.
The Hugh's Room Philosophy
What happened in 2001 was the inception of a team. The Hugh's Room philosophy has always been that the club was based on three pillars: the staff, the audience and the artists.
Hugh's Room wants its staff to not only enjoy working here, but to use Hugh's as a stepping stone to other things. If you'd really rather be a painter than a dishwasher, then we will try and help. If you like washing dishes, then turn up on time for your shift and wash away.
We have applied the same approach to artists; i.e. we will be thrilled if it turns out you are doing your next show at Massey Hall. We are glad that we have helped advance your career. Can you put Richard on the guest list?
And of course, even with good music and a good staff it is all rather pointless without an audience.
Behind the Curtain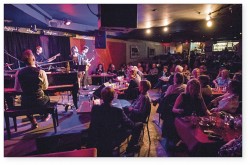 So, why is Hugh's Room in its current predicament?
I am "the booker" at Hugh's Room. (I have tried to convince people to refer to me as "supreme talent purchaser," but to no avail). I follow in the footsteps of Holmes Hooke and Amy Mangan, my predecessors, and as the booker, my perspective is somewhat limited. But what I do know is that Hugh's Room is engaged in two of the most difficult businesses in which to succeed: live music and restaurant.
On the restaurant side, we are running a full-service kitchen which, unlike other eateries, doesn't get to turn its tables over. Ouch.
On the music side, Hugh's has been able to create an illusion of success. I am sure that when people see a sold-out (Judy Collins) show at a $90 ticket, the assumption is that Hugh's has had a wildly profitable evening. Well, Judy doesn't stay in a cheap motel or stand on the corner and flag a cab to get to the gig and these are all costs borne by Hugh's Room.
The Magic
Given the struggle it has been at Hugh's, almost from day one, from time to time we all ask ourselves – staff, techs, musicians, and even Richard, the owner – "Why bother?" And it comes down to the wonderful shows we have all been a part of. Here are my own personal magic moments: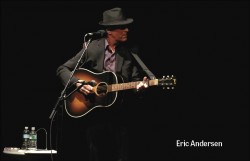 In 2001, Eric Andersen was playing a Hugh's Room show. Just after the show got underway a friend of Eric's showed up at the door (without any Canadian cash) and was eventually admitted. Hello Joni Mitchell. To everyone's delight, Joni got up on stage and sang a few tunes with Eric. To my personal delight, for most of the set, Joni sat back at the bar and, as it was legal at the time, I got to light a cigarette for her. My life was complete. Cross another one off that bucket list.
And then there was the time the McGarrigles played the club and, as their sound tech was ill, I had to mix the show. When we got to the end of the show, Anna McGarrigle announced from the stage that it was the sound person who usually started off the final tune and would I mind initiating it? Not knowing what song she had in mind I demurred. "Perhaps tomorrow night's show, when I am prepared."
The next evening, after we had a quick rehearsal in Hugh's luxuriant green room, for the finale, I sang Green, Green Rocky Road for the finale backed up by Anna and Kate. It can't get much better than that. And they gave a generous tip to me, the sound guy. Nobody ever tips sound.
More Memorable and Moving Moments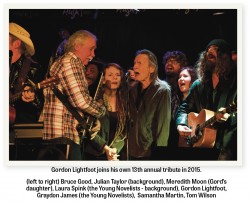 How about when Chris Hadfield got up on stage with Gord for the finale of a Gordon Lightfoot tribute? Hugh's hosting Odetta's last performance. Paul Quarrington singing his lungs out on stage while on a respirator. The three incredible shows which Lhasa de Sela did at Hugh's. Jane Siberry singing Love Is Everything. Pete Seeger, yes, the real Pete. Ray Wylie Hubbard crooning an evil rendition of Snake Farm (sure sounds nasty – pretty much is). Ian Tyson's concerts.
There has been crazy comedy. A somewhat refreshed performer who changed his guitar strings then realized he'd put them on upside down and had to ask a sound tech to re-string the instrument. The poorly trained guide dog which snatched a pork chop off a patron's plate. Mickey Rooney banging his cane and shouting, "Who the fuck is running this show?" Even Wendell Ferguson's jokes about throwing fiddles on the fire. (There is a general agreement that this is a good plan).
And there have been some very sad things at Hugh's too. Mostly revolving around artists who were not only acts who appeared on the Hugh's stage but friends of the club. We have lost the aforementioned Odetta, Paul Quarrington, Kate McGarrigle and Lhasa. Also Jesse Winchester, John Mays, Jeff Healey, Rita McNeil, Jackie Washington, Brian Cober, Long John Baldry, Willie P. Bennett and on and on.
Not to be left out of this list is Hugh, himself. The Room is, after all, named after him. Hugh, Richard Carson's brother, did not live long enough to see the club open. Hugh was a real music lover and he and Richard had always dreamed of opening a music venue in Toronto. When Hugh died, Richard took up the torch and managed through a sheer act of will to make their vision a reality.
What everyone is asking now is, has that dream come to an end?
As a part of the Hugh's Room community, I certainly hope not.
When I was asked to write this story, things looked bleak. The rumour was that Hugh's had closed permanently. I am happy to report that this is not necessarily the case. A committee comprised of musicians, promoters, audience members and other interested parties has come together to attempt to open the club's doors as soon as possible. The goal of the committee is to reopen in March.
Yes, things still hang in the balance, but I am pretty optimistic.
The sound man suggests you stay tuned!