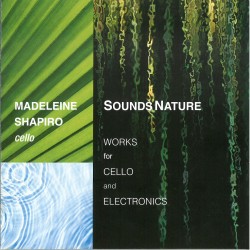 SOUNDSNATURE – Works for Cello and Electronics
Madeleine Shapiro
Albany Records TROY 1577 (albanyrecords.com)
Review
SOUNDSNATURE is a series of pieces performed by cello innovator Madeleine Shapiro combining the sounds of the cello with electronic sources to bridge the gap between the listener and the heart of the natural world. The disc includes compositions by Morton Subotnick, Judith Shatin, Matthew Burtner, Tom Williams and Gayle Young.
Although it may seem an oxymoron to use electronic means to bring us into a closer relationship with nature, it is precisely through using the microphone that we can enhance our experience with the soundscape. This is particularly evident in the works by Judith Shatin, Matthew Burtner and Gayle Young. Shatin's For the Birds consists of four movements, each one using recordings of different types of birds found in the Yellowstone region. These visceral and intimate recordings are heard in both their original and digitally transformed states. Burtner's Fragments from Cold takes us into the parallel terrains of outer snow and inner breath, creating the silent stillness of a skier gliding along the snow.
Young's Avalon Shores features soundscape recordings of waves along the stony shorelines of Newfoundland's Avalon Peninsula. Shapiro becomes improviser in this work, following the course of the waves, highlighting patterns and responding through timbral variations. I found this an evocative partnership, returning to listen several times. Shapiro is a dynamic performer, and her passion for the environment is evident in this recording as she brings to life her deep reverence for the nonhuman worlds.