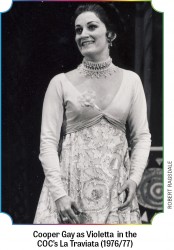 Ann Cooper Gay was born, raised and educated in Texas. There are two photographs that she digs out on cue to prove to disbelieving Canadians that she is truly a Texas girl. The first is a shot of her adolescent self in her backyard proudly carrying a rifle. The second confirms that she was a majorette in college, baton included. How this Texan became a prime mover and shaker in the Toronto music scene is an incredible journey.
Cooper Gay, 71, recently announced that she is stepping down as executive artistic director of the Canadian Children's Opera Company. In her life she has been a pianist, organist, flutist, opera singer, elementary school teacher, college instructor, instrumental conductor and choir director, not to mention social activist, master of languages and a talented tennis player. No one who knows her believes that Cooper Gay will actually settle into a life of quiet retirement. Somewhere she will find a place to make music.
Ancestors on Cooper Gay's maternal side arrived in Texas by covered wagon before it was even a state. Her paternal ancestors guarded cattle trains headed for the military, which included supplying the command of George Armstrong Custer.
Born in the small North Texas town of McKinney, Cooper Gay grew up in Palacios on the Gulf Coast. Her father was a merchant and her mother taught school. Both parents supported her obvious musical gifts. She started piano lessons at four, got her flute when she was six and was an organist at ten. "I was very lucky," she says, "that a small town like Palacios had music teachers who had studied with the best."
Cooper Gay's younger brother, Gene Cooper, of whom she is very proud, calls himself a red neck with a Ph.D. He is a doctor of theoretical physics and chemistry specializing in research and development. He is equally proud of his sister. "Ann could sight read anything," he says. "When she was just in grade nine, she made all-state band which is a very big deal in Texas."
At Austin College, which is not in Austin but in Sherman, Texas, her roommate was Peggy Hendricks. According to Hendricks, the traits by which Cooper Gay would become known crystallized at college – her loyalty, gregariousness, self-discipline, and boundless energy. She also discovered the power of the pipe organ, and that instrument became her B.A. concentration. Her final recital was performing Poulenc's Organ Concerto with the Dallas Symphony. Friend Joanna Winchester describes her as being so talented that she was the pianist of choice when it came to accompanying the recital pieces of others. Says Winchester: "Not only could she play flute, piano and organ, Ann also sang in the a cappella choir. She had a beautiful soprano voice that hadn't been discovered yet."
Cooper Gay married fellow student and emerging tenor Edward Matthiessen in her final year. Says Cooper Gay: "Nowadays, we'd live together and not get married. It was different then." The couple decamped to Europe, where her husband studied voice in Austria and Germany. She took German classes, and in Hamburg taught English and music at a high school. Says Cooper Gay: "I practised on an organ that Bach had played. You had to climb four flights to get there and it was so cold I cut the fingers off gloves to make half mittens."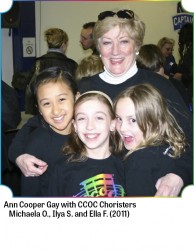 The couple was away a year and a half before returning to grad school at the University of Texas in Austin. With the threat of the draft hanging over them, after a term they moved to Vancouver in 1968, where Winchester and her husband were living. Matthiessen attended the opera school at the University of British Columbia, while Cooper Gay had organ jobs and worked in a library. "The FBI called my parents," she reports.
It was at this time that Cooper Gay became very serious about voice. "I accompanied singers all the time," she explains, "and I thought to myself, I could do this. I also sang along to Ed's opera records. He coached me and I successfully auditioned to study voice at UBC." She spent two and a half years in Vancouver before coming to study opera at the University of Toronto which offered her a scholarship. At this point, the marriage was over.
Cooper Gay played several roles at U of T, including the best Anne Trulove (in The Rake's Progress) that opera coach Stuart Hamilton had ever seen. He also coached her much-praised Violetta in La traviata when she joined the Canadian Opera Company. "Ann knocked me out with her emotional energy" he says. "She had a light lyric soprano with an easy top and some coloratura. It was a very attractive sound. She didn't have a major voice, but she had a major personality which could have led to a major career."
What stopped the opera career was marriage to Errol Gay in 1975 and the birth of two daughters. Cooper Gay met him when he was assistant conductor on a COC North American tour of Cosí fan tutte (she sang 100 Despinas in two years). Cooper Gay was elected by the cast to get Errol Gay to slow down the tempi of his conducting. The singers secretly taped a performance, then Cooper Gay was to invite Errol Gay to a room party where he would hear the tape from the hallway. As they passed the door, he stopped and said, "That's too fast!" The tempi problem was solved and a 40-year relationship began. Incidentally, he doesn't remember the infamous tape as the beginning of their relationship. Rather, he says their romance heated up when they were dancing together in a country-and-western bar in Shelby, Montana.
"Ann and I are a musical couple, he says. "Our careers are linked in so many ways. Ann was my choice when I needed an associate conductor for the Hart House Orchestra, and she brought me in to help with her choirs. I arranged music, did piano accompaniment for rehearsals and discussed repertoire." His wife also commissioned him to compose three children's operas for the CCOC.
The couple left the COC after daughter Heather was born. They spent the first year of the baby's life taking her on tour, but it became clear that they needed a settled existence. Errol Gay got a job teaching orchestra at Sul Ross State University in Alpine, Texas where the couple's second daughter Erin was born. During the three years they spent there, Cooper Gay privately taught voice and flute, minded babies and put on operas.
Baritone Peter Barcza, who sang with her at both the opera school and the COC, recalls a particularly eccentric Rigoletto. "Ann phoned me to say she wanted to bring some of her COC pals down to Alpine to put on an opera. As a joke, I said we should make it a western because it's Texas, and that's what we did." According to Barcza, The Duke's court became Duke's Saloon, Magdalena was a Miss Kitty type bar girl and Sparafucile was Native American. Barcza performed Rigoletto like crusty character actor Gabby Hayes. The western set was built by a rodeo rider called Pepper Brown. Says Barcza: "It was a surprisingly good production."
After Alpine, the couple moved to Boone, North Carolina where Errol Gay taught orchestra at Appalachian State University. Cooper Gay had two organ jobs, sang with the Charlotte Opera and performed in oratorios. The couple returned to Toronto in 1982, when Errol Gay became the Toronto Symphony's assistant librarian, a post he held for 24 years. Says Cooper Gay: "I had to stop singing. Both Erin and I became sick because there was formaldehyde in the house we were renting."
Cooper Gay became an elementary school music teacher. Myna Denov was a colleague. "Ann never wrote a kid off," she states. "There was one child who wouldn't come to orchestra because he couldn't function well in a social setting. She sent a classmate to go and get him and she brought this fringe kid into the fold through warmth, nurture and inspiration. Her approach was holistic, first the child, then the music."
Choral singing next attracted her. She founded the High Park Choirs in 1986 and the Children's Choir at the Royal Conservatory of Music in 1987. She was an assistant professor of music at Houghton College in upstate New York (1993-94), and conducted both the University of Toronto Women's Chorus and the Youth Orchestra of Toronto. She also taught pedagogy classes at U of T. In 2000 she took over the Canadian Children's Opera Company, and in due time the CCOC became her predominant occupation.
The organization was created in 1968 by Ruby Mercer and Lloyd Bradshaw to furnish trained children to appear in COC productions. Acting was as important a component as singing. The CCOC also put on its own opera productions. She was the first director to have stage experience. Nina Draganic was CCOC general director when Cooper Gay was hired. The late Richard Bradshaw, then general director of the COC, was on the hiring committee. Says Draganic: "Richard told me, she's going to drive you crazy but she's worth it, and in fact, she had so many ideas, I felt like I'd been hit by a tsunami. Knowing Ann was exhilarating and exhausting."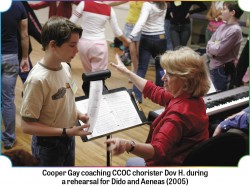 When Johannes Debus became music director of the COC he had no idea he would have access to a trained children's chorus. "Ann is a torch," he says. "She herself is passionate, and she invests her singers with passion." Sandra Horst, COC chorus master, declares that she never has to worry about pronunciation because of Cooper Gay's skill with languages. "The children come so well prepared that I just need one music rehearsal with them." Ken Hall is the current general manager of the CCOC. "Ann doesn't sugarcoat things," he says. "She is very forthright. She doesn't pretend that things are good when they're not. She cuts people down, Errol included, but then with her southern charm, she tells them she loves them."
For composer Dean Burry, who has crafted two original operas for the CCOC, and stage director Joel Ivany, to work with Cooper Gay is to become part of her extended family. For example, she threw a baby shower for Burry's first child and knitted a little wool pig for Ivany's infant son. 'Where did she find the time?" wonders Ivany. Says Burry: "When Ann talks to you, she makes you feel that you are the centre of her universe." Accompanist Bruce Ubukata calls her "a pied piper-ess" for her ability to attract and inspire children. Michael Albano is both librettist and stage director for the three children's operas he wrote with Errol Gay. Says Albano: "Clearly Ann has the extraordinary gift of translating skills from her own experience, and transmitting them to the children."
No matter how many former and current CCOC members one talks to, it becomes an oft-repeated theme. That Cooper Gay has the gift of remembering every young person she ever taught. That she instilled in her young charges the magic and the drama of opera. As jazz vocalist Sophia Perlman says: "Ann would get us inside the skin of a song. She'd focus on how music can tell a story."
The numbers speak for themselves. More CCOC choristers have gone on to careers in music during Cooper Gay's 15 years than the other 47 years combined. Kate Applin is a case in point. Both Applin and her sister had dropped out of the CCOC before Cooper Gay took it over, but it was Cooper Gay who lured them back in, insisting that they needed music in their lives. Applin credits Cooper Gay with the inspiration to start her own company, Metro Youth Opera, which provides performance opportunities for emerging opera singers who have just graduated university.
Perhaps we should leave the last word to Cooper Gay's family. Elder daughter Heather is a mother and a Grade 2 teacher in California. She calls herself the black sheep because she didn't have a career in music, which, after all is the family business. "There were a lot of big personalities in the house," she says. "Mom likes things on a grand scale. Aida wouldn't be a problem for her." Erin is both a talented French horn player and singer who is about to release her first album, a fusion of early, folk and contemporary music. "Mom wants to share her music with others. It's a beautiful way to be an artist."
And from Errol Gay: "Life with Ann has been a wonderful trip. She inspires me to do stuff beyond my capabilities. I'm a bit of a pessimist, so it does me good to be married to an incurable optimist."
Paula Citron is a Toronto-based arts journalist. Her areas of special interest are dance, theatre, opera and arts commentary.
The writer would like to thank the following for their contributions to this article:
Michael Albano, Ryan Allen, Kate Applin, Jacoba Barber-Rozema, Peter Barcza, Kristina Bijelic, Dean Burry, Gene Cooper, Johannes Debus, Myna Denov, Emily Dorn, Nina Draganic, Anna Forgione, Ben Fox, Erin Cooper Gay, Errol Gay, Ken Hall, Stuart Hamilton, Sue Hammond, Peggy Hendricks, Heather Hoffman, Sandra Horst, Henry Ingram, Joel Ivany, Kai Lee, Duncan McIntosh, Anne O'Neill, Sophia Perlman, Alex Samaras, Bruce Ubukata, David White, and Joanna Winchester.
Ann's Retirement Tea will take place Sunday, May 24, 2 to 4 pm, in the Courtyard of the Joey and Toby Tanenbaum Opera Centre, 227 Front St. East, rain or shine.