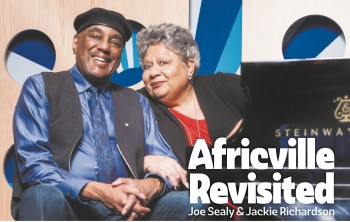 It's a frigid afternoon in Regent Park, but spring is in my step as I set foot in the Paintbox Bistro at 555 Dundas Street East, and not merely because it's a cool space. I'm here to interview two genuinely gifted Canadian musical icons, both alike in dignity and warmth.
Jackie Richardson is on stage at the tail end of a rehearsal, infusing Duke Ellington's "Take Love Easy" with her trademark combination of swing, soul and sincerity. She's backed by pianist Stacie McGregor, bassist Artie Roth and drummer Archie Alleyne; along with trumpeter Alexander Brown, the five will be performing in celebration of Alleyne's 80th birthday the following evening, which launches a new jazz series at the promising Paintbox.
Pianist, composer, music director, recording artist and recently appointed Member of the Order of Canada, Joe Sealy, who will play here in late April, arrives right on time. He greets the musicians warmly as they get off the bandstand, and before long Sealy, Richardon and I are seated comfortably on the colourful couches in the adjacent room. I've asked Sealy and Richardson here to discuss Africville Stories, a reworking of Sealy's JUNO-winning recording Africville Suite (1996), which will be performed as part of the Jazz Performance and Education Centre (JPEC) fourth annual gala at the Toronto Centre for the Arts on the evening of Saturday, February 23.
But before we arrive at Africville — Canada's oldest black community until it was destroyed for the sake of "urban improvement" in the 1960s — I want to know a bit about how these musicians got to where they are today. How did it all start?
"My parents decided to buy a piano because they thought I might gravitate towards it," reveals Sealy, a Montreal native whose paternal grandmother was a descendant of two of the Africville community's founders. "So when I was about six or seven, this piano showed up at the house. And I looked at this curious piece and of course started fiddling around with it. So eventually they said, 'Well, if you're gonna be playing you may as well take lessons.' Well, I hated the lessons, so I quit (laughs). So then one of our neighbours came over and said, 'Our son is taking piano lessons, would you mind if he practised on your piano?' My mother said yes, reluctantly, but then she laid down the law: 'If I'm gonna have to listen to some other kid playing on this piano, you're gonna practise on it too!' So that's how I got back to lessons ... But to be honest, it wasn't until I was 20 or 21, that I really decided this is what I was going to do. I quit university because I wasn't doing well, and I joined the navy. They sent me to the east coast, and while I was out there I became secretary and treasurer of the jazz club, and one of the guys from Halifax was going to Berklee. So we had some money, and he brought up some people: Gary Burton and Butch Axsmith and Steve Marcus ... so I said to Skip, 'Does everyone in Berklee play like that down there?' And he said yes! So I applied to Berklee, got accepted, and was given an honourable discharge to go to school. And that's when I decided to be a musician, when I was 21."
Richardson, who moved to Toronto from Donora, Pennsylvania, with her parents and six sibilings at the age of seven, began singing in church, encouraged by her grandparents. "It was the First Baptist Church in Donora and my grandfather was a deacon. My grandmother went every day, twice on Wednesdays and three times a day on weekends. I was very attached to my grandmother and went with her whenever I could." Inspired at first by the voices of the congregation, she made her professional singing debut at the age of 16 with a Motown group called The Tiaras. "I came in as a replacement, which was really funny because I couldn't really sing. I earned my place as a choreographer until I could stay in tune after a year or so." Anyone who has ever heard Jackie sing might find it hard to believe that she had ever missed a pitch, but there you have it.
She's shared the stage with Celine Dion, Maureen Forrester, Anne Murray, Oliver Jones, Martha Reeves, Mavis Staples and many others, but Richardson's impeccable delivery transcends song lyrics and extends to characters just as much, if not more. Acting credits include Cookin' at the Cookery: The Music and Times of Alberta Hunter, for which she won a Dora Award, The Gospel According to the Blues, for which she won a Gemini, and Ain't Misbehavin', her first collaboration with Joe Sealy, who was the production's music director.
"I think that was in 1980," Richardson recalls. "We closed the Ports Dinner Theatre, which was really unfortunate, 'cause it was a real favourite place of mine. We did nine months at the Ports and three months at the Premier Dance Theatre."
"Was it that long?" asks Sealy. "It seemed like a month!"
The Toronto jazz scene sure was different in those days, wasn't it?
"Ah yes, I moved to Toronto in 1976," says Sealy. "At that time we had George's Spaghetti House, Basin Street, Bourbon Street, the Colonial Tavern. One of the jazz clubs that opened in the late 1970s was called Yellow Fingers at Bay and Yorkville. And Meyer's Deli in Yorkville had jazz on the weekends. Oh, and the Chick 'n' Deli of course!"
"An institution, that place was," says Richardson. She pauses, and slowly adds, "But the norm being six days a week, I mean, I can't believe that that's gone."
Sealy agrees, with sadness. "It was a real great training ground, I mean that's how musicians learned to play, is doing it six nights a week. All my gigs up to that time were like that, I was totally used to playing six nights a week. Then it started to go down to weekends and then to nothing at all. Now you have private gigs and that's it really. Back then when you got a gig it was a week or a month, but it was always six nights."
"One of the really great gigs that we had back then was at the Bellair Cafe," Richardson says, adding with genuine enthusiasm, "It was two years, six days a week. It was AWESOME! You'd have players coming in from across the street — there was a club across the street that had big bands, big orchestras sometimes, once in a while Gladys Knight or people like that — but when they had the dance bands, it would be 20 minutes on, ten minutes off. So the guys would walk in the door, and if we were playing, they'd start playing, walk up to the stage, do their little thing and walk out. We were a trio and we never knew how many people would be on the stage on any given night!"
"That's why I applaud Colin and Joan," says Sealy, referring to the Hunters, who are set to open the Jazz Bistro, formerly the Top o' The Senator. "They are trying to bring that back and they have a great shot of doing it because they are committed to the idea. I know I'll get some work there, I'm not expecting six nights a week of course. I'm just glad that it will be there, so I'll have some place to go. I mean, when the Montreal Bistro was open, and I had nothing to do, that's where I would go. It was my second home. There's no place like that now."
Which bring us to JPEC — the Jazz Performance and Education Centre — set to present Africville Stories as part of their fourth annual gala. Inspired by New York City's Jazz at Lincoln Center, JPEC is a non-profit charitable organization, the brainchild of Ray Koskie, a retired lawyer and Rochelle Koskie, a retired teacher, jazz enthusiasts and partners in crime together for over half a century.
"Some of the musicians who we've known for years came to us and asked us if we could help them by trying to create some kind of a facility, which we decided to do on a strictly volunteer basis," says Ray Koskie. "We put together a group — business people, musicians — and formulated a committee which began to consider various options, one of which included a trip to Jazz at Lincoln Center where we were given a tour, an explanation. Because that was based on a not-for-profit charitable organization, we thought that would be a better idea than opening a for-profit private club. That was the beginning."
"Our mandate includes reaching out to persons of all ages, especially children, who are our future audiences," says Rochelle Koskie. "Our outreach program sends musicians to schools that have little or no music programming. Response has been excellent, and from the monies raised from the 2013 gala, we hope to broaden the number of schools in the program." Find out more about JPEC and how you can get involved by visiting jazzcentre.ca.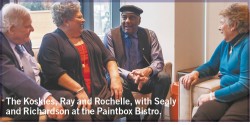 Back to Africville: Shifting the focus back to Sealy's Africville Stories, in preparing for this story, I was able to locate a copy of the Africville Suite album (thank you, L'Atelier Grigorian!). Thelonious Monk said it best when he pointed out that "writing about music is like dancing about architecture," so all I can say is that the recording cannot be recommended highly enough. Sealy's compositions and own pianistic talents aside, credit must be given to the recording's producer and Sealy's right-hand man, Paul Novotny, as well as the stellar supporting talent, from the Faith Chorale featuring Sharon Lee Williams to saxophonist Phil Dwyer to narrators Don Francks and Jackie Richardson. Africville Suite achieves one of the highest artistic pinnacles possible: it brings into the light a story that many Canadians have been blind to; a story that is at once heartbreaking and eye-opening, tragic yet inspiring. A story that we as Canadians must reflect on, honour and learn from.
"That's what I found so phenomenal about this particular project," agrees Richardson. "You know, all these years, it's just been in the know in eastern Canada. It wasn't until Joe put out this CD that it came into people's consciousness. I remember this company of landscapers approaching Joe and asking him to perform at their gala saying 'We've heard your story, we want you to share it.' It just seemed to come from unexpected places, and it still does! Without this project, the Africville story wouldn't be out there the same way."
"I'm really happy to say I've been able to tour Canada with it, and a little bit in the states, and even Europe," says Sealy. "I remember we did a concert in Denmark and there was this little choir who asked for the choir parts for the pieces and, when we got there to perform, these volunteer choir people came up there to sing with us! The last concert on that tour was in another town called Fredericia, on our way back. And to our surprise, they all came down from up north to sing with us on the last night. And that's in Denmark!"
Africville Suite began as a much shorter musical piece consisting of three movements and dedicated to the memory of his father, who passed away in 1992. Encouraged by concert presenters to expand the work, Sealy put it off for months but finally faced the music upon the insistence of his wife, who helped him prepare for the project.
"It was challenging," he recalls. "It was when I did my research, that's when I really got into the story and the story that really needed to be told. When I found out about what they did and when I found out how they did it, the sneaky way that they conned people into getting off their properties, and the injustice of it all. Right near the end, there was a core of people in the community that just did not want to leave, were not going to leave, that's it. Well, they came in around midnight with a bulldozer and they bulldozed the church. And in a community like that when you kill the church, you kill the heart, and that was so demoralizing. It's still a touchy issue for me."
There were musical challenges, too.
"It would have been easier to write a suite about a community in Africa, because you'd have indigenous rhythms, cultural and everything else, but this place was Halifax, it was a little section of Halifax, you know, that most people didn't go to. And you know, they listened to the radio, they listened to Motown, they listened to Hank Jones, they listened to Don Messer, they listened to everybody. So what I ended up doing was basing the suite on events, personalities and locations. So there are movements about Joe Louis ("Brown Bomber") and Duke Ellington ("Duke's in Town"), who both visited Africville. And about Reverend Deacon Jones planting a green fence post and having it grow into a tree ("Caterpillar Tree") — and how this tree survived — the caterpillars would eat all of its leaves, and trees without leaves can't live, but this tree lived and what killed it was the bulldozer coming in and knocking it down. To me that tree became a symbol for the community — being resilient, surviving for over 120 years on their own resources, with everything stacked against them. They had a burning dump, they had a hospital for infectious diseases during the First World War, a fertilization plant, a meat factory, a slaughterhouse, anything they didn't want anywhere else. And yet, it was a close-knit family."
Seventeen years later, Africville Stories is an update onthe suite, featuring additional lyrics and a brand new song; all this is to reflect that the story continues to evolve, to this day. Certainly, since the recording's release there have been some triumphs to celebrate. As the community's demise became a symbol for the struggle against racism, the site of Africville was designated a National Historic Site of Canada in 1996. In May 2005, a bill was introduced into Nova Scotia's provincial legislature called the Africville Act, which included a call for a formal apology from the government, funding for compensation and historic preservation and a rebuilding of the Seaview African United Baptist Church, demolished in 1969 and rebuilt in the summer of 2011.
"Yes, they finally rebuilt that church, in 2011," says Sealy. "And that was great news. But you know what? You still can't use it, and you know why? Because there's supposed to be a museum right next to it, but the museum's not built yet so all the artifacts that are going in the museum are now stuffed in the church. So it's like a loggerhead." He pulls out his cellphone to show me a photo of the church. "See? There it is, sitting there all by itself by the water, you can't even go in ... you can't even have a concert in there. I've been wanting to make a DVD of Africville Stories in that church, but I can't get in there. I'm no crusader, but I just may call Marty Williams, I want to find out who's on this committee and who's supposed to be doing something about this museum." So there is definitely a "to be continued" to this story.
To close our interview, I ask Sealy and Richardson what they think of the phrase "Black History Month."
"It's a good thing," says Sealy. "I wish it would be Black History Year, every year! We're not just black in February, you know," he quips. "But, if a month is all black history's gonna get, it's better than nothing."
Richardson says she agrees, and adds: "And with all cultures, because we are so multicultural here, if we can go and celebrate and share these things, that's fine. As long as you understand that for us, it's an every day, every minute thing." 
Ori Dagan is a Toronto-based jazz musician, writer and educator.