Directories can make for dry reading. Just think about the proverbial telephone book. On the other hand, if you delve into the lives lived behind the names, things start to get a lot more interesting.
A similar example is The WholeNote's Blue Pages, the magazine's 13th annual directory of musical organizations throughout the GTA and beyond. Each group submits a short profile, and while certainly not dry reading, these snapshots are still very factual.
My specific assignment was to write "a personal point of view on what's in the directory." What follows is my journey into "the blue"— to get behind the names, as it were.
At first instance, one is lost in a sea of choirs, instrumental ensembles, opera companies, presenters, churches and service organizations — 26, small print, double sided pages, to be exact. In order to negotiate a way into this mass of material, I came up with the idea of asking questions inspired by the Blue Pages.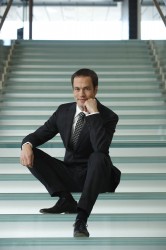 Debus' choice: Here's an example of something that I wanted to know. How does Johannes Debus, music director of the Canadian Opera Company, choose what he conducts each season? And maestro Debus graced me with an answer.
"At the top of my priority list is the repertoire by the three great masters of opera: Mozart, Verdi and Wagner — full stop! But would that important, fairly small corner of our repertoire be satisfying and fulfilling for a curious person like myself? I'm delighted that the COC repertoire allows me to both engage in the all-time favourites, as well as discover new masterpieces."
As a side note, Debus is conducting four COC productions in the 2012/13 season — Die Fledermaus, La clemenza di Tito, Salome and Dialogues des Carmélites.
Marshall's plan: On another curiosity quest, I demanded of Opera Atelier's co-artistic director Marshall Pynkoski, what is baroque about Weber's 1821 Die Freischütz, which is the company's first opera of the season. And his answer? "I'm delighted with the question," he says, "because it gives me the opportunity to make the point that we no longer consider Opera Atelier to be solely a baroque company. Rather, we now think of ourselves as a period opera/ballet company. We see 'period' in the broadest sense — that any century's opera can be mounted as long as we observe the original intention of the creators, and the context in which the work was first created." Can Bellini and Donizetti be far behind?
Factoids: As I asked my questions of the Blue Pages denizens, I began to notice interesting factoids popping up in the answers. For example, to ready the musicians for the October concert featuring Franck's Sextet No.2, and Mendelssohn's Octet in E-Flat Major, Mayumi Seiler's Via Salzburg needs 15 hours of rehearsal time plus dress. So much for professional musicians sight reading.
Anthony Rapoport, violist with the Windermere String Quartet, points out that while the ensemble plays on period instruments, it is in "transitional" style. Their string tension is at A=430, a quarter–tone higher than the usual baroque pitch of 425, and their bows have a degree of "camber" or a concave curve in the sticks, which places them between baroque and modern bows. Hence the bright tone and sharper articulation.
In his rapturous paean to his beloved musical genre, Nurhan Arman, music director of Sinfonia Toronto, mentions that string orchestras have played an important role in movie scores, including the terrifying shower scene in Alfred Hitchcock's 1960 thriller Psycho.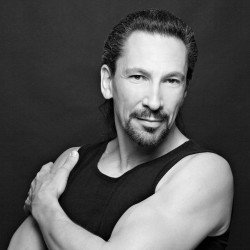 Gotta gimmick: Like the burlesque queens in the musical Gypsy, music groups also "gotta get a gimmick" to keep things fresh.
Joëlle Morton, artistic director of the early music ensemble Scaramella, proposes an interesting theory. "I think that one of the biggest challenges with early music is that it's almost too accessible. Scaramella's focus on innovation stems from my belief that people listen more deeply when they don't entirely know what to expect." For example, in the December program, cleverly called "Lions and Tigers and Bears. Oh My!," the animal theme requires the musicians to find new techniques in order to depict birds and animals. Needless to say, Biber's evocative Sonata Representiva (c1660) is on the program.
The Canadian Sinfonietta, headed by the father/daughter duo, Tak-Ng Lai (artistic director) and Joyce Lai (concertmaster), is on a similar track to Morton, although with a modern chamber orchestra. I asked them about how their mantra "Tradition with a Twist" manifested itself in programming. Joyce Lai answered that it could be the interpolation of the Hungarian cimbalom or the Chinese erhu into classical music. Or mixing the old with the new. The upcoming November concert pairs Bach and Vaughan-Williams with Alan Bell and a world premiere by Douglas Finch.
Pianist/artistic director Catherine Wilson of Ensemble Vivant is another musician who believes in that everpresent icon of innovation. What began as a classical piano trio, has, over the years, moved into jazz, Latin, ragtime, novelty classics and tango, with many new works in these styles being written for the group. According to Wilson, Ensemble Vivant now straddles both the classical and jazz worlds.
In delving into the directory, I also discovered that Opera in Concert is rebranding. It is now called VOICEBOX: Opera in Concert. Of course, that led to an obvious why? Says general director Guillermo Silva-Marin: "The board of directors is working on a transformation for the company to provide fresh approaches for new audiences. After 40 years, they saw a need to identify Opera in Concert's essence, and capture it with a single and effective term. The voicebox is one of the factors involved in the production of singing, and we're a showcase for singers."
Übertext?: And then there are the text devotees of whom I asked, why program the mix of music, voice and the spoken word? The doyens of mixed element concerts, Stephen Ralls and Bruce Ubukata of the Aldeburgh Connection, responded that the idea of text with music was evolving back in the late 70s, and that it seemed to be a suitable genre for an academic context when they founded their series in 1982 at the University of Toronto.
This idea of weaving poetry, memoirs, letters or essays into the program is also a format used by the Talisker Players and Off Centre Music Salon. Says Talisker's artistic director Mary McGeer: "The spoken word expands on the ideas and imagery in the music. The result is that each production has a narrative and a dramatic arc." And from Off Centre's Inna Perkis and Boris Zarankin (four-handed?): "Themed concerts place music into context. It's telling a story."
Choral quintessence: With 46 professional and community choirs listed in the Blue Pages, excluding churches, synagogues and schools, I was compelled to ask, what is the lure of group singing?
For the answer, I needed a quintessential chorister. Greg Rainville is founder of the Canadian Men's Chorus and associate conductor of the Orpheus Choir (and a hedge fund administrator by day). "Choirs are a very human way of making music," he explains. "Through the words and music, we can tell stories. We can present the whole range of human emotions directly to the audience." (Incidentally, when a choir is classified as SATB, it means it's a mixed group featuring sopranos, altos, tenors and basses.)
Different songbooks: The next task was discovering how choirs differentiate themselves from each other. As artistic director Peter Mahon points out, when the Tallis Choir was founded in 1977, no other group in Toronto was focusing on the music of the Renaissance. "Even in today's larger music scene," says Mahon, "no choir performs as much renaissance music as we do." The Tallis Choir does branch out, however. The final program, "A Grand Concert for the Battle of York," with martial music by Haydn, Boyce and Beethoven, will take place on April 27, the actual 200th anniversary of the American invasion of York.
Jurgen Petrenko, co-founder and artistic director of Toronto Classical Singers, reports that his group almost always performs with an orchestra. "What distinguishes us," he says, "is that we are the only choir in town, possibly in Canada, that exclusively programs major works from the oratorio/mass/requiem repertoire." On the other hand, Michael Erdman's early music Cantemus Singers are known for the rarely performed renaissance secular music that includes love songs, rounds, madrigals, drinking songs and songs of humour.
Artistic director Robert Cooper points out an interesting distinction between his small town Chorus Niagara and his big city Orpheus Choir. "While I love the core choral repertoire and perform much of it with my Chorus Niagara," he says, "there is not much point in my being a proponent for the mainstream here in Toronto." Two years ago, Cooper led the choir through an intensive process of self-evaluation. The Orpheus now programs rarities and new creations.
Choral M & F: I was also curious about the relative attraction of male and female choirs. According to Rainville, research has shown that because the male voice sits in the middle of the human hearing range, the pitch is the most comfortable to the human ear. So much for women!
Rainville founded his Canadian Men's Chorus two years ago because there weren't that many all-male choirs amid the GTA's saturation of mixed choruses. When asked to describe the zeitgeist of a male choir, Rainville replies: "Inside a male choir there is a sense of brotherhood, of camaraderie, like a sports team." As for repertoire, while there is an abundance of barbershop and pop music, there are few classical works. Part of Rainville's job is pouring through recordings and publisher's websites looking for material.
Perhaps the most famous of male choirs are those in the Welsh tradition. Graham Parker is president of the Toronto Welsh Male Voice Choir. I asked him to define the Welsh sound. Says Parker: "I believe that the uniqueness of Welsh four part harmony emanates from the inbred "hiraeth" or longing for the country and for singing itself. The richness is in the predominance of the baritones and basses. Male choirs started where gatherings of coal miners gave rise to impromptu singing. In essence, it was a form of escapism. To be born Welsh is to be born with a song in your heart and music in your soul. Never a truer word was spoken."
To give all-female choirs their due, there is Harvey Patterson, conductor of the Harmony Singers of Etobicoke (a man, one notes). Patterson actually asked his choristers at a rehearsal for their reasons for joining a women's choir. The answers included camaraderie, friendship, bonding and love of the songs they sing (pop, folk, sacred and light classical). More importantly, they enjoy the sound of women's voices and the feeling of power from being in a group of women engaged in an activity together.
Treble makers: To the Canadian Children's Opera Company, my question concerned finding repertoire. For one thing, treble voices have a uniformity that is not SATB. This means that all the repertoire has to be adapted or commissioned. Executive artistic director Ann Cooper Gay has clear priorities as to what constitutes appropriate operas for children's performance practice. A story that is not too juvenile. A suitable range or tessitura for young voices. Age appropriateness from a dramatic point of view. ("I'm not a fan of children dressing up to look older," she says.) And lastly, workable adaptations such as G&S or Hansel and Gretel.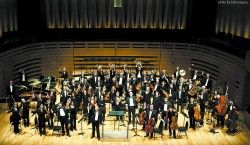 Propelled by the new: Perhaps the most passionate response to my questions came from the proponents of New Music, triggered by my query of how do they soldier on in the face of small audiences. As Alex Pauk, music director and conductor of Esprit Orchestra says: "The bottom line is that composers and New Music performers are unlikely to just stop; they have a calling, and are propelled to go on because of it."
As for the small audiences, New Music remains a tough sell. Says David Olds, general director of New Music Concerts: "I acknowledge that the repertoire we present is uncompromising and not aimed at mass appeal. But I also think the real problem is that the mainstream media gives us little coverage, so the general public simply doesn't know that New Music even exists."
Pauk believes that the audience for New Music is growing, and points to the simple fact that there are more and more groups appearing on the music scene. That being said, Pauk adds that each group has its own following which leads to fragmented audiences.
Soundstreams artistic director Lawrence Cherney strikes a positive note. "Our definition of New Music is as broad as possible," he says. "New Music is merging with popular works through artists like Bjork and Arcade Fire. Arvo Pärt and Philip Glass wrote for film. The next generation of composers is scoring the latest video games."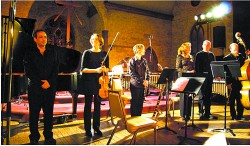 Arraymusic's artistic director Rick Sacks also makes the link to popular culture. "I performed at the SONY Centre last weekend to a sold out crowd. The orchestra played music from the computer game, Legend of Zelda, which was coordinated with projections of the game's characters, but interspersed with closeups of the musicians. The mostly young crowd cheered us. I think this may foreshadow a broader interest in live New Music."
Piqued by three: To end my musings on The WholeNote's Blue Pages, I must mention three items that really piqued my interest.
First, the Counterpoint Community Orchestra, founded in 1984 as a lesbian/gay/bisexual/transsexual (LGBT) — friendly ensemble. I was curious about the philosophy of the orchestra in today's more sympathetic climate. According to Neville Austin, chair of the board of directors, while the orchestra values its LGBT roots, it now welcomes persons of all sexual orientations and gender identities. Says Austin: "What we all share is a love of fine music, and a desire to create memorable musical experiences in a comfortable environment."
Second is the Southern Ontario Chapter of the Hymn Society. To that august–sounding organization, I asked how one pursues an interest in hymns? I did confess to SOCHS that I had never contemplated the idea of a modern day hymn composer, yet I was informed that there are hymn writing contests, annual hymn festivals and a vibrant hymn publishing industry. In fact, SOCHS is a regional chapter of the 90-year-old Hymn Society of the United States and Canada (HSUSC). Says president Don Anderson: "We are mostly church musicians, clergy, academics and lay persons who like to sing hymns. The group is ecumenical and open to any faith that uses congregational songs in worship."
And last but not least, Metropolitan United Church's Phantoms!, that worthy institution's Halloween concert. I was fascinated about the merger of the sacred and profane, built around the largest pipe organ in Canada. From Patricia Wright, minister of music, comes the devil in the details. Says Wright: "We turn the lights down, put up crazy decorations, have strategically placed candles and put a fog machine behind the organ console. The repertoire always includes Bach's Toccata and Fugue in D Minor (for better or worse, associated with horror movies). This year I'm including an arrangement of Gilbert Vinter's Dance of the Marionettes, the theme of Alfred Hitchcock's television show."
In conclusion, when I now look back at those Blue Pages in their multitudes, I see Toronto and environs as a rich and vibrant musical landscape. The Blue Pages run deep, from professional musicians to grassroots hobbyists. Whether a TSO player at Roy Thomson Hall, or a singer in a community choir in the Beach, Toronto is clearly fertile soil for the joy of music. 
Paula Citron is a Toronto-based arts journalist. Her areas of special interest are dance, theatre, opera and arts commentary.