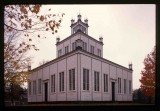 THEY'RE COMING TO Toronto from far and wide – hoping, that their performances in our city will be their best yet. Expectations are high, competition will be intense, and they'll be under constant pressure to impress audiences here and around the world. And we all know how desperately these people crave attention and approval.
No, I'm not talking about the various artists of Luminato – performers of all description who will grace our stages from June 11 to 20. And I'm not talking about the jazz musicians who will take over the town during the TD Toronto Jazz Festival, from June 25 to July 4. I'm talking about world leaders attending the G20 Summit meeting, which takes place here on June 26 and 27.
Presidents, prime ministers and other heads of state will converge on our city, to do lunch, pose for photos, and possibly even have "frank discussions." (That's diplomatic language for fisticuffs.)And after a hard day of attempting to solve the world's problems, I'm sure that they'd like nothing more than to hear some good music. If they pick up copies of The WholeNote in their travels (concierges at Toronto's better hotels always have a supply), they'll find that they've come to the right place.
What's more, perhaps it would even have a beneficial effect on the Summit if the world's leaders took in a performance or two while they were here. Borrowing an idea from Molière: "if everyone learned music, wouldn't that be a means of bringing about harmony and of seeing universal peace in the world?"
Jazz is an excellent social lubricant – it puts everyone in a good mood. Perhaps a Saudi prince and a Chinese party official might strike an agreement while listening to Hilario Duran's Band at Harbourfront on June 26. Or maybe Barack Obama and Vladimir Putin would be moved to ratify an important treaty by Harry Connick Jr.'s show at the Canon Theatre on June 27.
The Europeans, however, may be harder to please: they're in a bad mood these days. But if they were bused to Kitchener on June 26 to hear members of the Kitchener-Waterloo Chamber Orchestra play works by Mozart, Kuhlau and Telemann, they could work out all their Euro problems on the ride back to Toronto.
If all else fails – if the G20 Summit appears in danger of breaking up without success or accord – I suggest packing the world's leaders off to the Sharon Temple, up Leslie Street, in York Region. This simple yet elegant building, built in the 1820s by a religious group called The Children of Peace, oozes with good will and serenity. And the added benefit of hearing a piano recital there (performed by Alexander Seredenko on June 27) could lead to the "universal peace" that Molière referred to.
After all, Molière wasn't pulling our legs – was he?

Colin Eatock, Managing Editor