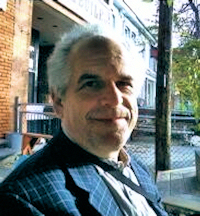 When is a ploy not a ploy?
A word of reassurance or condolence, depending on your musical proclivities. Calling April "opera month", as Chris Hoile does this month doesn't mean every other musical genre vanishes from the scene. But it's an interesting intellectual exercise, applying a particular thematic lens to our monthly snapshot of the musical landscape. If April were an opera festival in Southern Ontario, look at all the stuff that would qualify for the brochure!
Another example of this: I remember going to a very early meeting of an informal group that was to evolve into the Coalition of New Music Presenters of Toronto. It was around the time the TSO was abandoning its stewardship of the annual November Massey Hall New Music Festival. "Well, just take what's going on in new music in November and call it a festival" was my cheerful suggestion (not particularly well received at the time). A marketing ploy, someone called it. Ploys can be good, if they get you seeing things afresh. So, opera month it is. WholeNote says so.
Speaking of festivals …
The first half of June used to be a time when concert presenters could plan big – even pull together a festival of one kind or another. But not any more. LuminaTO, as we all know now, effectively owns every last iota of mainstream media attention for the first two weeks of June. You'd no more hold a competing event during that time than climb a beanstalk to rob a giant's castle.
Mind you, the end of June gets pretty crazy too, with the TD Canada Trust Jazz festival kicking in. Although it must be said the June/July jazz giant is a bit more affable in terms of letting what was going on anyway shelter under its umbrella.
So what does WholeNote go and do? We go ahead and plan a BIG EVENT for June 24th, right between the two giants. "Movies embracing music" is our title and, this time, choral music is our theme. Jack Buell explains. So write it down! June 24, Bloor Cinema, 6.30pm to 1:00am.
The canaries are coming!
Speaking of choral music, the merry month of May is to the choral scene what April is to opera. Choirs across southern Ontario hold more concerts in May than any other month of the year. Choristers and would-be choristers start to think ahead to where they want to be in the fall. And choirs in their hundreds flock to WholeNote's Canary Pages, our annual directory of who's who in the Southern Ontario choral world. If your choir didn't get a reminder, better move fast! Directory listings are due Tuesday, April 14. Contact Karen Ages in our membership department for info.
Full circles
It's nice to see Sonic Mosaics by Paul Steenhuisen reviewed in BookShelf this month. As noted in the review, a lot of the composer interviews in the book were incubated here in WholeNote over the years. The debt we owe Steenhuisen is that he carved a niche in our magazine for lengthy interviews, in which the voice of an artist being asked good questions has a chance to shine through. (This month's cover story is a good example of that.)
David Perlman, editor
editorial@thewholenote.com