One of the things that the following random clutch of upcoming event listings have in common is that each of them was picked up as noteworthy by one or another of our writers this month. In chronological order: Loose Tea Music Theatre's "Singing Softly" evening of Anne Frank Diary-based opera (Nov 2) was picked up by yours truly (still subbing for globe-trotting Christopher Hoile) in On Opera; soprano Maureen Batt's "Crossing Borders: Traversía Latinoamericana" (Nov 5), featuring Batt and tenor Fabián Arciniegas in an evening of contemporary Canadian and Colombian repertoire, is the main subject of Lydia Perović's regular Art of Song column; Hedgehog Concerts' Pamelia Stickney recital of theremin sonatas by Alexander Rapoport (Nov 16) is the subject of a somewhat-off-the-usual-beaten-track feature by regular "We Are All Music's Children" writer MJ Buell; Confluence's "Evening with Marion Newman" (Nov 26 and 27) is our cover story; and Syrinx Concerts' season-opening Schumann/Haydn/Mendelssohn piano trio recital (Dec 1) is the coda to Paul Ennis' Classical and Beyond column.
The other interesting thing these five wide-ranging presentations have in common is that they all take place in the same venue; for each of these five presenters – along with at least half a dozen others – Heliconian Hall (out of the more than 1,800 venues in The WholeNote listings database) was just the spot, this month, for a particular labour of artistic love.
The venue database: One of the many advantages of managing our concert listings through a database, as we have been doing for the past nine or ten years, is the resulting accretion of searchable data on the musical life of our region, just waiting to be mined by musicologists and consultants on this and that (so drop me a line if you're interested). At a more practical level, it has resulted in a dramatic reduction of wear and tear on the wrists and fingers of our listings team (Santa Tecla be praised), not having to retype the names and addresses of concert venues every time, or re-search the postal codes that are an indispensable geocoding tool.
As for the "more than 1,800" venues in our database that I just cited, the actual number, as of 3pm Oct 27 2019, was 2,133 places that have been used at least once, in our catchment area, for a public concert of one kind or another, over the years since we started the database.
My 1,800 lowball estimate is because some of them are phantoms at this point – crushed under the heel of condos, drowned in the tide of out-of-control land costs and taxes, or left high and dry by dwindling religious congregations in the host of faith-arts hybrid centres that are a crucial component of the performing arts infrastructure. Or they have simply changed names as they go, in the endless naming-rights quest for private sector sponsorships (from O'Keefe to Hummingbird to Sony to Meridian, for example). But it's still a fine long list, reflective of how the human hunger to congregate counterbalances digital life's invitations to physical isolation.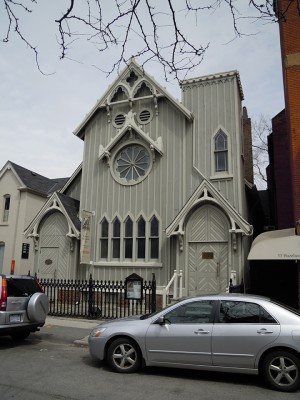 Heliconian Hall: Back in January 2011 (around the same time our data-driven listings system was kicking in), we launched an occasional series of articles in this magazine, called Just the Spot, in which we invited community musicians whose work we feature in the magazine to write about some venue that was particularly resonant (literally or figuratively) for them.
In March 2011, recorder and period flute virtuoso Alison Melville, co-founder of Baroque Music Beside the Grange contributed the following: "Part of rural Toronto when it was built in 1875, the Heliconian Hall is located near the south end of Hazelton Avenue, situated amongst galleries, upscale offices and private homes in what's now known as Yorkville. It's the home of the Heliconian Club, an organization founded in 1909 for professional women in the arts and one of the oldest associations of its kind in Canada." (At the time, BMBG was in search of an occasional venue, after losing predictable access to their previous regular spot at the Church of St. George the Martyr, once the Music Gallery amped up its multifaceted activities there.)
"For me, the Heliconian is a delightful and unpretentious little oasis in a surrounding sea of consumer excess, and an intimate concert hall which I have known since I was a kid," she continued. "I played my first 'non-compulsory' solo recital there, blissfully free from the pressure of university grading, and have made music there many more times since … But perhaps what makes the Heliconian most appealing to musicians is its stellar acoustic and its intimate feel. With every seat occupied there's room for 120, and the stage rises just a foot above the main floor, so there's little chance of establishing that 'us versus them' feeling that many performance venues still seem to evoke. It's a great place for chamber music, and it's easy to get to, ... available for anyone to rent, at a very reasonable rate."
They all sound like resonant reasons to me. How many other Heliconian Halls are out there, I wonder?
publisher@thewholenote.com