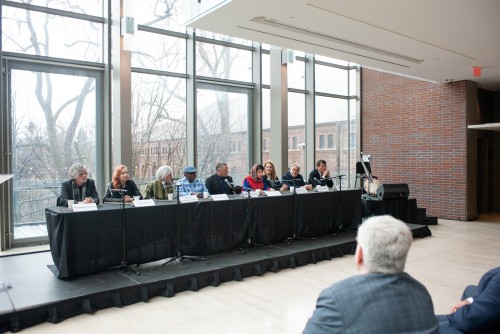 My visitor to the WholeNote office, this icy April Tuesday afternoon, James Norcop, braved unseasonably slippery sidewalks and roads to get here, lured by the prospect of getting to talk about a topic dear to his heart – the upcoming Concours musical international de Montréal, which takes place this year from May 27 to June 7. This is the seventh edition of the Concours dedicated to voice, which rotates with violin and piano every three years. But it is the first, largely thanks to Norcop, that will give art song, his lifelong passion, its rightful place in the sun.
Norcop is, however, a good listener, very adept at drawing people out, so only a few minutes into our chat, the conversation has drifted away from the Concours, and instead of me asking the questions I am holding forth on the topic of the previous Friday's Glenn Gould Prize announcement, trying to recount for him the particulars of the story that award-winning composer and chairman of the China Musicians' Association professor Ye Xiaogang had told Friday's noonday audience after the announcement of the winner – or 12th Laureate as the Glenn Gould Foundation terms it – of the Prize.
He was one of an accomplished panel of nine jurors who had spent the previous day narrowing a book of "more than 30 and fewer than 100 nominees" (as the chair of the jury Viggo Mortensen had described it) to just one: Jessye Norman, one of the great singers of her generation.
Each of the eight other jurors had spoken in turn after Mortensen announced the winner, I explained to Norcop, and there had been something in what each of them said that had disarmed the cynic in me, lifting the occasion beyond any previous such announcements I had attended. As one of the jurors, renowned singer Ute Lemper, put it in her comments: "It was not easy. Down to three people, I do feel that at the end we did not decide purely with the intellect, but decided with the heart and at that moment I thought this is a wonderful moment of life where you suddenly get overwhelmed with something stronger than just the intellect. With a perfect balance of heart and intellect and knowledge and spirit all having come together."
Ye told a story about the way Gould himself had come into his artistic consciousness. It was one of those roadside stories – hearing something on the car radio already in progress, recognizing it as the Goldberg Variations but needing to pull over to the side of the road to listen right through and to discover who? "It was Gould. The 1955 Goldberg," Ye said. "1955, I thought. The year of my birth! In that moment I said to myself I can do great things."
A pause ... Then "Can I tell you my Glenn Gould story?" Norcop says.
"I was at music school at USC, and on staff was a great figure, a lady by the name of Alice Ehlers. She was a refugee of course, came from Germany – she had played harpsichord for Furtwängler, in Passions, and so on, so she had credentials. 'Madame Ehlers' … she was extraordinary. She gave this Baroque interpretation class we all attended. And she was never late. This one day we were all there. Two pm came. Then 2:05, 2:10 and no Madame Ehlers; 2:15 and we were all getting ready to leave and there she was. Walking on air. 'Ach, I have heard a miracle. There is a Canadian, his name is Glenn Gould. He plays the Goldberg Variations. I don't agree with everything but he is magnificent!' Glenn Gould's Goldberg – the only thing that ever made Madame Ehlers late for class. And this was in 1955, right in the moment after the record's release."
As for the first time Norcop remembers hearing Jessye Norman sing, the memory of that moment is also vivid, even though the date and place are not. "Was it 15 years ago? 20? 25? Hers has been an extraordinary career. It was also one of those car radio stories. You know, when you turn on the radio in the middle of something playing, so instead of being pre-warned, you have to make up your own mind about what you are hearing. And for me it was simply 'My God!' She was in the middle of Wagner's Wesedonck Lieder. She sounded like a young Kirsten Flagstad back then."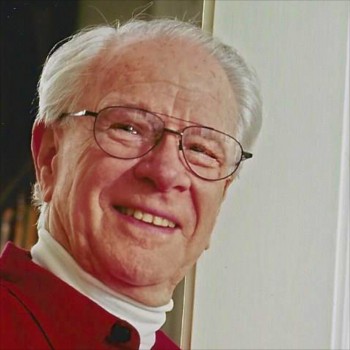 Heading North
Within ten years of that memorable day in Madame Ehlers' Baroque interpretation class at USC, baritone Norcop's career was about to take an 18-year "temporary back seat" to that of Norcop the arts administrator – a career that would take him from manager of the Vancouver Opera to the Ontario Arts Council, where he met Charlotte Holmes, his future wife. In more than a decade and a half at the OAC he served, among other positions, as music officer and eventually as head of the touring program for all the arts.
Through it all, vocal music, and in particular art song, remained (and remains) a throughline and consuming passion. The Jim and Charlotte Norcop Prize in Song and Gwendolyn Williams Koldofsky Prize in Accompanying, at the U of T Faculty of Music, are testament to that. So too has been Norcop's role, from the first year of Douglas McNabney's tenure as artistic director of Toronto Summer Music, eight years ago, in enabling the TSM art song academy to rise from the ashes of TSM's short-lived opera program. The hard rocks of financial unsustainability were the primary reason for the opera program's meteoric rise and fall. "Besides which," Norcop says, "there are other places in the world to go for opera studies in the summer."
But for art song, not so much, although for Norcop as a genre it is at the pinnacle of the classical vocal arts, albeit widely viewed these days as a poor relation of its "wham, bam, thank you ma'am" aria-driven operatic counterpart. "It requires all the powers of passion, interpretation and artistry that opera does, distilled into intense moments. And all without benefit of script."
For years he hoped and tried to establish, with collaborative pianist Liz Upchurch, a vocal arts competition in Toronto; she wanted to dedicate it to her mentor, repetiteur and vocal coach extraordinaire Martin Isepp. But "Toronto is a very tough place to fundraise for musical causes," he says, wryly.
Which brings us, finally, to the main reason for his braving the ice to be here: the Concours in Montreal.
Aria vs. Song
"Canada only has four musical competitions of international stature," Norcop says. "There's Banff for string quartets, Honens for piano, Montreal for organ, and then there's this, the Concours."
And even the Concours, with its triennial emphasis on voice, was missing the mark, as Norcop saw it, based on his first visit there, for the 2015 vocal round. "The category was just voice, with everything lumped in, so naturally opera ruled the day, with maybe a little bit of oratorio thrown in."
To cut what should be a longer story short, he leapt in, making the case to Concours executive and artistic director Christiane LeBlanc that it should be feasible to create parallel streams within the triennial vocal round, so that in the vocal year there would be a competition for aria and one for song, running parallel.
"She got it right away," Norcop says (with perhaps no implied criticism of years of futile trying to do the same thing in Ontario).
The speed with which it has all come together (three years is nothing in administrative time) is remarkable, reflective of the alactrity and passion with which Norcop threw himself into the task of raising the roughly $250,000 needed to get the initiative off the ground, and to put into place a prize structure matching dollar for dollar the $130,000 offered overall in the aria category (which has a 16-year head start on its upstart twin).
And Norcop is putting his own money where his mouth is, in the category that best reflects a lifetime of insight into the realities of pursuing an artistic life in art song. It's the James Norcop Career Development Award, a no-strings-attached $50,000 to the winner.
"The song business is not like the opera side," he says. "It's a life of one-night stands, or putting yourself out there. The publisher of the Montreal Star gave Maureen Forrester an award that was the equivalent of that much when she was setting out, and she used it to go to Europe. She never looked back and she never forgot."
True to his principled understanding of the nature of the art of song, he takes great satisfaction from the fact that the collaborative pianists accompanying the singers will, if under 35 years of age, be automatically entered into a parallel competition, for the John Newmark Best Collaborative Pianist Award. "We need to name our awards for our great artists," he says. "Competitors are coming from around the world. It's a chance to tell them the story of who our great ones were."
And a way to support the ones to come.
"You can follow the whole thing via live-streaming," he says. "It's a great audience to be part of. They are faithful, following it all the way. But nothing beats being there. Oh, what fun it's going to be."
publisher@thewholenote.com