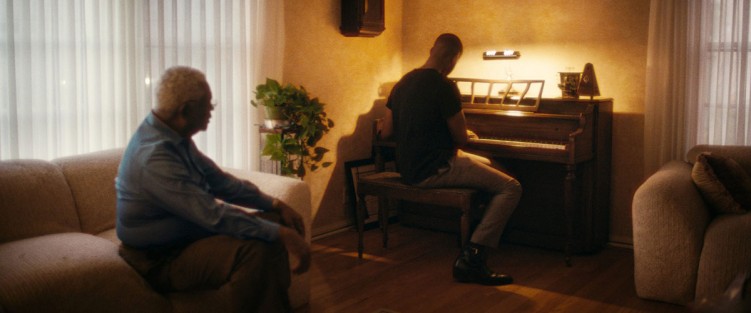 A Concerto is a Conversation is this complex tale of two men – their vision, resilience and successes – told in exactly 13 minutes. In this story of family, transcendence, love and the pursuit of excellence, we follow a young Black American classical pianist and composer, Kris Bowers to the premiere of his violin concerto, For a Younger Self, at the Walt Disney Concert Hall in Los Angeles. The story is told in parallel with the journey of his grandfather, Horace Bowers Sr., from Jim Crow-era Florida to the position of highly successful businessman in California.
Often when I watch films about Black people, I do not recognize myself or anyone I know in the stories and perspectives presented for consumption. I know that film is not always meant to be "the whole truth" or "the story of a people", but what is often presented as Black is a limited trope, is unbeautiful, is a sidekick for a white lead.
This documentary, co-directed by Kris Bowers and L.A.-based Nova Scotia-transplant Ben Proudfoot, counters that vision, centralizing the story of the Black leads without compromise and with what I can only call love.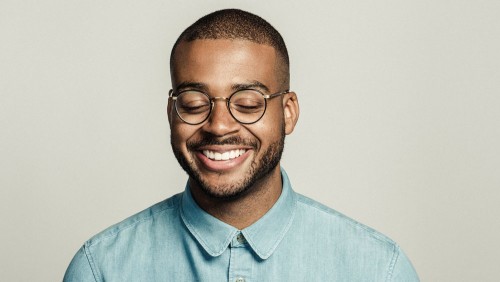 Within the first few minutes, Bowers questions whether he belongs in the traditionally whitespaces and professions of classical music. Bowers's query is startling given his list of achievements: collaboration on Jay-Z and Kanye West's 2011 joint album Watch the Throne; scores for Gotham Chopra's Kobe Bryant's Muse (2015) and the multiple Oscar-winning Green Book (2018); and the series music for Ava DuVernay's When They See Us (2019), Justin Simien's Dear White People (2014); and Chris Van Dusen's period romp, Bridgerton (2020), all on Netflix.
His response is not so surprising when seen in context, though. It can be hard to maintain a feeling of surety when one's position can be so constantly precarious.
Pianist Morgan-Paige Melbourne, for example, in a previous story of mine, described some of her experiences as a young, Black classical pianist in competition in Canada, facing hostility from teachers, adjudicators, other performers and their parents, who questioned her right to be in that environment. A piece by composer Daniel Bernard Roumain, was recently decommissioned, when Tulsa Opera in Oklahoma, decided one crucial word in the lyrics of his work was offensive.
Granted, artist responses to this constant feeling of pressure can be very different. Melbourne developed deep concentration, and the ability to block out these experiences. Her recent short film, Where Do I Go?, with Tapestry Opera director Michael Hidetoshi Mori, relates her journey into resilience. The documentary Disruptor Conductor, directed by Sharon Lewis, shows conductor Daniel Bartholomew-Poyser transferring the discomfort by disrupting the conventional use of space: taking a string quartet to a women's prison in Kitchener, Ontario; bringing drag queen and violinist Thorgy Thor into a Halifax concert hall to play with the Nova Scotia Symphony Orchestra; and creating concert experiences tuned to the needs of audiences inclusive of anyone with any kind of neurodiversity.
What film can be
I generally write about music, dance, art and literature. Watching A Concerto is a Conversation reminded me how film (with its vast vocabulary of pacing, angles, framing and editing) has complex and amazing possibilities for storytelling. There has always been within it, the potential to expand the limited stories told to date of Black people.
What comes to mind is Frances-Anne Solomon's full-length docudrama HERO, where archival black and white footage is spliced in to fill our historical perspectives of the pan-African movement. In A Concerto is a Conversation, Horace Bowers Sr.'s journey from Jim Crow Bascom, Florida, his motivation to get out of there, and his arrival as a successful L.A. businessman are similarly elucidated.
To me, this short feels like an antidote to the peripheral placement of the classical pianist Don Shirley in Green Book, or the limited vision accorded to Miles Davis in the bio-flick Miles Ahead. The centralization of Bowers Sr., the Black musician and the tenderness of the relationship between the two men is something that I have not seen before, and that I do recognize.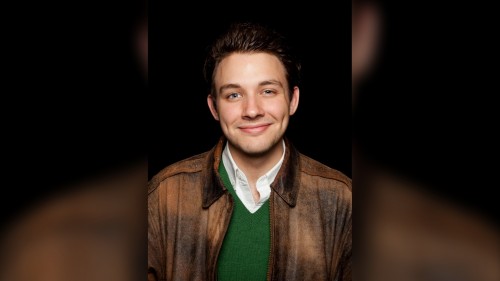 Both Bowers and his grandfather somehow manage to speak directly to the audience through the camera and to each other at the same time. According to Proudfoot, in a wide-ranging interview with POV Magazine, it's an approach to filming he has used before, notably in his Almost Famous short film series for The New York Times. Known as the Interrotron technique, it was developed by award-winning documentarian Errol Morris – a method of rigging the camera so that, in looking straight at the questioner, the subject is also looking straight through the camera at the audience.
As Bowers points out to Ava DuVernay, Concerto's executive producer, in an interview, most people now view media on their phones and this Errol Morris technique creates an uncanny intimacy with the interlocutor. With warm lighting and soft voices, every flicker of emotion or almost imperceptible flinch is revealed. The audience feels invited into dialogue, into the skin of Bowers and his grandfather.
The conversation must continue
As I said earlier, I often experience a cognitive disconnect when I watch Black people on film. I must first de-centre myself in order to engage with someone else's limited vision of who we might be. Film itself is not the culprit, though. It offers the full range of methodologies needed to portray the infinite voices of Black artists. This includes everything from Melbourne's iPad-filmed, single-take creations, to the multi-dimensional Where Do I Go? with Tapestry Opera that combines lyrics, dance, poetry and improvised piano, to A Concerto is a Conversation's 13 brilliant minutes – which tells of the lives of two Black men, with beauty and warmth, from loving angles, a perspective that is deeply needed and rarely seen.
The men in the film experience racism, but racism is not solely what the film is about. If it were, it would of necessity centralize the system and the perpetrators. It is also about the capacity for excellence, about living well, being happy, about transformation. It is about how we, as humans, stand on the shoulders of those who went before us. It is about how we can transcend. At time of writing this, the film is up for an Academy Award in the short documentary category. By the time this is published, we'll know if it has won that award. Whether it does or not, it is an outstanding remedy for our times, and the reward will be that it will be more widely seen.
Throughout the score of the film (composed by Bowers, of course), we hear what he calls "loose variations" of How Great Thou Art, gospel music as familiar to Bascom, Florida as it is to Hollywood. As the credits roll, the grandfather sings the full melody and lyrics as Bowers accompanies him. "You did it, you did it," the elder man exclaims as they finish the piece. Perhaps he is talking to the man he coached and mentored, no longer a boy, but a fully realized and successful musician. Perhaps he is talking to himself.
I recall a children's board book by Vera B. Williams that I used to read to my daughter when she was very little. I'd carefully chosen it because amongst the illustrations was one Black child doing perfectly ordinary things. The baby, when tickled or hugged or given something precious, would say, and we, my daughter and I, would repeat together with great enthusiasm, "More. More. More."
Gloria Blizzard is a non-fiction writer, poet and penner of songs, whose wordsmithing has appeared in numerous literary publications, magazines and sound recordings. She is currently completing her first full-length book, a collection of essays, and can be reached at www.gloriablizzard.com.