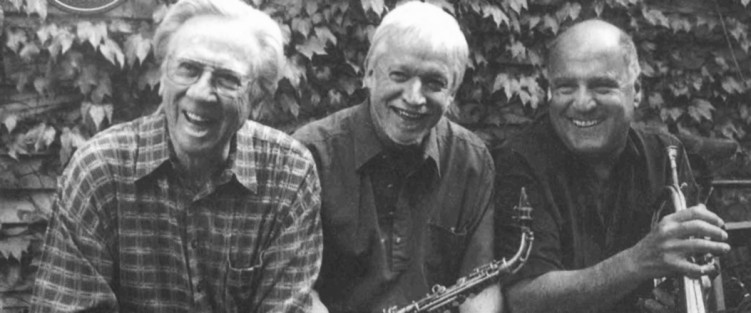 WholeNote readers who remember with affection Jim Galloway's 16 years as Jazz Notes columnist with The WholeNote will be interested to know that the James Cullingham/Tamarack Productions documentary, Jim Galloway: A Journey in Jazz, will receive its premiere (free) live screening at Church of the Redeemer (Bloor and Avenue Rd.) on Thursday, June 28 at 7pm. This will be its only live screening prior to its broadcast on TVO on Thursday July 5 at 10pm. The screening will be followed by a live performance by saxophonist Mike Murley and pianist Mark Eisenman.
Given Galloway's 23-year relationship as founding artistic director of Toronto Downtown Jazz, it's fitting that the June 28 screening is under the auspices of TD Toronto Jazz Festival – Church of the Redeemer being one of eight Yorkville area venues, indoor and out, that will be hosting performances during the festival.
The Ken Page Memorial Trust (one of Galloway's passionate causes) and The WholeNote have been co-presenting twice- or thrice-yearly reunions of the Galloway Wee Big Band, with Martin Loomer at the helm, at the Garage here at 720 Bathurst St., Toronto (The WholeNote's home base). The hundreds of Galloway fans and WholeNote followers will get a special kick out of the footage in the film from one of those events. But the film also traces a wide geographic arc (Dairy (Scotland), Glasgow, Kansas City, Vienna), as it depicts some of the things that made this remarkable jazz ambassador tick.
Anyone who attended the most recent of those 720 Bathurst events will be particularly pleased at the choice of Mike Murley for the live set that follows the film. Murley guested with the Wee Big Band for this year's February 15 Garage reunion event, and laid down an evening of the kind of playful, punny, sweetly considerate lines that were a hallmark of Galloway's own memorable melodic style.
Jim Galloway: A Journey in Jazz will receive its free premiere screening, featuring performances by saxophonist Mike Murley and pianist Mark Eisenman, at 7pm on Thursday, June 28, at Church of the Redeemer, Toronto.
David Perlman can be reached at publisher@thewholenote.com.