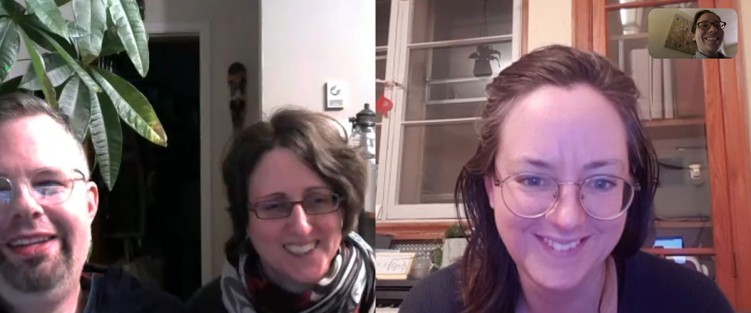 The other week, I went to a lovely symphony performance with friends in Montreal. We all enjoyed the lively rendition of Vivaldi's Four Seasons, and when it concluded we stood and energetically applauded. We chatted about the concert for a few minutes, then bid each other goodnight and left the concert hall. It was a fun evening – just like before the pandemic!
Except that leaving the concert hall was as simple as closing my web browser and turning off my laptop. Our applause consisted of lines of the clapping hands emoji on Facebook Messenger. And, while my friends were in Montreal, I was in Halifax, Nova Scotia.
Instead of an outing to attend a concert in person, this was an "inning". Just like going out to hear a musical performance or view an art exhibit with friends, but, rather than meeting at the venue in person, you stay inside, meet virtually and "go out" by staying in.
It's not quite the same as an actual outing, but, in these unusual times, it's a wonderful alternative. It's certainly been working for me and my culture-loving friends – we've now been holding cultural innings for a whole year!
Opening Act
Sometime in March of 2020, just after my employer had informed us that, due to the COVID-19 pandemic, our entire office would be working from home for the foreseeable future – and the same thing was happening at workplaces all around the world – my friend Peter proposed that we meet online to watch a concert or dance performance "together."
He had watched a movie the previous weekend "with" friends – each in their own homes – while they discussed the film over Slack. He had the idea to apply the concept to other events, such as classical, jazz or folk concerts and dance performances. He was already missing being able to see live performances during the pandemic and thought it might be a way for him and his girlfriend (in Montreal) and me (in Ottawa at the time) to keep getting our cultural fix and stay in touch at the same time. Ever the culture junkie, I was immediately on board.
Surprisingly, the format we started out with has remained unchanged. We meet on Skype for about an hour to catch up before we start our cultural program (usually on a weekend evening, so it feels more like a special event). We then take a short break while getting the optimal set-up for viewing – for me it's connecting my laptop to the TV so I can lie on the couch while watching – and meet on Facebook Messenger. Someone does a countdown and we hit "play" at the same time, and then we text each other sporadically during the performance to comment on what we're seeing.
The Program
One year after our first inning, I'm still amazed at the quality and quantity of cultural programming that's out there for the viewing, all either free or affordably priced. My cultural compatriots and I have, for the big sum of zero dollars, travelled by train through stunning scenery in Japan, Switzerland and Norway; visited Pompeii; wandered through CERN; toured art exhibits at famous museums in Canada, the UK and Europe; and watched dance performances in France, Korea and Germany. We have also paid for several performances provided by organizations closer to home, including the Orchestre Symphonique de Montréal (OSM) and Danse Danse, a Montreal-based dance organization. We enjoy supporting these organizations during these lean pandemic times through the purchase of virtual "seats".
Since my fellow innings insiders (there are now four) live in Montreal, a city I once called home, we often source our cultural activities from Montreal's many offerings. But there is a treasure trove of excellent online performances available from across Canada, and the cool thing is that you can just as easily go to one that's 5000 km away as one that's 50 km away!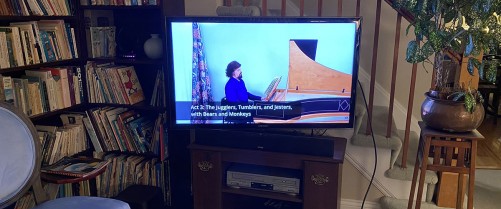 The WholeNote has become an excellent resource for our group. One recent inning was sourced entirely from WholeNote's listings which are updated weekly from whatever appeared in the previous print magazine. First, we watched a program of "Concert Miniatures" by the Rezonance Baroque Ensemble. The "intimate salon-style mini-concert" featuring violinist Rezan Onen-Lapointe and harpsichordist David Podgorski included French chamber music by François Couperin and others. The event opened with an introductory chat and then we were shown a prerecorded home concert. It did feel quite intimate, almost as if I was sitting right in the room with them. There was a short Q&A session afterwards, with questions from the audience via comments in the chat. All this for only $10 – not bad if you ask me.
It would be hard to find a cultural event more reflective of our times than the second event that evening. Escape Room, the University of Toronto Opera School's newest Opera Student Composer Collective production, was written especially for an online audience, and is available for free on YouTube. A comedy with an existential bent that pokes fun at topics as diverse as Imelda Marcos' shoe collection, academia and Doug Ford's, well, Doug Ford-ness, Escape Room proves how effective the online and distanced performance model can be. The singers seemed to interact with each other just as well as they would have on stage, and the choreography was managed by the size and placement of each singer's Zoom window.
Encore
Truth be told, my cultural comrades and I have discovered many positives to attending cultural events online over the past year, such as not having to go out in bad weather to get to a venue, not having to dress up unless inspired to, and being able to share impressions (and eat crunchy snacks) during the performances without annoying others.
To be honest, I don't really miss having to bring my mini-binoculars to ballet performances, just so I can see what's going on from my top-balcony, back-row seat. I now get the best seat in the house for a great price, seeing the action up close through professionally filmed performances. There's no craning my neck to see over the heads blocking my view and no one coughing or rustling the pages of their programs throughout the performance.
I'm not saying I don't ever want to go back to a real concert hall; there is something very special about sharing the experience of being at a live performance with other people, but our innings have allowed my friends and I to do something that isn't possible in any other way right now – meet to share a cultural experience – and to do it in a fun, unique, and affordable way.
Catherine Muir started her career as an editorial intern at WholeNote many moons ago, and went on to cut her teeth as an editor and a writer in the private, academic, and government sectors. She is enjoying frequent online innings with friends during the pandemic.