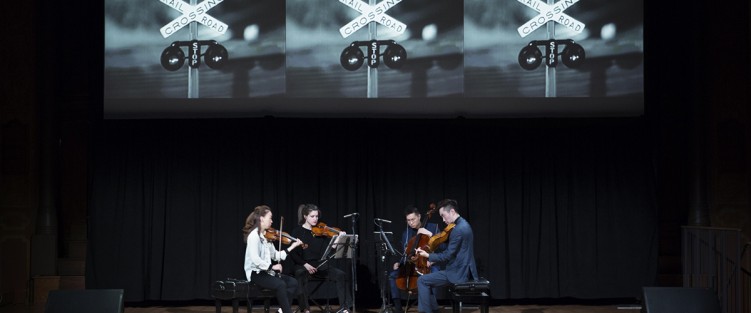 From Chicago to New York
One of the fastest trains
From New York to Los Angeles
Different trains every time
As artistic director Lawrence Cherney said from the stage on Saturday February 2, the concert we were about to hear was "the hottest ticket in town." It was going to be another one of those epic Steve Reich nights reminiscent of when Reich's music was performed at Massey Hall in April 2016. This time it was the stunning Rolston String Quartet performing his work Different Trains, along with R. Murray Schafer's String Quartet no. 2 waves, and pieces by the mentoring composers for Soundstreams emerging composers workshop Dorothy Chang (Vancouver) and Rolf Wallin (Norway). Seamlessly accompanying the musical performance of Different Trains was a film by Beatriz Caravaggio, who used a wide range of archival material primarily of trains from the late 1930s and into the mid-1940s.
Reich wrote this work in 1988 for string quartet and pre-recorded tape for the Kronos Quartet, and it received a Grammy Award in 1989. It was Reich's first foray into what he called "documentary music video theatre" and was built on compositional ideas he had experimented with in the 1960s—melodic and rhythmic ideas generated from speech rhythms. The opening text I've quoted above comes from Part 1 of this 3-movement work, inspired by Reich's early childhood experiences of riding trains from New York to Los Angeles as he visited his parents who lived separately in each of these cities. Being Jewish, he wondered what his life would have been like, and more specifically what riding a train would have been like, if he had been born in Europe during the Second World War. The texts were derived from various interviews: his governess who accompanied him on the train rides, a retired Pullman porter, and the memories of Holocaust survivors who were close in age to him.
The Germans walked in
Walked into Holland
Lots of cattle wagons there
They were loaded with people
They tattooed a number on our arm
Reich's music is particularly important for me personally: when I was introduced to his work in 1976 at a student composers workshop he gave at U of T's Faculty of Music, it felt like a breath of fresh air had just blown in. He spoke about slowing down the unfolding musical process so that the musical changes could be fully perceived. His music offers the listener an experience of being fully saturated with repetitive rhythmic patterns and simple melodic and harmonic textures, with the totality creating an impact that is mesmerizing and trance-like. As American composer John Adams has explained, Reich's music arose at a time when Western concert music had reached an information saturation point. Hyper-complex musical abstractions had prevailed, but Reich's approach brought back sensuality and pleasure into the listening experience. I certainly experienced this while listening to Different Trains, despite the intense subject matter of the Holocaust.
The originally-recorded text fragments, some of which I've quoted here in this report, were audible on the pre-recorded tape in the February 2 concert, and one could hear quite plainly the connection between the nuances and inflections of the speaker's voice with the melodies and rhythms being performed by four string quartets in total—three prerecorded quartets and one live. The music progressed from one text phrase to the next, with each fragment receiving focused attention to create interlocking rhythms and resulting melodies. At times, the movement from one text section to the next created quite contrasting rhythms that served to amplify the meanings of the text itself. Reich also included archival sounds from American and European trains of the '30s and '40s on the pre-recorded tape.
Then the war was over
Are you sure?
Going to America
From New York to Los Angeles
One of the fastest trains
But today, they're all gone
The accompanying film was brilliantly suited to the music, providing startling and vivid images on a 3-part screen: the patterns of multiple train tracks, spinning train wheels, people boarding and disembarking—some onto comfortable passenger cars, others stuffed and locked into box cattle cars. The visual editing rhythms, both for each separate screen and between the three screens, complemented the rhythmic changes and juxtapositions of the music.
Throughout the evening, the Rolston String Quartet captivated their audience with deeply passionate and committed playing. Formed in 2013 at the Banff Centre for the Arts, the quartet has a busy touring and teaching schedule worldwide. Their performance of Schafer's String Quartet no. 2 waves (1976, rev. 1978) was breathtaking, bringing to life this piece that Schafer composed using his study of the ebb and flow of waves to create both phrase lengths and large-scale proportions. The work ended with the two violinists and violist leaving the stage one by one, taking the music off into the distance with them. We also hear in the music the call of the white-throated soprano—all the more poignant now that this particular birdsong is rarely heard. Rolf Wallin's two works on the program provided both humour and an enchanting palette of unique sonic textures and timbres.
It was indeed a hot ticket on a winter's night that provided a provocative sonic ride through history, memory and nature.
Soundstreams presented "Different Trains on February 2, 2019, at Trinity-St. Paul's Centre, Toronto.
Wendalyn Bartley is a Toronto-based composer and electro-vocal sound artist. sounddreaming@gmail.com.