This article is part 3 of a 3-part series on the 2018 TD Toronto Jazz Festival.
---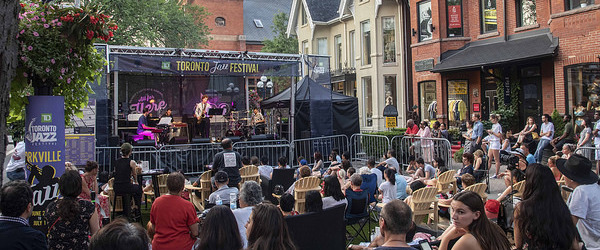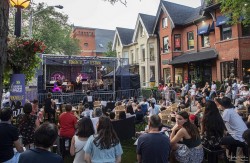 The 2018 TD Toronto Jazz Festival celebrated two important birthdays this year. The first: the festival, originally founded in 1987, is now in its 32nd year. The second: 2018 marks the second year that the Jazz Festival has been based in the Bloor-Yorkville area, with, as advertised on the official schedule, "more than 165 free shows and events." These free events took place both out- (on temporary stages erected throughout Yorkville for the festival) and indoors (at Heliconian Hall, Isabel Bader Theatre, Church of The Redeemer, The Pilot Tavern and Sassafraz Restaurant.) There was also a nightly jam at Proof Vodka Bar in The Intercontinental Hotel (hosted primarily by the Lauren Falls Trio), and ticketed events at Koerner Hall, Trinity-St. Paul's Centre, The ROM, The Danforth Music Hall, The Horseshoe Tavern and The Church of The Redeemer. As for clubs that present jazz year-round (beyond The Pilot), there were only two: The Old Mill, which hosted a four-evening "Heather Bambrick & Friends" series, and The Rex, which presented 3-4 shows daily, with an emphasis on progressive, young-ish acts.
Both the free outdoor shows and the scaled-down club content represent a major shift in the festival's direction from years past. Until the 2017 festival, outdoor shows were in large tents in Nathan Phillips Square, and were often ticketed, rather than free. There were also a large number of clubs that presented their own content under the auspices of the festival, but, according to artistic director Josh Grossman, that the festival didn't have input into booking; as such, as of last year, the festival-affiliated club dates were largely removed from the schedule. Beyond the artistic concerns, it also seems like this extended network of restaurants, bars and clubs hosting official Jazz Festival shows presented certain physical challenges; it is hard, after all, to wander from a venue like the late Gate 403 in Roncesvalles to a centrally-located outdoor festival site. The result of the recent changes was, both last year and this year, a festival experience that felt leaner, stronger, and, with echoes of analogous outdoor Jazz Festival spaces in Ottawa and Montreal, efficiently centralized. It also felt – for only the second time, in my experience as an attendee – easy to navigate, comfortably accessible, and, most importantly, festive.
---
Some of the things that I overheard at the 2018 TD Toronto Jazz Festival, Outdoor Grounds, Yorkville, at various points between June 22 and July 1:
"My dad is, like, obsessed with jazz. I think that's why I like it."
"I can't wait to see Herb Hancock!"
"It's so wonderful to see so many women onstage. And so young, and so talented!"
---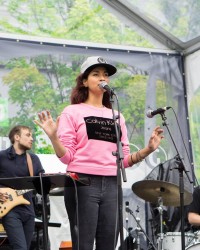 I played two shows at the festival this year, both close to the beginning of the schedule. The first, with the Tara Kannangara Group (Tara Kannangara, voice/trumpet; Chris Pruden, piano/keyboards; Julian Anderson-Bowes, bass; Mackenzie Longpré, drums; and myself on guitar), took place on the afternoon of Sunday, June 24 on the OLG Stage on Cumberland; the second, with Collective Order, took place on the evening of Monday, June 25 at The Pilot. Through some happy freak-of-scheduling luck, my playing obligations preceded my responsibilities for The WholeNote, which were to watch and write about Savion Glover and Marcus Gilmore at Koerner Hall on June 26, to watch and write about Starebaby at The Rex on June 28, and, finally, to watch and write about an unspecified number of free shows in Yorkville on June 30 (which follows in this article).
Through another happy freak of luck, I also found myself – both this year and last – living within walking distance of the festival grounds, and watched quite a few other free festival shows throughout the week. On Monday, June 25 I checked out the Teri Parker Quartet (Teri Parker, piano; Luis Deniz, alto saxophone; Mark Godfrey, bass; Mackenzie Longpré, drums), an accomplished group that primarily played Parker's original modern jazz compositions and arrangements. Singer/ukulelist Lydia Persaud played material from her new Low Light EP – along with additional original material and a few choice covers – to a receptive and appreciative crowd on Tuesday, June 26 (with Dean Drouillard, guitar; Kyla Charter, voice; Robbie Grunwald, bass and keyboard; and Mike Ardagh, drums). Chelsea McBride's Socialist Night School – a modern big band project helmed by saxophonist/composer McBride – showcased both original compositions and the talents of a number of young Toronto-based musicians on Wednesday, June 27, at the tail-end of their cross-Canada tour. On Thursday, June 28, I caught re.verse (Robb Cappelletto, guitar; Damian Matthew, bass; and Chino de Villa, drums), an excellent trio that specializes in modern interpretations of hip-hop and R&B repertoire (performing with the KeepRockinYou dance collective), and The Carn Davidson 9, a "chordless" ensemble anchored by co-leaders William Carn (trombone) and Tara Davidson (alto saxophone), whose rock-solid arranging skills were on full display, underscored by the strength of the band. Finally, on Friday – as the temperature crept up to 30° in the late afternoon – I heard Ernesto Cervini's Turboprop (Tara Davidson, alto sax; Will Carn, trombone; Joel Frahm, tenor sax; Adrean Farrugia, piano; Dan Loomis, bass; and Ernesto Cervini, drums) which, despite the weather, performed a high-energy show to a large, happy, sweaty crowd.
---
Some more things that I overheard:
"If I don't get out of this sun immediately I'm literally going to die."
"You know, I didn't think I liked jazz, but since I had some water and a snack I'm really starting to enjoy myself."
"So, they're just, like, making this all up, right?"
---
I am typically not much for activewear – a friend once commented, during a shared trip to the gym, that I have "the legs of a scholar" – but, in preparation for my day of outdoor music-watching, I purchased a pair of shorts. According to weather.com (consulted, in research for this piece, after the fact) the high in Toronto on Saturday June 30 was 35°. The heat was not, however, a deterrent to festival attendees. As is so often the case during episodes of mild meteorological oppression, the shared burden had somewhat of a unifying effect on audience and musicians alike: together, we sweat.
The first show of the day was the Allison Au Quartet, with special guests Michael Davidson (vibraphone) and Daniel Fortin (bass) joining bandleader/saxophonist Au and Fabio Ragnelli (drums) on the OLG Stage on Hazelton Ave. at noon. The AAQ were wrapping up a tour of Canadian jazz festivals, and both new material and older compositions sounded fresh and exciting. Au was playing as part of the Junos 365 Acts series, featuring past Juno winners and nominees – as was baritone saxophonist Shirantha Beddage, who played on the OLG Cumberland stage at 12:30pm with a quartet featuring Nancy Walker (piano), Mike Downes (bass), and Ethan Ardelli (drums). Highlights of Beddage's set included the gospel-tinged 9/8 ballad The Long Goodbye, complete with key change, and the Giant Steps contrafact Angle of Incidence, with great playing from the whole band. Later, on the same stage (and as part of the same Junos series), bassist/vocalist Brandi Disterheft led her quartet in a bluesy set with Grant Stewart (tenor sax), Alex Minasian (piano) and Mark Hundevad (drums), at the same time as guitarist/singer Luis Mario Ochoa put on a joyful, confident show at the Yorkville Village – The Lane stage (with Jeremy Ledbetter, keyboard, Louis Simão, bass, and Amhed Mitchel, drums).
The final show that I watched on Saturday was Andrew Downing's Otterville, presented in the mercifully air-conditioned Heliconian Hall. Named after the village in Norwich Township, and designed to "evoke the peace, quiet and simplicity of small-town Ontario," Otterville is probably best characterized as a "chamber jazz" ensemble, with unusual instrumentation (this performance featured Allison Au, alto sax; Michael Davidson, vibraphone; Christine Bougie, lap steel guitar; Mike Smith, bass guitar; Nick Fraser, drums; with bandleader/composer Downing on cello). Downing exudes a quiet charm, reflected both in the group's music and in his interactions with the audience; he elicited immediate chuckles when, following the medium-slow Fall in Line, he introduced the piece A Pair of Eyes with the caveat that they were going to "slow things down a bit for [the] next song" (which was true). A fellow audience member close to me called the song "a beautiful daydream," which is an apt description of the show as a whole, although the metaphor fails to capture the careful compositional rigor that seemed to undergird even the most wistful, breezy moments in Downing's music.
At the end of the day, it seems as though the festival had done well in their choice of local programming, not just in picking acts that are representative of Toronto, but in acts that are representative of the many unique scenes that constitute Toronto jazz/improvised music as a whole. Programming a festival is a fraught business: there are sponsors to please, a limited number of spots, and the feelings of a community at stake. That being the case, it was gratifying to see, in the choices at this year's Jazz Festival, that a serious effort was made to celebrate the accomplishments of the musicians, curators and venues that contribute so much to Toronto music year-round.
The 2018 TD Toronto Jazz Festival took place from June 22 to July 1, in various locations throughout Toronto.
Colin Story is a jazz guitarist, writer, and teacher based in Toronto. He can be reached through his website, on Instagram and on Twitter.