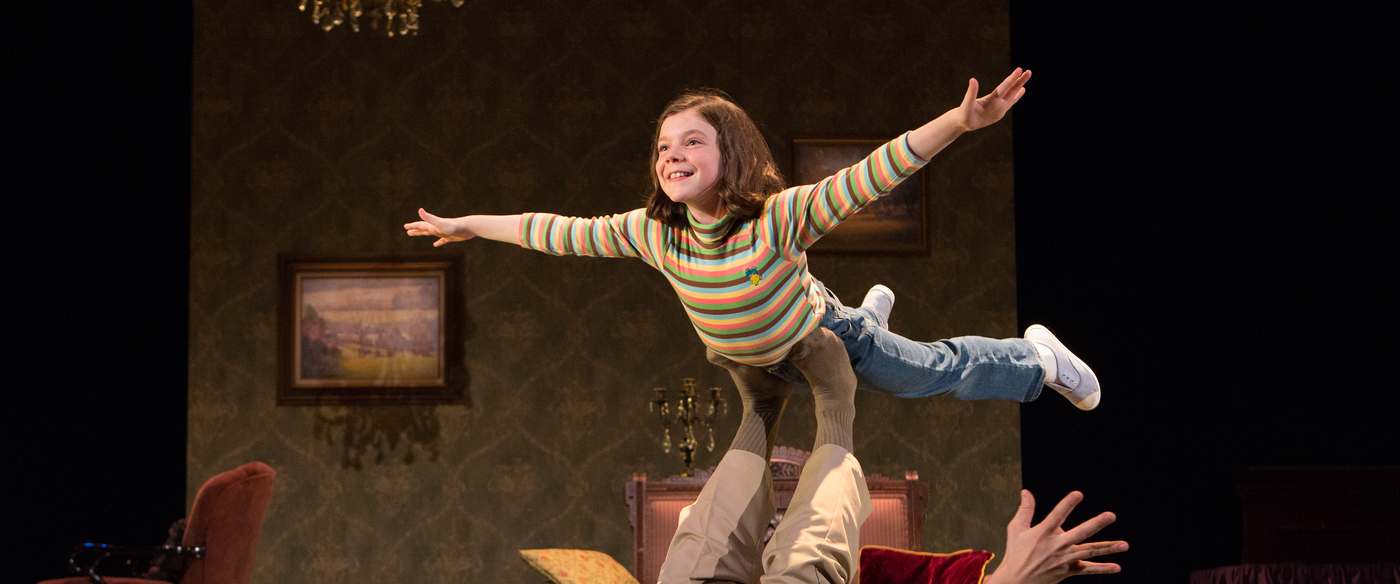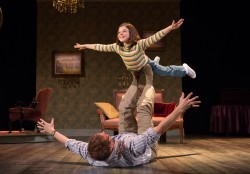 Tuesday April 17: a wonderful night of superb theatre with high expectations met by a brilliantly crafted musical, as the Musical Stage Company's excellent production of Fun Home opened under the umbrella of Mirvish productions at the CAA Theatre.
The Broadway production of Fun Home won numerous Tony Awards in 2015 and also marked a number of firsts, including having the first female team to win the Tony for best score, and being the first musical to centre on the story of a young lesbian. With book and lyrics by playwright Lisa Kron and score by Jeanine Tesori (Thoroughly Modern Millie, Caroline or Change), Fun Home captures the mind and heart right from the start, pulling us into a deeply personal but also universal story of family and figuring out one's true identity. Filled with an often surprising yet delighting combination of comedy and tragedy, unexpected vulnerability and goofiness, the story is told through a blend of dialogue and song that rings incredibly true, the songs themselves seeming to emerge necessarily from moments of heightened emotion in the text. The cast are all strong: the main character, Alison, is portrayed at three different times in her life, and the three Alisons, naturally enough, stand out from the rest in their almost uncanny ability to be the same character at different ages. This is the central structural concept of Fun Home – that the heroine of the story is played not by one but by three performers, letting us connect with her at three different ages, and not just one at a time, but often with two or even all three together.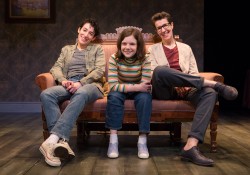 The musical begins in the present time with Alison Bechdel, 43-year-old cartoonist, sitting down at her desk to draw, but finding that she is "stuck" – turning to journals and memories of the past in order to figure out how to go forward into the future. The biggest or most central part of that journey is trying to figure out how much she and her father are alike. As she starts to draw and remember at the same time we hear her say:
"Caption: My dad and I were totally alike."
Then she starts a new drawing:
"Caption: My dad and I were nothing alike."
And this catapults her back to her childhood, as the oldest of three children in a house lovingly restored by her rather obsessive father who also runs the family Funeral Home – which all the family refer to as the "Fun Home," hence the title of the show.
The first thing we see is the young Alison demanding her father help her to play "Airplane" – a wonderful image of togetherness and freedom, an image picked up again at the end of the show in a very satisfying way. Like all families, theirs isn't perfect, and we experience with Alison her early yearnings not to dress in frilly dresses and her father trying to keep her true to the model of the perfect little girl much as he himself has hidden the fact that he is gay behind the facade of a proper father and family man. What works wonderfully is that the adult Alison, our narrator and bridge into the past, is actually there in the living room with Small Alison, experiencing her memories again as if in the flesh, sometimes on the sidelines but sometimes walking through remembering.
We also meet Alison as she goes to college, where she first discovers she is a lesbian and eventually tells her family. Sara Farb is remarkable as this "Middle Alison": powerfully present, but extraordinarily vulnerable and real. Her big song, Changing my Major, soars through the theatre like an anthem, funny and powerful at the same time in its capturing of discovery and joy.
Hannah Levinson as Small Alison is a wonderfully confident performer with a clear strong singing and speaking voice, and is immediately believable as Alison in embryo. Her anthem Ring of Keys was beautifully heartfelt. Laura Condlin as Alison at 43 – in her first musical – is a strong attractive centre, keeping us engaged and invested throughout in her investigations into the past.
The surrounding cast all have their moments to shine and all are strong in director Robert McQueen's subtly realized production. It is a musical, yes, and traditional in that it has scenes of dialogue with songs interspersed, but it is also the story of a real, quirky family, dealing with difficult emotions and issues. That this family feels so real whether speaking or singing is a tribute to the company as a whole, as well as to the creators of the piece.
One song that stood out for its goofy reality – highlighted by Stephanie Graham's brilliantly real choreography – was Come to the Fun Home, the "commercial" that the young Bechdel siblings have made up for the family funeral home and perform for themselves, complete with coffin. Liam MacDonald as little brother John is an energetically spontaneous presence here and in all his scenes.
Based on cartoonist Alison Bechdel's best-selling and acclaimed autobiographical graphic memoir, Fun Home is a chamber musical that explores big and difficult issues but is also a joyous affirmation of life.
The Musical Stage Company production of Fun Home, presented by Mirvish, runs until May 20, 2018, at the CAA Theatre, Toronto.
Toronto-based "lifelong theatre person" Jennifer (Jenny) Parr works as a director, fight director, stage manager and coach, and is equally crazy about movies and musicals.