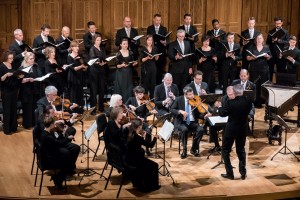 Finding a suitable environment for J.S. Bach's B-Minor Mass is no small challenge. Although ideally suited for the concert hall due to its duration, complexity and the personnel required in performance, it feels slightly unnatural to hear this monumental essay on the Latin rite displayed in such sterile conditions, far removed from its native liturgical context.
Perhaps this 'problem' is not a problem at all, merely the cognitive dissonance produced by our universal understanding of Bach as a devoutly religious person and his music as an expression of those religious beliefs. As a recent example, a March 30 article by Michael Marissen in The New York Times was titled "Bach Was Far More Religious Than You Might Think" and considers Bach to be "a religious conservative at odds with the progressivist currents of his day, and ours," supporting this spiritual biography with Bach's own marginal comments from his three-volume Calov Study Bible.
According to Bach himself, "the aim or final goal of all music shall be nothing but the honour of God and the recreation of the Soul." However, the B-Minor Mass was not performed in its entirety until 1859, more than a century after Bach's death, and has been a concerted work ever since. How, then, do we bridge this gap between Bach's loftily sacred aspirations for the B Minor Mass and the inherently worldly atmosphere of the concert hall?
At its recent April 6 concert, Tafelmusik's approach to the B Minor Mass was one of detail – and the expression achieved through that detail was little less than divine. With Ivars Taurins at the helm, every note had direction and every phrase had shape, and these microscopic musical elements translated into a macroscopic whole which realized Bach's detailed score in an unparalleled way. From the first notes of the Kyrie to the final Dona nobis pacem, nothing seemed out of place or beyond the performers' control, so that those in attendance were able to listen beyond the minutiae and hear the work in its entirety, like a painting in which each brushstroke combines with others to create a larger cumulative work.
Taurins' use of the soloists in the opening movement to create a terraced dynamic effect was very successful, as was the decision to have the solo quintet sing the Et incarnatus est. These changes in timbre and texture not only provided sonic variety but also allowed us to hear these fine singers more frequently, each of whom were superb individually and in the ensemble.
As in every Tafelmusik performance, tuning and temperament were exact and lent an additional degree of fidelity to the performance. Nothing is more luminous than chords played in pure intonation and we were treated to countless numbers of these throughout the evening, whether in the densely chromatic minor-key Crucifixus and Confiteor movements or the joyously major-key Sanctus and Osanna. The choir's use of German Latin added extra potency to the text, with elements of Classical Latin replaced by the slightly more percussive and pointed German, lending the interpretation a strong rhythmic vitality.
As the final chord of the Dona nobis pacem faded away, the outburst of applause seemed inadequate and improper, a worldly attempt at expressing appreciation for the incomparable profundity and beauty of the previous hours. Although a standing ovation was indeed deserved, it took this audience member more than a few minutes to regain his composure, and I remember neither leaving Jeanne Lamon Hall nor the return trip home – I was captivated and moved in a way that no other concert has managed to do in a very long time.
If there really are angels singing perpetually in the afterlife, I wouldn't be surprised to hear them singing the B-Minor Mass over and over again. It is a tremendous work of art – complex yet inspiring, superficially appealing yet deeply spiritual – and we should consider ourselves incredibly fortunate to have such magnificent interpreters in our midst.
Tafelmusik presented Bach's B-Minor Mass (conducted by Ivars Taurins, with soloists Dorothee Mields, Laura Pudwell, Charles Daniels and Tyler Duncan) April 5-8 at Jeanne Lamon Hall, Trinity-St. Paul's Centre (and April 10 at George Weston Recital Hall), Toronto.
Matthew Whitfield is a Toronto-based harpsichordist and organist.