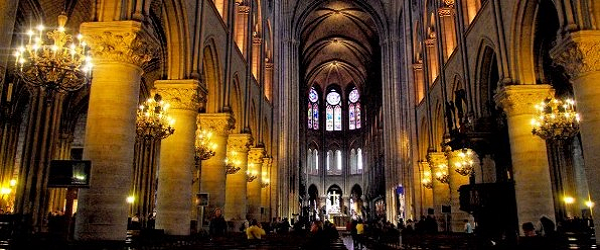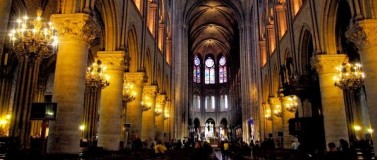 From the earliest days of Western musical civilization to the present, Notre-Dame de Paris has played a prominent and pivotal role in many of music's finest moments and housed some of its most brilliant minds. In the 13th century, Pérotin le Grand, one of the Medieval era's most respected and influential composers, developed the organum, the first exploration of polyphony in European church music. Through his organa, Pérotin pioneered an entirely new style of music, expanding previously monophonic chants (single lines sung in unison, such as Gregorian chant) into two-, three-, and four-part compositions, thereby paving the way for choral music as we understand it today.
In 1900, more than six centuries after Pérotin le Grand, Louis Vierne was appointed principal organist at Notre-Dame de Paris. By this time the tradition of excellence in church music at Notre-Dame was firmly established, continuously developing and thriving, despite changing social conditions and political unrest. Nearly blind from birth due to congenital cataracts, Vierne studied with César Franck and was assistant to Charles-Marie Widor before obtaining the highly-regarded and equally highly sought-after organist post at Notre-Dame. (To this day, the position of titulaires des grandes orgues is considered one of the most prestigious in France.)
Vierne maintained this high standard, playing hundreds of organ recitals and inspiring generations of future composers and organists through his concert and service playing, powerful and skillful improvisations, and extraordinarily emotive compositions. Vierne was so closely connected to Notre-Dame that he passed away during what was to be his last recital, his 1750th, suffering either a stroke or heart attack on the bench of the great Cavaillé-Coll organ in his beloved church.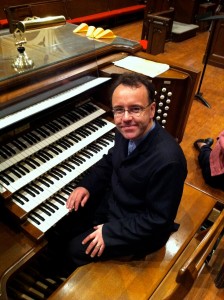 Upon entering Notre-Dame de Paris and hearing the organ for the first time, the majesty and grandeur are overwhelming. The enormity of space and sound, working together in perfect synchronicity, produce an unparalleled and profound effect. On January 19 in Toronto, the Choir of St. James Cathedral, led by director of music Robert Busiakiewicz and organist David Briggs (former artist-in-residence at St. James), sought to recreate this powerful atmosphere with their concert The Splendour of Notre Dame, featuring music by composer-improvisers connected with Notre-Dame in the 20th and 21st centuries: Louis Vierne, Pierre Cochereau, Maurice Duruflé and Yves Castagnet.
The first work of the program, Vierne's Messe Solennelle, Op. 16, is a personal favourite. Written the year before his appointment to Notre-Dame, this piece opened the concert in an extraordinarily powerful way: majestic, imposing, dissonant C-sharp minor played on full organ, answered antiphonally by the choir. Originally composed for two organs and played by two organists (the Grand-Orgue and the Orgue de Choeur), Briggs masterfully adapted the score for solo performance on St. James's pipe organ, making the necessarily rapid adjustments seamless throughout. The Cathedral choir, although comprising only 18 voices, held their own against Vierne's weighty writing, maintaining their presence, balance and impressive tuning, even with the Trompette en-chamade blaring from the West end of the building!
One of the finest performers on the international pipe organ scene today, David Briggs followed the Vierne Messe with his own transcription of Variations sur 'Alouette, Gentille Alouette' by famed organist and improviser Pierre Cochereau, organist of Notre-Dame from 1955-1984. Cochereau's improvisations, renowned for their innovation, technical challenges and sheer complexity, are a nightmare for any transcriber – by his own estimation, Briggs spent "about six months, at an average pace of 4 hours to transcribe one minute of music" – and the Cochereau Variations were well over 10 minutes in duration! A piece of staggering complexity, the Variations were astounding in every way: the thought that Cochereau could compose, let alone improvise such a work – and that Briggs had the patience and determination to transcribe it – lent the performance an even higher degree of impressiveness.
Although never titulaire at Notre-Dame (he held an identical post at the nearby Saint-Étienne-du-Mont), Maurice Duruflé was an influential member of the Paris organ scene, an established composer, performer, and teacher whose pupils included Pierre Cocherau. A severely self-critical composer who continually edited his works (there are only 12 published with opus numbers), Duruflé's Quatre Motets sur des thèmes grégoriens, op. 10 are miniature gems, and the St. James Cathedral Choir shone in their interpretations of these works. As with the Vierne Messe, the choir's intonation, dynamic contrasts and phrasing were masterfully executed, and Busiakiewicz's choices of slightly quicker tempi helped compensate for the Cathedral's relatively dry acoustic; dry, at least, in comparison to the great churches of Paris!
The evening's joyful exploration of Notre-Dame's 20th-century choir and organ music came to a rousing conclusion with the performance of Yves Castagnet's Messe Salve Regina, based on and including excerpts from the great 11th-century Gregorian chant. Castagnet is the current Organist of the Orgue de Choeur at Notre-Dame where, since his appointment in 1988, he accompanies daily masses and plays choral accompaniments; he is also a gifted composer, as his Messe demonstrated! Demanding a great variety of timbres, textures and sonorities from both organ and choir, Castagnet's love of Notre-Dame, its instruments and its choirs shines through his music, as both organ and choir play equal roles in the declamation and interpretation of the traditional Latin Mass texts.
Clearly demanding and intricate but never superficial or indulgent, the Messe Salve Regina was a splendid way to conclude a concert that did exactly what it promised to do: bring the splendour of Notre-Dame and its inimitable traditions and musical pedigree to Toronto. For a little while, it felt as though we too could turn around and savour the stunning rose windows of that great gothic structure.
The Cathedral Church of St. James presented "The Splendour of Notre Dame" on January 19, 2018 in Toronto.
Matthew Whitfield is a Toronto-based harpsichordist and organist.