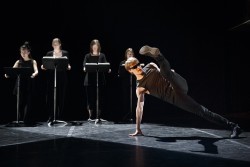 On November 16, the highly-regarded DanceWorks celebrated (in a three night run) its 40th anniversary, on the main stage of Toronto's Harbourfront Centre.
Having emerged out of the York University Dance Department in the late 1970s and subsequently merging with other urban and metropolitan Toronto influences, this innovative company helped stimulate, contemporize and change the face of dance – and music composed or re-imagined for dance – in Canada. This special production presented a combination of world premieres and re-stagings of past successes, featuring both past company members and dancers still in the first blush of their careers. The packed, sold-out house was rife with a veritable who's who of the Canadian dance community.
For any creative enterprise to reach the age of 40 is not only a magnificent accomplishment, but a statement of incredible commitment and devotion from the artists and administrators involved. Johanna Householder is the co-founder of DanceWorks, as well as a performance artist and professor at OCAD University, and Mimi Beck serves as dance coordinator. "This selection of works is rooted in the past, celebrates the present and invites hope for the future," said Beck of the event. "The five choreographers have premiered and performed pieces in DanceWorks seasons – dating back to 1981. Each has a strong artistic vision that supports a unique, creative practice. All are still active in their craft."
All five pieces were presented with integrity, technical skill and imagination, along with integral music and soundscapes that stirred the soul, heart and mind. First to take the stage was an exceptional world premiere titled The Night Journey, featuring veteran Learie McNicolls as both choreographer and single performer. The ghostly 'live' projections, as well as the eerie design concept, came from the mind of Judith Sandiford, and the entire piece was inspired by an album of solo, six-string bass playing by Wilbert de Joode, a cutting-edge, a masterful musician based in Amsterdam. The free, luminous soundtrack fed the performance, which fearlessly explored the true nature of the soul, as well as the plastic and subjective nature of time and the ability to transcend space/time through shamanic focus on the multi-layered nature of the "now."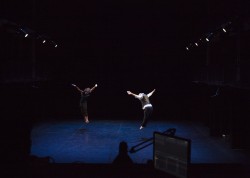 Dancing With the Ghost was a glorious pas de deux that initially appeared in 1995. This soulful and seamless piece was originally performed with a quartet of dancers, but was presented here as a compelling duet, featuring the lithe and beautiful Jennifer Dahl and the agile and sinuous Robert Glumbek. Learie McNicolls acted as a choreographer here, as well as the composer of the "soundscape," which included funky, steamy elements of Dance Hall motifs – adding to the already viscous eroticism and 'push me-pull you' nature of the piece.
A joyous delight was the multi-sensory Cheap Sunglasses. First presented in 1981, choreographer Holly Small was thrilled to reunite with composer Robert W. Stevenson. This piece is quite simply as relevant now as it was at its inception. Created with a four-person "Greek Chorus" that uttered, shouted and whispered both guttural and sibilant vocal sounds (in English and Japanese), this number ruthlessly examined youthful egotism and the breakdown of communication exemplified by shallow encounters, tinged with artifice and transitory desire.
The world premiere of Amalgam was the brilliant reboot of a 20-year-old acclaimed presentation entitled "Firedance" that reunited the original kathak/flamenco duo of Joanna de Souza and Esmeralda Enrique. The stirring live music (by Ian de Souza, Caroline Plante, Santosh Naidu and Maryem Toller) featured an incredible cross-cultural quartet, which fueled this dynamic dance-trek into the deep cultural connections of the music and dance of ancient India, as well as the music and dance of the "Gaetanos" – marginalized Spanish Roma peoples who may have originated in India, or possibly Egypt. The performance and commitment of these beautiful and accomplished dancers and musical artists was simply breathtaking.
Completing this thoroughly stunning evening was the world premiere of the complex production Moving Parts, featuring choreography and direction by Denise Fujiwara of Fujiwara Dance Inventions. The exquisite musical direction and arrangements were created by the talented Phil Strong and Laurel MacDonald. New perspectives on four "pop" tunes comprised the musical score of this extended piece, including the evocative 1983 hit, Mad World (Roland Orzabal); Michael Franti's Hey World (2009); last year's Quiet by MILCK and a choral-infused arrangement of Parachute Club's 1983 smash hit, Rise Up.
DanceWorks' ongoing beautiful message of love, oneness, joy and hope was illustrated with every dance move, and with every vocal nuance of the fine choir and soloists. The audience returned that joy with an extended – and well-deserved) – standing ovation.
DanceWorks' 40th Anniversary Celebration took place at the Harbourfront Centre Theatre in Toronto from November 16 to 18, 2017.
Lesley Mitchell-Clarke is a media consultant, therapist and music and arts writer based in Toronto and NYC.