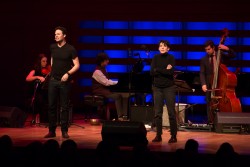 How have I never been to an UnCovered concert until this point? How could I have missed that this series is right up my alley? Now a signature annual event for The Musical Stage Company, the UnCovered series makes a point of investigating and unearthing the stories told by popular songs and, via exploration with individual performers alongside artistic director Mitchell Markus and music director Reza Jacobs, creates new, explicitly theatrical musical arrangements to bring those stories out.
Every year, different singer/songwriters are chosen to be featured. This year they fell upon Bob Dylan and Bruce Springsteen, a choice that led to a revelatory, moving, celebratory evening of both their and our times.
The evening began with Sara Farb as Bob Dylan. Calmly, with a quiet, almost disconcerting intensity, she came onstage to talk to us, slipping in and out of a cappella snippets of song before gradually moving into a full-throated performance of "Mr Tambourine Man." It set the tempo and tone of the evening: a window into an unexpectedly self-deprecating, rather dark-humoured singer-songwriter denying to us that he had any deep purpose in the writing of his songs, that he was not, as some insisted, "the spokesman of his age."
Throughout the first half of the evening, Farb (as Dylan) continued this theme, talking to us between songs performed by others, often watching from an armchair ensconced in the territory of the (magnificent) band. He continued to deny his importance until near the end of this first half, when he expressed the hope that someone might be found to carry on "the work" – work that clearly, through the performance of the songs, proved wrong his insistence that he wrote without any socio-political purpose.
In Part Two, Jake Epstein as Bruce Springsteen took over the narrative duties, as his own story overlapped with Dylan's – the young Springsteen inspired to write songs and "make a difference" in the same way, but along that journey having to fight being compared to Dylan, and create his own identity and style. Like Farb as Dylan, Epstein was completely believable as his character, embodying Springsteen's personality and his clear approach to involving the audience in the concert experience – a more joyful, lighthearted approach than Dylan's, with songs with just as much weight and anger and purpose, yet also filled with longing and hope.
The superb company of singers joyfully shared the songs with us, excavating the stories and bringing them to life with subtle detail. Melissa O'Neill, with her rough, dark velvet sound, made magic first in Dylan's "It Ain't Me Babe," and then again in the classic Springsteen "The River," making the iconic character of Mary live before us in a moving partial duet with Epstein's Springsteen. Brent Carver proved again why he is at the top of the list of interpreters of song, imperceptibly gathering up all the audience into his arms to wring our hearts with a quiet exploration of "Knocking on Heaven's Door" that built to an apocalyptic passionate finish. There was also the joyful release of full rock and roll power in Dylan's "Like A Rolling Stone," with Farb saying to the band "now play loud" and singing full out – and in the second half, Andrew Penner backed up by Hailey Gillis and Arinea Hermans blasting out a joyously rocking rendition of "Born to Run."
All was tied up at the end, with Dylan and Springsteen meeting backstage on the occasion of Dylan being awarded the Kennedy Centre Honours – Dylan asking, "Is there anything I can do for you?", Springsteen replying, "Are you kidding, you have already done it" – and the two of them joining in a quietly powerful duet of "The Times They Are A Changin'," an arrangement that in its subtlety and complexity summarized all we had heard: difficult times are still here, and we still need music and song that connects with our world, that tells its stories and that asks the questions and speaks the truths that not everyone wants to hear.
I could easily write several pages more about all the talent onstage and in the full creative team: Jackie Richardson's soul-inspired rocking of the house with a powerful yet soft, all-encompassing "Forever Young," Hailey Gillis and Arinea Hermans, who did excellent work as the backup singers and giving us exquisite harmonies of notes and emotions in "Make You Feel My Love," Jake Epstein again showing a wide range, from an aching performance of Dylan's "Don't Think Twice/It's All Right" in the first half to creating Springsteen before our eyes in the second.
This is an unmissable show and series – and I am already looking forward to the next one.
The Musical Stage Company's present "UnCovered: Dylan & Springsteen" at Koerner Hall in Toronto, November 14 to 16.
Toronto-based "lifelong theatre person" Jennifer (Jenny) Parr works as a director, fight director, stage manager and coach, and is equally crazy about movies and musicals.