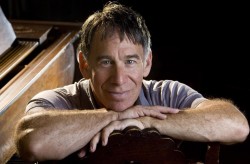 What an inspiring evening! I have always loved musical theatre, so to have the opportunity to meet and spend 100 minutes listening live to one of today's musical theatre greats was an opportunity not to be missed. Presented by the Canadian Musical Theatre Writers Collective (CMTWC) in association with ASCAP on Sunday night at Mirvish's Panasonic Theatre, multi-award winning composer and lyricist Stephen Schwartz sat onstage in conversation with Michael Kerker of ASCAP in a casual but structured talk about his career highlights (and funny moments), interspersed with illustrating performances by some of Canada's top musical theatre talent, including Cynthia Dale (Meadowlark from The Baker's Wife), Charlotte Moore (Children of Eden from Children of Eden) Erica Peck and Danielle Wade (For Good duet from Wicked), Chilina Kennedy (Day by Day from Godspell), a choir made up of Sheridan College students, and a breathtaking performance of Corner of the Sky from Pippin by emerging star Jahlen Barnes, all under the musical direction of Joseph Tritt.
Perhaps the most enchanting part of the event was the master himself at the piano, whether starting the evening off with the bilingual Chanson from The Baker's Wife (which seguéd into a discussion of how you properly start a musical), treating us to a mash-up combination of Colours of the Wind (Pocahontas) and When You Believe (Prince of Egypt), or – one of my favourite things all evening – a mini masterclass on how to write an "I want" song using Jule Styne's I'm the Greatest Star from Funny Girl as a starting point and then taking us through the creation and development of Elphaba's The Wizard and Me from Wicked.
For a hugely successful, award-winning composer/lyricist, Stephen Schwartz was disarmingly charming, self-deprecating, and funny. It also became clear that he's a good teacher of what he does. In fact, he had spent the previous Saturday teaching a masterclass for the CMTWC as part of the ASCAP Musical Theatre Workshop, where two Canadian musical theatre writing teams presented 50 minutes of their new works and received feedback from a panel of Broadway experts: Schwartz, Joe DiPietro (Nice Work if You Can Get It), Bob Martin (The Drowsy Chaperone, Elf) and Michael Kerker, the Director of Musical Theatre for ASCAP.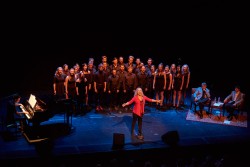 The Sunday evening performance I witnessed felt like both a culmination and synopsis of this workshop process, as we were treated to stories from Schwartz's career, from his early creations of Godspell and Pippin, to his collaboration with composer Alan Menken at Disney on such hits as Pocahontas and Enchanted, to his more recent musical Wicked. The evening culminated with a showstopping performance of Day by Day from Godspell by Chilina Kennedy with Schwartz on piano and the Sheridan College choir as backup. An encore from his newest creation in Denmark, a new musical about the life of Hans Christian Andersen, sent me off into the night delighted and inspired.
"An Evening with Stephen Schwartz" took place at the Panasonic Theatre on Sunday, May 7 at 7:30pm.
Toronto-based "lifelong theatre person" Jennifer (Jenny) Parr works as a director, fight director, stage manager and coach, and is equally crazy about movies and musicals.