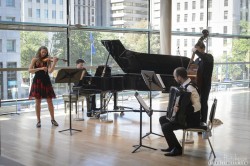 Except for the occasional touring tango group, Toronto's Payadora Tango Ensemble doesn't seem to have much regional competition. It's true that Quebec's Quartango is in its third decade of mining the tango motherlode, but Payadora may well be the sole GTA group dedicated to the Buenos Aires genre. And while the group has been actively performing around town since 2013, except for visits to their YouTube videos, their April 25 Gallery 345 concert was this listener's first live taste of Payadora's artistry.
During an earlier stage of its development the tango was often played by an ensemble known as the orquesta típica. It included at least two violins, flute, piano, double bass and two or more bandoneóns. The concertina-like bandoneón has a fascinating lineage and current geographic distribution. Of 19th-century German origin, it's been essential to most tango ensembles from its earliest days – as well as in the folk music of Lithuania.
Payadora's instrumentation however is much leaner than the orquesta típica. The quartet's lineup includes violinist Rebekah Wolkstein, accordionist Branko Džinović, pianist Robert Horvath and Joseph Phillips on double bass. These highly skilled, classically-trained musicians all pursue successful Toronto-based music careers when they are not performing tango.
But what is tango? The dance and the music which accompanies it originally developed in Argentina in the late 19th century among former communities of African slaves and European immigrants. The resulting hybrid dance, earmarked from early references for its sensuality, its complexity and couples' improvisation, became a mainstay entertainment in the underclass urban districts of Buenos Aires and Montevideo. The music for the tango was a hybrid of various European music genres, its performers making use of popular European instruments of the day: the guitar and the aforementioned bandoneón being perhaps the most characteristic.
By the early 20th century the tango was attracting professional Argentinian musicians, bandleaders and composers. Payadora's repertoire includes key works of this period by Eduardo Arolas (1892-1924), Julio de Caro (1899-1980), Osvaldo Pedro Pugliese (1905-1995), Aníbal Carmelo Troilo (1914-1975) and Horacio Adolfo Salgán (1916-2016). In its April 25 concert, Payadora focused on instrumental tangos designed for listening in a concert setting rather than those intended for dancing.
While it was initially part of the soundtrack for the lives of Argentinian urban criminal groups and the poor, tango achieved wider national social acceptance and global recognition only later, when tango groups began to tour internationally. In the years just prior to the First World War, a veritable tango craze swept European and American cities. Payadora's Wolkstein mentioned at the concert that the tango was especially popular in early 20th-century Paris where it was cultivated in a gentrified form, its attractions appealing to all classes. It was then subsequently reintroduced back to its homeland, becoming finally socially acceptable to a much wider audience.
Payadora performed tango compositions of the so-called "golden age" (roughly 1930s-1950s), but it also played a composition by perhaps the most famed composer who emerged from the tango world: Astor Piazzolla (1921-1992), the very influential bandoneón virtuoso and bandleader. His piece Escualo (Shark) is imbued with a jittery version of the characteristic tango rhythm. It also deploys musical features reflecting his cosmopolitan compositional influences and tastes. These include rhythmically angular melodic lines, harmonies and instrumentation which may remind listeners of Stravinsky's work, plus timbral textures produced via slaps on the bass and scrapes on the violin strings behind the bridge. Escualo serves as a good introduction to nuevo tango, Piazzolla's signature extension of the genre, making use of extended forms, harmonies, dissonances and counterpoint.
Centred on the large repertoire drawn from the Buenos Aires tango tradition, Payadora has not neglected homegrown talents, premiering its pianist Horvath's first tango composition Tavasz. Meaning "spring" in Hungarian, the composer's mother tongue, it was a timely seasonal homage. The work began with a slow free tempo exploration on the piano, but then gained steam propelled by the tango rhythm, relying on virtuoso interplay between all four instrumentalists.
In addition to tango, Payadora also performed two Argentinian vernacular dance music genres. The zamba is set in a slow 3/4 meter – or is it in 6/8? – while yet another couples' dance, the chacarera, also plays on similar hemiola syncopation. These two standards of Argentinian folklore received polished, sophisticated renderings by the musicians and served to expand the audience's appreciation of that country's musical expression beyond that of the tango.
The intimate Gallery 345 concert closed with an enthusiastic encore. It was clear that Payadora's fans – attracted by its musicians' playful unforced technical virtuosity, rhythmic precision, and evident commitment to the tango repertoire and ethos – are ready for much more.
Payadora Tango Ensemble performed at Gallery 345 in Toronto on Tuesday, April 25.
Andrew Timar is a Toronto musician and music writer. He can be contacted at worldmusic@thewholenote.com.