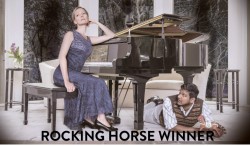 Recently several colleagues had urged me not to miss Tapestry Opera's world premiere production of Rocking Horse Winner. This co-commission with Scottish Opera had been playing since the end of May and I was interested to see how the spare narrative of D.H. Lawrence's short story, required reading in high school literature classes of my generation, would be translated to the operatic medium.
Perfectly sized for the Berkeley Street Theatre, the production by Tapestry's artistic director Michael Hidetoshi Mori was skillfully paced, permitting the cast of eight to fill the intimate space. Music director Jordan de Souza led an accomplished string quartet plus piano in Gareth Williams' sparse score which provided ongoing commentary comfortably suited to the shifting moods of the hour-long drama.
Traditional wisdom says that English is one of the hardest languages to sing clearly. This was not the case on Saturday evening, June 4. From soprano Carla Huhtanen's first tentative lines in the role of Ava, the deceptively simple, poetic libretto by Anna Chatterton rang out distinctly, even in the quietest moments, easily inviting the audience into the drama from the outset. In the challenging role of Paul, Ava's young son, tenor Asitha Tennekoon captured the right tone and physicality to convey the obsessed yet endearingly damaged boy who uncannily predicts horse race winners. His scenes with his mother, also a broken victim, were particularly moving. Completing the cast were tenor Keith Klassen as Paul's greedy Uncle Oscar and baritone Peter McGillivray as Bassett, Paul's equally mercenary caregiver. As Paul's major male influences, both presented contrasting portraits of avaricious protectors who were out for themselves while still professing to care for their young charge. A unique feature of this work is the four-member chorus which embodies the spirit voices of the stifling house. Tenor Sean Clark, baritone Aaron Durand, mezzo-soprano Erica Iris, and soprano Elaina Moreau, fashioned an atmosphere at once terrifyingly believable and haunting.
Camellia Koo's two-level set ushered us into a cozily domestic but claustrophobic home with the upper part reserved for Paul's cramped bedroom with its eerily over-sized rocking horse. This platform also served well as the race track where Oscar, Bassett and Paul excitedly cheered on the winners (and losers) of the horse races.
Overall, this was a compelling theatrical experience and can easily rest alongside Tapestry Opera's other successes such as Nigredo Hotel, Sanctuary Song, Iron Road and M'dea Undone. The company continues to grow in stature as an alternative source for new opera of the highest quality.