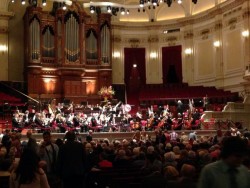 How do you get to Carnegie Hall? Practise. How do you get a reputation? Tour and record.
Although the Toronto Symphony Orchestra has done all three, it is 14 years since Toronto's finest last set foot (a couple hundred feet actually) on the European continent, which makes them near strangers on their current five-nation tour.

The five-nation tour is actually only a five-city tour. It began near Vienna (the outdoor Grafenegg Festival outside the Austrian capital), continued in Amsterdam and Wiesbaden, currently finds the players in Helsinki; it will conclude in Reykjavik.

Not exactly a Napoleonic campaign, you may argue, but then, the days of the three-week multi-stop grand tour are virtually over, according to a representative of Harrison Parrot, the English agency responsible for managing this and many other orchestral visitations.
The simple reason is rising costs. Reportedly it takes close to a quarter of a million dollars a day to keep the travelling Torontonians on the road and with deficits already rising back home, fewer orchestras are prepared to make such an investment in showing the flag.

Others would argue, the TSO's music director Peter Oundjian among them, that if an orchestra wants to be taken seriously as an international ensemble, it has little choice but to hit the road, even when that road leads to Reykjavik.

And in truth, Oundjian's orchestra has been warmly welcomed on this tour - even if the temperature in the Wolkenturm, the outdoor amphitheatre setting of the Grafemegg festival, dropped so low that principal oboist Sarah Jeffrey feared that her instrument would crack.

It didn't. Neither did the brasses. The orchestra's playing began at a high level in Grafenegg, probably peaked in Amsterdam and has consistently presented the Toronto Symphony Orchestra as a major international ensemble.

By the way, the Austrian festival took place on the estate of Prince Metternich, whose distinguished ancestor presided at the a Congress of Vienna following the defeat of Napoleon at Waterloo, and who hosted a post-concert dinner for the tour's benefactors in his centuries-old castle. There are perks to these adventures.

At the time of writing, the TSO has yet to confront the players of the Helsinki Philharmonic Orchestra who have challenged them to a football (i.e. soccer) game
on the grass field next to the handsome new Helsinki Music Centre. The only previous time the orchestra performed in Helsinki, back in 1986, the players were challenged to a hockey game by their counterparts in the Finnish Radio Orchestra.
The Torontonians are playing even better onstage now than they did back then. If their playing isn't better offstage, however, the Finns will likely once again leave the game smiling.