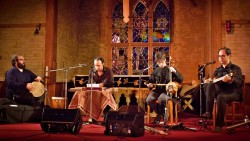 Tar virtuoso Araz Salek is certainly no stranger to hybrid musicking. Over the past handful of years he has also collaborated locally with musicians with South- and South-East Asian as well as experimental music pedigrees. Most recently he flexed his transcultural composer muscles on May 15, 2014 at the Music Gallery's "Emergents" series concert, with a new work for the avant-garde Thin Edge New Music Collective.
Salek, an Iranian-born Torontonian, is however thoroughly trained in Persian classical music, and that's where his true heart and passion lies. His instrument of choice is the tar, the six-string Persian long-necked waisted lute. With a double-bowl shape carved from mulberry wood and a thin membrane of stretched lamb-skin covering the top of the resonators, it is among the most prominent musical instruments in Iran and the Caucasus.
On Friday, June 20, the Music Gallery co-presented an exquisitely played and well-attended concert of classical Persian music by the Toronto-based Shiraz Ensemble. Co-founded in 2008 by Salek, the four-person ensemble also includes Amin Reyhani on santur (Persian hammered dulcimer), Kousha Nakhaei on kamanche (bowed lute) and tombak (goblet drum) master Pedram Khavarzamini. Jointly they consummately performed a program of group instrumentals, solos and accompanied songs by recognized masters of classical Persian music, with a focus on the music of Ostad Faramarz Payvar (1933-2009).
Payvar's extensive and influential list of musical publications includes several volumes of the "Radif of [the dastgah] Sabā for Santur." Simply put, the radif, meaning "order" in Persian, is a collection of melodic figures or modal phrases preserved through multiple generations of master-student chains via oral tradition. These melodies are collected in a number of different tonal modes called dastgah. Payvar was also a noted teacher, as well as a composer in the classical Persian lineage arranging "folk" melodies for a number of publications.
In a telephone interview after the concert, Salek related that the late Iranian composer and santur player's work "represents the continuity of tradition in the 21st century. Shiraz wanted to present Payvar's esteemed compositions, many existing as single instrumental lines, in our own quartet arrangements which we worked out in extensive rehearsals in the oral tradition. Some of these had not yet been heard by our Toronto audience."
The Music Gallery concert's first half began with a suite of 11 pieces in the dastgah Homayoun, the character of which Salek dubbed "deep, dark and profound" in our interview. One of my favourite moments in that half of the concert was Salek's own tar solo in the daramad form, a free metre exploration of the dastgah. Centred on the upper register of his instrument, Salek chose to spend quality time exploring the mode's quarter tones. The high register and close tones of his melodic peregrination combined to generate considerable emotional tension, an effect passed onto the appreciative audience.
The second half was in the contrasting dastgah Bayat Tork, which Salek characterised as "relaxed, cool, laid back and also joyful." It began with "Ferdos," a composition by Faramarz Payvar arranged for the group and concluded with a customary ending piece, a renge, the melody of which was adapted from radifs in the Bayat Tork mode. Pedram Khavarzamini, a grounding and reassuring, yet rhythmically driving presence throughout, took a tombak solo in each part of the program. He was in turns commanding and playful in tone, rhythm and metre.
The audience, comprised primarily of Iranian fans pus a scattering of others, responded to the music with enthusiastic applause and at the end a standing ovation complete with prolonged rhythmic clapping. The Shiraz Ensemble had little choice but to oblige with an encore before we all filed out into the mild June evening, satisfied.