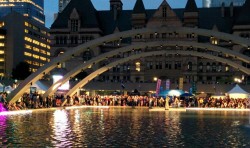 If the first few days of the TD Toronto Jazz Festival are any indication of how the next week will be, we're in for a mixed bag of fun, funk, nostalgia and masterful musicianship.
I started my fest experience with an early show on Friday evening at The Rex. The Jive Bombers supply the good times and great playing. I appreciate it when skilled musicians—like Gord Sheard on piano and John Johnson on sax—make it look easy and fun
The opening ceremonies of World Pride Toronto combined with the jazz fest opening on Friday night in Nathan Phillips Square. Deborah Cox brought the fabulous, in a sparkly gown on a stage set over the reflecting pool, then headliner Melissa Etheridge rocked out with her hits and took a "melfie"—a Melissa selfie—with the massive crowd there to see her.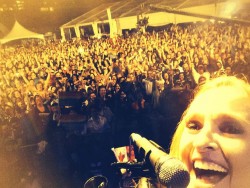 A detour over to Dundas Square to see St. Vincent as part of the North by Northeast festival, saw another massive throng enjoying her unique blend of melodic, moody art rock. Both concerts were free and very well managed and staged.
The next day was all about horn bands from the 70s in Nat P Square, as Lighthouse (minus the ailing Skip Prokop) played a noon show (which I didn't catch) and the main event was David Clayton Thomas, frontman of Blood, Sweat & Tears. He brought warmth and his distinctive sound to some new material but performed mainly his old hits—like Spinning Wheel, And When I Die and You Make Me So Happy—which still sounded fresh due to an energetic, solid 11-piece band.
The opening act was the highlight for me. Oakland Stroke played the music of legendary California soul band Tower of Power, and was tight and funky and infectious. Co-led by Lou Pomanti on Hammond B3 organ and Tony Carlucci on trumpet, with George St. Kitts totally nailing the vocals, this band can be seen at the Orbit Room on College Street in Toronto once a month. If you're a funk fan do yourself a favour and catch them.
A few acts coming up in the fest that I'm looking forward to are the masterful Bobby McFerrin on Friday June 27, Brad Mehldau and Mark Guiliana ("Mehliana") on the bill with Stanley Clarke on June 28 and Measha Brueggergosman at Koerner Hall on June 26. I would've mentioned Snarky Puppy at the Horseshoe but that show is unfortunately sold it. Note to self: when Snarky Puppy is announced hustle to get a ticket!

The whole jazz fest lineup can be found at torontojazz.com.