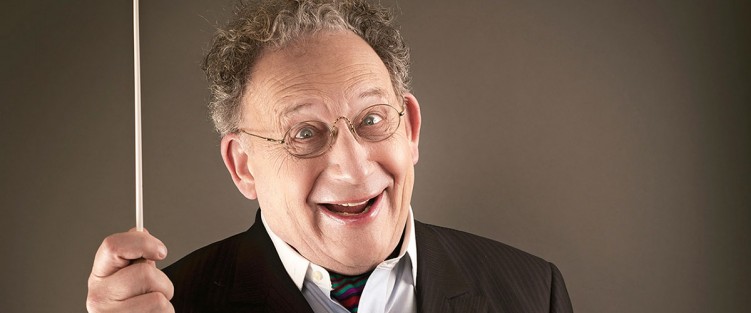 We were already deep in production on this edition when Boris Brott was killed in a hit-and-run accident, steps away from his home in Hamilton. The disbelief, shock and dismay from the arts community and beyond has been followed by a wave of affectionate stories on television, in mainstream print media and digital/social media – expressions of admiration and gratitude, reflecting Brott's lifetime of enthusiasm and commitment, energetically making many kinds of great music accessible to all kinds of people.
In light of this – with very little time and space before publishing – rather than dilute, in re-telling, what is now being said, so eloquently, by so many, in the wake of his death, we thought we would share with you somethings from a past issue of The WholeNote that gives a taste of how he spoke and lived life.
The year 2007 was the Brott Summer Music Festival's 20th anniversary, and they had some pretty special events planned, including Boris Brott conducting a performance of Mahler's Symphony of a Thousand, a massive tour-de force dedicated to the nearly 1,000 students the National Academy Orchestra had graduated to date. Just imagine how many more there have been since then!
So in May of that year Boris Brott agreed to be the "Mystery Child" in our regular contest, "We Are All Music's Children". Brott had provided two different photos of himself, but playfully asserted that we should run the one with the violin rather than the baton, so that people would have to "put their thinking caps on" – not instantly know that mystery child grew up to be a conductor.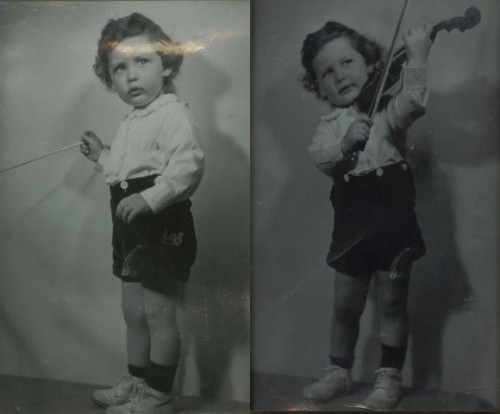 The clues we ran with the photo went like this:
This little fellow's mother used to dress up his teddy bears with bow ties for an audience.
He would later become known for his fondness for bow ties, and currently owns 64 of them.
Apparently the reference was a no-brainer, because we had a record number of correct responses, and were able to offer some fine prizes – tickets and recordings – to a few lucky readers.
In the June edition we revealed Brott's identity, along with a brief profile based on a phone interview. As per usual, as the contest's writer, I asked some questions about childhood musical experiences, and vividly remember the pleasure and pain of having to transcribe and boil down a generous and engaging 45 minute conversation into a half-page of print. Here's an excerpt:
Born in Montreal ( 1944), Boris Brott studied violin first with his father, Alexander Brott, and performed at the age of five with the orchestra of Le concerts symphoniques de Montréal (MSO) at a young people's matinee.
"My earliest musical memory," he said, "is standing in a crib watching my par­ents rehearse a string quartet. We lived in a room in my grandparents' house. I'd have been 18 months or two years old. My cellist mother encouraged me to enjoy performing. To this day when I look at an audience, there's some part of me that sees a whole bunch of friendly teddy bears wearing bow-ties.
"I was always in the company of accomplished musical people. It was a very enriched childhood. But at nine or ten I became aware that I had little or no communication with my peers, and I stopped playing violin for about a year. I learned hockey and football. I also learned that it was not really my thing (hey .. I really am a nerd!), redoubled my ef­forts with the violin, and never looked back."
If you could time-travel – meet face-to-face with the little boy in that photo, is there anything you would like to tell him ?
"Yes! I'd tell him to really enjoy kindergarten and spend time learning to relate to people of his own age. I was around adults so much – this cost me dearly later on. The little boy in the photo was allowed to be creative and I am so grateful to my parents for that. But everything I needed to learn I should have learned in kindergarten – interactive skills. Musicians tend to be loners as learners. We tend to be insecure, introverted. Often we learn to hide insecurity by being overly assertive.
"So I'd tell little Boris to stick around. Get along with the other children in the playground.
I'd say make the extra effort to get to know them, let them get to know you, and in so doing you will get to know yourself."
Our musical playground is a richer place because he took his own very good advice.