OPERA ATELIER'S ANGEL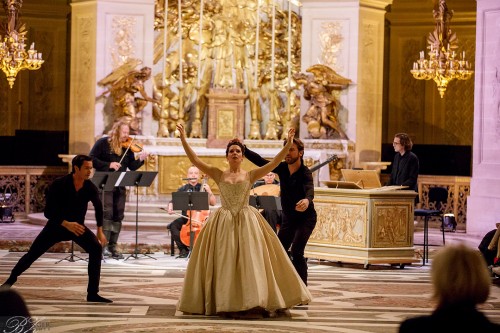 WHAT: Oct 28 7:00: Opera Atelier. Angel. A 70-minute film fully staged and filmed at St. Lawrence Hall, with music by Edwin Huizinga, Christopher Bagan, Jean-Philippe Rameau, William Boyce, Matthew Locke, and Max Richter, and featuring Measha Brueggergosman, Mireille Asselin, Meghan Lindsay, sopranos; Colin Ainsworth, tenor; Jesse Blumberg, baritone; and others; Marshall Pynkoski, stage director; Jeannette Lajeunesse Zingg, choreographer; Artists of Atelier Ballet; Nathaniel Dett Chorale; Tafelmusik Baroque Orchestra; and David Fallis, conductor. www.OperaAtelier.com.
WHEN: Single tickets went on sale Oct 1, and the production will be available until November 12.
Versailles 2017: We've followed the gestation of Angel since its earliest beginnings as a piece titled Inception, featuring violinist and composer Edwin Huizinga and dancer Tyler Gledhill, commissioned by OA for their Versailles tour in 2017 and reprised, in an expanded version, in February 2018 in the Royal Ontario Museum's Samuel Hall Currelly Gallery.
Jennifer Parr (who had attended the Versailles performance in her capacity as Opera Atelier fight director), interviewed Huizinga and wrote about it for our February 2019 edition:
When I tell people about Opera Atelier's ongoing The Angel Speaks project, I always begin with when I saw the very first performance of its first installment, in May 2017. I was sitting at the back of the Royal Chapel at the Palace of Versailles … suddenly there appeared high up on the balcony above, the dramatic figure of what appeared to be a Viking angel playing an exquisite melody on solo violin. This beautiful mystical thread of music then seemed to bring forth, and become tangibly present in, the figure of a dancer (Tyler Gledhill) – another face of the angel – on the ground level with the singers and audience, a figure in search of something or someone...
The work was invited back to Versailles in December 2018.
October 2020: Inception/Angel is now part of a larger, fully staged production titled Something Rich and Strange, with soprano Measha Brueggergosman now on board. David Perlman interviewed Huizinga and Brueggergosman together, from Brueggergosman's Halifax home, where they were working together on Huizinga's musical setting of the Rilke poem, to be sung by Brueggergosman, that was at the heart of the latest iteration of the piece, and wrote in our October 2020 issue: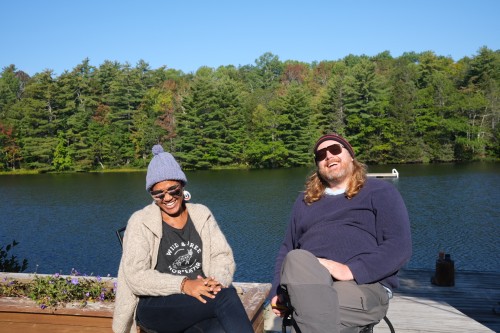 I'd been wanting to talk to Huizinga and Brueggergosman for a while about [it], but had been expecting to have to speak with each of them separately, so it was an unexpected bonus to find out that he would be flying to Nova Scotia on the Monday "to finish a project with our amazing fearless Canadian soprano Measha Brueggergosman." "Finish the project" sounds optimistic to me. For one thing, Huizinga and Opera Atelier (OA) have been exploring the 24-line poem at the heart of the project ("Annunciation to Mary" by Bohemian/Austrian poet Rainer Maria Rilke) for well over two years.
Which brings us to now: Each iteration of Angel so far has been coloured and shaped by obstacles transformed into opportunities – choices of medium dictated by shifting pandemic-related circumstances. Intriguingly, with social distancing requirements and public health guidelines having shifted again, OA has an opportunity to add yet another dimension to the shape-shifting show: simultaneously with the 7pm October 28 launch of the stream, there will be a movie presentation of the stream at the TIFF Lightbox, turning the evening, for those attending, into the kind of live, collective event we are all so hungry for.
Angel is dedicated to the memory of Tafelmusik's founder, Jeanne Lamon.
Jack Buell
BRAINERD BLYDEN-TAYLOR and The NATHANIEL DETT CHORALE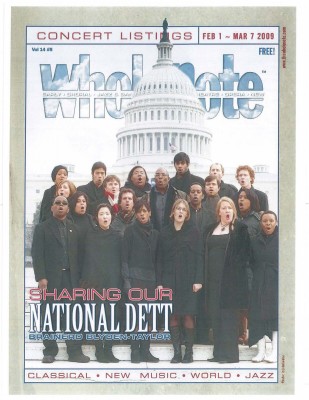 Funny how an ensemble can slip off one's radar for a while, then, all of a sudden seem to show up in several unrelated contexts all at once, when really they never went away.
Front and centre on our February 2009 cover, The Nathaniel Dett Chorale performs on the steps of the Canadian Embassy overlooking the beginning of U.S.President Barack Obama's Inaugural parade. The choir's founder and conductor, Brainerd Blyden-Taylor talked about the founding of the Chorale in the story: "The idea was to do more than just sing notes well. There was also a social component to it – to build bridges of caring, understanding and appreciation through the medium of music. And we wanted to do that within what is perceived to be the larger black community. When I started it, I decided that I didn't want to name the group after myself – I wanted a name that would honour black Canadian heritage somehow."
In our February 2019 edition in a story titled Celebrating Jessye Norman | 12th Glenn Gould Prize Laureate we reported that the Nathaniel Dett Chorale would perform three pieces at the gala concert in Norman's honour, and chatted with Blyden-Taylor (for whom Norman had long been part of his inspirational musical frame of reference:
"My consciousness of her goes back to my youth in Barbados in the mid-60s" he says, "and even more so after I came to Toronto in 1973 to be musical director at my uncle's church. She was an ongoing part of my listening in terms of a sound ideal in terms of performance of spirituals, in my work with the Orpheus Choir, and workshops I was asked to do across the country, helping other choirs with interpretation of spirituals. You'd have to say she was one of those voices that were pivotal in terms of reading of the spirituals."

Now, "all of a sudden"
– as noted above The Chorale features ("heard but not seen") in Opera Atelier's Angel;
– Nathaniel Dett's The Chariot Jubilee is one of two major works on the Toronto Mendelssohn Choir's season-opening concert, and Brainerd Blyden-Taylor, with the Chorale returns to TMC in April for the third concert of the TMC season;
– Icing on the cake: December 4 at 8pm Orchestra Toronto presents Great Joy II: An Indigo Christmas with the Nathaniel Dett Chorale. Blyden-Taylor directs, with Corey Butler on piano. Available on demand, but also live at George Weston Recital Hall, in the Meridian Arts Centre (formerly Toronto Centre for the Arts).
David Perlman