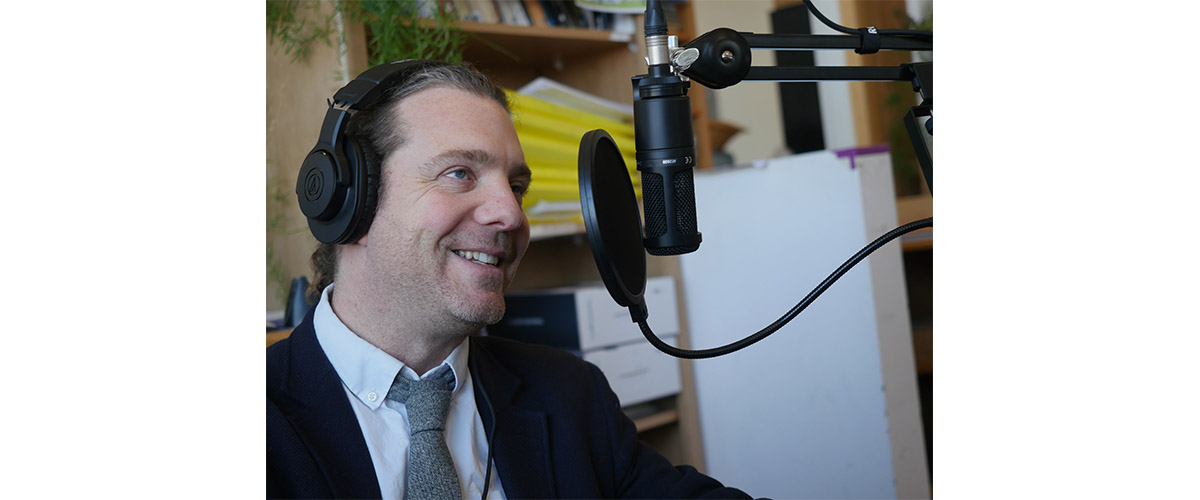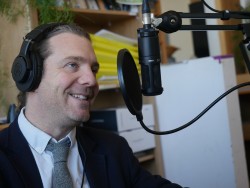 "Good luck with the editing" was almost the first thing world-renowned Canadian countertenor Daniel Taylor said to Bryson Winchester, WholeNote podcast recording technician, when we sat down for this particular conversation. And indeed, pinning the mercurial Taylor down to one topic of conversation is a tough task, as his innate musicality takes him deeper into teaching and music directing, along with an intensive concert and recording schedule remarkable for its range, both in terms of geography and repertoire.
As it turned out, we managed to touch on several topics of interest.
To hear the full conversation with Daniel Taylor click the play button below. For any of our other podcasts, search for "The WholeNote" in your favourite podcast app, or go to TheWholeNote.com/podcasts for the entire list.
Or click here to download the podcast. (Right click and "Save as..." if it's playing directly in your browser.)
---
---
---
Recording: Taylor's discography is astonishing - at last count he appears on more than 100 recordings in one capacity or another. But we started out talking about a fairly recent disc, one dear to his heart, I'd say, because it yokes so many different aspects of his musical persona to a single purpose. It's a 2017 JUNO-nominated Sony release, titled 4000 Winter, and features an ensemble, under Taylor's direction, called the Trinity Choir.
As he explained: "The choir consists, first, of between 10 and 12 Canadian singers, primarily from Ontario and Quebec. Some are students at the University of Toronto, or graduates. We travelled to England, we did a concert tour. And joining us were members of the Tallis Scholars, the Gabrieli Consort and the Monteverdi Choir…three choirs with whom I've performed as a soloist, well, for the last 15 years – people I've met along the way with a certain way of listening to what I think is beauty.
"…It was really experimental. All of our singers hadn't worked together. The ten of mine had, in one way or another. And the British singers had worked together but not all in one group…I brought them together for a few days of rehearsal and then we started to record. I remember I was quite apprehensive because I just didn't know if what I imagined could actually happen. Which in my mind was bringing together the sensitivity that some of our North American singers have to a different approach, but one that I thought could be complementary, from the British singers…So there it was, and they began, and I thought, that's what I thought it could sound like. And it was so beautiful I just felt fortunate."
It's when the conversation went from talking about this particular recording to about recording in general, that, as Taylor warned, "Good luck with the editing!"
Topics Covered: Early operatic conducting practices; working as music director on the recent U of T Opera School production of Handel's Imeneo, directed by Tim Albery, presented with both cast and and audience on the cavernous stage of the MacMillan Theatre; the relationship between opera performance and "historical performance practice"; musing about whether his singing career would have a "natural denouement" before going on to say "actually I'm finding now, what's challenging is balancing when I'm conducting, when I'm singing and when I'm teaching. Because it is almost like three full-time jobs. So I have to have those different hats."
It's interesting how often Handel comes up in the conversation. First professional opera experience; first time at the Met; first production in Canada. Interestingly, it was that production of Handel's Giulio Cesare at the Met that led directly to one of the more enduring Bach-related threads in Taylor's concert life - his uninterrupted 19-year association with conductor Greg Funfgeld and the Bethlehem, Pennsylvania, Bach Festival.
"What's interesting about the Bethlehem Bach Choir is it is very much a different sort of animal than we'd find in England with the smaller early music ensembles. The Bethlehem Bach Choir is really in that great tradition that Robert Shaw had with the Atlanta Symphony - those big big choruses. What's inspiring about it is that there's a sense of worship but also of community. There's an earnest quality to what they do - and they're so committed to it. It's really moving."