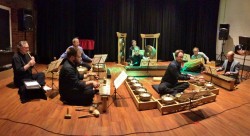 Where to start with Toronto's Evergreen Club Contemporary Gamelan? Perhaps it'd be best to mention that I was there at the group's genesis, invited by its composer/founder Jon Siddall. Over three decades later I'm still a proud member of its roster of musicians with 30 concerts seasons, international tours, over 200 new works and ten albums under its collective belt. While my bias here is clear, my tenure with ECCG as musician, composer, arranger and past artistic director also ought to qualify me to speak about its past and present projects with passion.
The ECCG has the distinction of being Canada's first group playing music on an Indonesian gamelan (orchestra). Recently it has been digging into its first decade of commissions of foundational Canadian and American music for gamelan, some not heard this century.
ECCG artistic director Blair Mackay makes a case for these early works. "There are a handful of works from the 1983-1993 era that formed the basis of the ECCG sound as well as our overall approach to playing the actual instruments." The eight-member group presents these foundational compositions in two intimate June concerts at the Arraymusic Studio, 155 Walnut Ave., Toronto. The first was staged on June 15 and the second will happen on June 22 at 8pm.
As significant as maintaining a group's repertoire is honouring its founding cadre of performers. It's also just as necessary to refresh the musician pool with younger generations making their mark in the professional world, as well as inculcating them to ECCG's aesthetics and history of performance excellence. Mackay elaborates: "As ECCG expands its musician membership, it's important for our new members to have an understanding of the early repertoire of the group."
Among the musicians performing in the ECCG these days are the members of the busy percussion quartet TorQ, making a name for themselves internationally, and top Toronto freelance percussionists Etienne Levesque and Michelle Colton. Veteran and first-time musicians alike are rediscovering ECCG's surprising repertoire of minimalist, modernist, world music, electronica- and ambient-tinged early Canadian music for gamelan.
Established in 1983 by Canadian composer and later music producer Jon Siddall, Evergreen Club soon appeared on national CBC radio and TV programmes. In addition to producing an annual concert season in its Toronto hometown, the group soon began to be featured at major festivals including WOMAD (Harbourfront, Toronto, 1988), Victoriaville (1989) and in 1997 at the Gamelan Summit Toronto. During the next decade touring opportunities opened up further afield. Gigs at the Yogyakarta Gamelan Festival (Indonesia 2002), Expo 2000 (Hannover, Germany), Montreal New Music Festival (2006), and Festival Presence (Paris 2006) continued to enhance its international profile.
ECCG represented the country's musical diversity at the Canada Day concert at Expo 1998, Lisbon, and also toured Japan. In 2002 it became the first such Canadian group to tour Indonesia in celebration of 50 years of bilateral relations between the two countries. At home in Toronto four members of the group were chosen to form part of the backup band for a 2000 Harbourfront tribute evening to Joni Mitchell. The singer-songwriter was in the audience that memorable evening.
Going further than most world music groups, ECCG has commissioned over 200 works by emerging and well-established composers including John Cage, Lou Harrison and James Tenney, and dozens of Canadians. And in 1987 it issued the first Canadian gamelan album North of Java (Arjuna Records LP 1987), the first of more than ten albums on which its music appears.
What's next for the ECCG? For one thing it aims to clear a backlog of recorded material by releasing three new albums this year. One of the new albums, tentatively titled Bandung Big Band, features vocals with English lyrics. It will be also enriched with instruments not typically found playing with a gamelan, including violin, viola and electric guitar. As for June 22 concertgoers, artistic director Mackay has made a tempting offer. "We're giving away a free ECCG CD or LP of your choice."
Concert Note:
The ECCG presents Concert II of its 30th Anniversary Celebrations Sunday, June 22 @ 8:00pm. The show is at Arraymusic Studio (155 Walnut Ave., Toronto) and tickets are $10/$20 at the door.