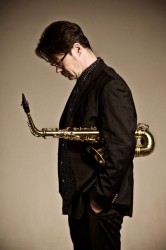 The title of John Terauds' July 28, 2013 blog reads, "Composer and jazz musician Nic Gotham left eclectic legacy in Canada and Latvia." Those stark words all too briefly sum up the career of Nicholas Ivor Gotham, cut painfully short at 10:12pm July 25, 2013 in Toronto.
The previous night Gallery 345, on Sorauren Avenue in Toronto, hosted an unusual, celebratory concert of Gotham's music. Some 200 friends and fans jammed into the long gallery space, attracted by Nic's selected compositions which were played by a large ensemble of his Toronto colleagues. Among the works performed were excerpts from Oh, Pilot (2000), a chamber opera for four singers with thelibretto and direction by Baņuta Rubess. The heartfelt tribute evening wrapped up with a 2009 video of the cheeky James in Peril "from the soundtrack to an imaginary Bond film" with Gotham rendering a passionate-yet-cool post-bop-inflected sax solo with the Latvian National Symphony Orchestra.
The evening's proceeds were Skyped to Nic's hospice bedside. The audience turned towards the camera and waved to connect. Nic beamed back on his end emanating supernal grace. Baņuta wrote eloquently of his last day on her blog.
Nic Gotham was more than a first order jazz saxophonist and composer of instrumental concert works. His first chamber opera Nigredo Hotel (1992), with a libretto by Ann-Marie MacDonald, has a good claim to being the most frequently performed Canadian opera. According to Gotham's own website it "has now been produced in three continents and…performed around 80 times." Other tallies have it closer to 100 performances in multiple productions.
Over his career Gotham composed some 50 works for various ensembles including chamber, choral and orchestral music and two chamber operas. Commissions came from Toronto's Arraymusic, 40 Fingers, Evergreen Club Gamelan, Tapestry New Opera and the improvising chamber orchestra Hemispheres of which he served as artistic director. In 1997 Gotham was awarded the Fred Stone Award "for leadership, integrity and innovation in new music." Moving to Latvia in 1998 he enjoyed a vibrant career there, composing for Altera Veritas, Latvian Radio Choir, Sinfonietta Riga and the Riga Saxophone Quartet, among others. According to the press release issued today by the Canadian Music Centre, Gotham was active as a music instructor there, among other teaching posts at the Latvian Academy of Music in the newly formed Department of Jazz.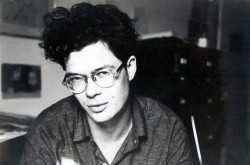 I'd known Nic for years in Toronto's new music scene before he moved to Latvia with his family (I'd performed with the Evergreen Club Gamelan in the premiere of his Toy Garage). We often met in the 90s at Jim Tenney's Sunday afternoon composition "seminars" held at Jim and Lauren's home. All of us keenly anticipated those relaxed yet exciting learning and sharing occasions. Nic considered Tenney and Tenney's York colleague David Mott his "two most important teachers."

Last year when the Gothams moved back to Toronto I invited Nic for a Korean hot pot lunch at Arisu restaurant on Bloor St. W. Nic wanted to re-establish his presence on the Toronto scene, and I to reconnect.
While we feasted on the massive iron kettle of steaming, comforting broth, dunking the accompanying vegetables and meat, we spoke for hours on a sweeping variety of subjects. Music was a theme of course, but also we covered the completion of his PhD, his family, my kids and MA research, his cancer, Canada vs. Latvia and the place of composers in those countries – generally re-establishing our friendship after nearly 15 years. The occasion felt familiar and comfortable. In retrospect it also felt like exchanging ideas and verbal intimacies with a younger composer brother I never had.
I met Nic on subsequent occasions, both one-on-one and also in the company of his theatre director, writer and educator wife Baņuta Rubess and their daughter Kaiva. What I'll always remember however is our few choice hours together that afternoon in late 2012 – and the surprising gusto and care with which Nic ate, thought and spoke, passionately expressing his undiminished appetite for life in the face of acute challenge.