What do 20-something mezzo Wallis Giunta and not-yet 20-year-old piano phenom Jan Lisiecki have in common, other than providing further confirmation that when it comes to providing musical inspiration and opportunity for young Canadians, somebody up here must be doing something right? Well, for one thing, both have been guests of Conversations <at> The WholeNote, a still-evolving series of informal conversations videotaped in casual surroundings at 720 Bathurst Street, our Toronto home base.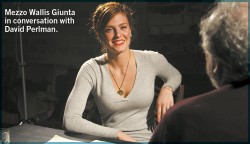 Giunta was among our first guests, in December 2011, right at the start of a previous flurry of Toronto-related activity: an appearance at the New Year's Eve "Bravissimo" gala at Roy Thomson Hall; an announcement by the Canadian Opera Company that she would be appearing as Annio in the COC spring 2013 production of Clemenza di Tito; and an intriguing recital at Music Toronto in spring 2012, during which she premiered, as a solo song cycle, Rufus Wainwright's Songs for Lulu. (The good news is that the interview in question, along with dozens more, can be accessed via The WholeNote's website or, more easily still, via our YouTube channel.)
The better news is that during February this year Giunta has been back with us for a follow-up interview, this time just before the end of the previously mentioned COC run of Clemenza.
The current production of Clemenza; pants roles in general; next year's return to the COC as Dorabella in Così fan tutte; a comparison between her experiences in the COC Ensemble Studio and the Met Lindemann Young Artist Development Program; thoughts on how well music schools prepare artists for life as self-employed entrepreneurs — all these topics and more are part of this latest interview.
Most topical was her description of her upcoming March 24 recital at Glenn Gould Studio in the RTH/Massey Canadian Voices series. In the recital she will use Kurt Weill's Seven Deadly Sins as a kind of emotional "clothesline" upon which she, and accompanist Ken Noda, will hang a dozen or so other songs, from Monteverdi to Cole Porter, that accord with the nine songs in the Weill work.
At time of writing this latest conversation had not yet been posted, but should be, well ahead of the aforementioned March 24 recital. "Like" us on Facebook or follow us on Twitter and we'll let you know.
In the meanwhile, why not look in on our conversation with Jan Lisiecki. We connected with the then 16-year-old Lisiecki early last spring, ahead of an upcoming Stratford Summer Music mini-residency. It was just before the Canadian release of his first Deutsche Grammophon CD (the first of four recordings for which he is contracted to DG.) At the time, I tried to draw him out on what the next DG recording was going to be, but he refused to rise to the bait! Time, however reveals all, as those lucky enough to have a ticket to his upcoming March 3 Koerner Hall all-Chopin recital (Études Op.10 and Op.25) will shortly discover.
Viva la musica! And happy viewing.