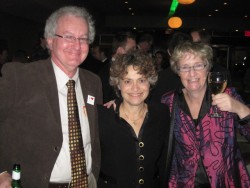 At Carnegie Hall on performance night, it was gratifying to see, as Jeanne acknowledged in her speech, many familiar faces. A group of loyal Tafel patrons, board members, and fans from Toronto constituted a sight for sore eyes. Energized by the best acoustics of the tour (and a now silent jackhammer), with a program seasoned by our Virginia run, everyone gave their best for Carnegie.
Afterwards, we enjoyed a reception with sponsors and fans at the trendy Flatotel, just four blocks south from Carnegie's stage door, before fanning out into midtown Manhattan on a Saturday night.

What was the critical reaction?

An online review from a site called bachtrack by one Stephen Raskauskas was generally positive while frequently wishing for more instruments in the ensemble.

In this piece [Vivaldi concerto], a few plucked strings, such as a guitar, lute, theorbo, or any combination thereof, would have enriched the sound. In truth, plucked strings would have improved the sound of every piece that evening, and Tafelmusik should be taken to task for not employing at least one full-time lutenist to tour with them…

Although it pains me, I am for once forced to agree with a critic. Ironically, our own Lucas Harris was in New York that evening, but preparing for a concert of his own. He was no doubt happy to be reunited, however, with his violinist wife Geneviève Gilardeau--who was onstage with us--and baby Daphnée, the newest addition to the Tafelmusik family. Her tiny presence on the tour was a source of cheerfulness to all, and she has already proven herself a stalwart traveler.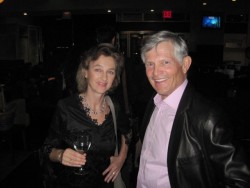 A New York concert always raises the question of whether or not the Times will write a review. Since our concert was on a Saturday night, when the arts sections for the weekend have already been put to bed, there was a wait of a few days before anything appeared. I admit to a feeling a traditional sense of dread about such things – but we didn't need to worry. One of the newer critics, Steve Smith, attended our concert and delivered a glowing review that started with this headline:

Violins Take Center Stage in a Repertory Reincarnated

An excerpt of the review:

Indeed, the principal allure of the arrangement [Bach Concerto for Three Violins] was in the contrasting sounds and styles of three excellent soloists from the ensemble's ranks: Julia Wedman, Patricia Ahern and Aisslinn Nosky… [In the Bach Suite]Ms. Lamon was an exciting soloist, conjuring a whirlwind in the final Badinerie.

It's not just that the view was positive, but Smith seemed to "get" what our concert was about! What really matters, though, is what we ourselves thought and what our friends thought. [Tafelmusik supporter] Al Forest remarked that it was a "really great concert!"  That's what we want to hear.