Our morning drive from Charlottesville took us north through the Shenandoah Valley, historically a conduit of armies and one of America's breadbaskets. But one was unaware of being in a valley since the Blue Ridge Mountains were entirely enshrouded with low-hanging clouds and fog. In the eighteenth century, Winchester was near what was then the frontier, and once housed the surveying headquarters of a young George Washington (yes, he slept here!). During the Civil War, Winchester changed hands 72 times between Rebel and Union forces, but Tafelmusik's occupation was to be a mere 18 hours.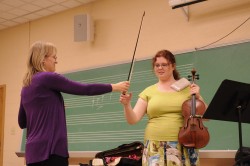 Shenandoah University consists of a handful of schools, the largest of which is a Conservatory of Music with about 700 students. In the late afternoon, Tricia Ahern gave a well-attended master class, hearing four string players play Bach and other composers. Much of the orchestra's rehearsal was devoted to the challenging acoustics of the auditorium, but with some adjustments we got the program into shape.
Some of our repertoire is relatively new to us, such as the reconstructed Bach Orchestral Suite, BWV 1067 (for violin instead of flute) and the Triple Concerto, BWV 1063 (for violins instead of harpsichords). Much of the program features brilliant solo playing: Jeanne Lamon, Julia Wedman, Tricia Ahern, Aislinn Nosky, John Abberger, and Marco Cera take turns in the spotlight. Our biggest ensemble piece, Lully's Phaeton Suite, is already imbedded in our memory, since it is part of our music stand-free Galileo program. The audience must notice the change, because our gazes wander from their normal course and we must suppress the urge to walk or dance about the stage. We don't need no stinkin' scores!

Our Winchester audience was mostly college students, an interesting compromise between Charlottesville's mature evening and juvenile morning crowds. The sound in the hall improved with their presence, so the concert came off well. For this blogger, being in Winchester was a bit of nostalgia, since I taught cello at the Conservatory in a previous life. Onstage with Tafelmusik in Armstrong Auditorium, where I once performed the Elgar Cello Concerto, I felt two universes colliding. Some dear old friends met me afterwards for a brief but lovely reunion.

In the morning our bus headed for New York, feeling not tanned but definitely ready for primetime. Our bassoonist Dominic Teresi had already departed in the wee hours, having been called in an emergency to replace the principal bassoonist of John Eliot Gardiner's Orchestre Révolutionnaire et Romantique for their Beethoven Symphony performances at Carnegie Hall. Luckily, he had brought along his classical bassoon for this tour. Keep your powder dry, as they used to say along the frontier!