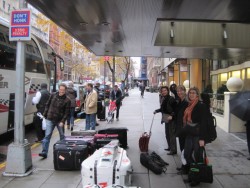 A cold and grey morning's drive, first through slivers of rural West Virginia and Maryland, then more substantial chunks of Pennsylvania and New Jersey, until at last we slip through the Lincoln Tunnel into Midtown Manhattan. We disembark at the hotel on 57th St., just a few blocks from our ultimate destination, Carnegie Hall. It happens that I blogged for the last tour which brought us here, so I will first borrow from that original impression of Zankel Hall in February, 2009:
My Life as a Blog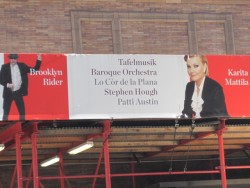 Carnegie Hall is really three different halls: There's the Stern Auditorium, the most famous one where the big orchestras play, with its rings of gilded balconies, red velvet and classical columns. There's Weill Recital Hall, (no relation to Bruno!) , once known as Carnegie Recital Hall, the traditional space for debut recitals. And now there is Zankel Hall, where we will play. This venue was created in 2005 in a below ground space which formerly housed the Carnegie Cinema. While I have played many times in the two traditional halls, I have never played in or even seen the new Zankel Hall.
The last time I was in this space was some 20 years ago, when I went to a screening of the Swedish movie "My Life as a Dog." So my curiosity was very high when we walked in on Friday for our dress rehearsal. What a lovely space it is!  Unlike the older halls, it is almost entirely framed in light-toned wood, with wooden seats padded with green velvet. The official seating is 599, and the layout is entirely flexible. For our concert, there is a traditional arrangement of seats on a sloped floor, with a small ring of balconies. The sound is warm, the audience fairly close. It seems like an ideal size for our group.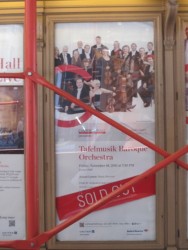 So today there is some feeling of familiarity as we approach the iconic venue again, but no less enthusiasm! But first, after four continuous days of traveling and performing, we have an evening and a morning off to enjoy New York. Everyone has their personal preferences, so I made an informal survey the next morning of where people went. The kaleidoscopic results include the Grand Central Station Oyster Bar, Neue Galerie, Museum of Modern Art, Metropolitan Museum, Brooklyn Academy of Music (John Malkovich Show), Avery Fisher Hall (New York Philharmonic), Birdland Jazz Club, Carnegie Hall (Orchestre Révolutionnaire et Romantique, with our own Dominic Teresi pinch-hitting principal bassoon). Christina and I vistited Christoph Landon's violin shop and tried a million dollar Tecchler cello.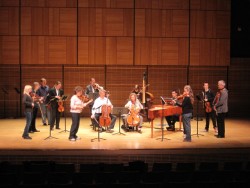 On Friday afternoon, with the sun shining for the first time during the tour, we reconvene for a full rehearsal on the stage of Zankel/Carnegie Hall. Balances and pitches are fine-tuned despite the jackhammer obbligato from a nearby construction site. The house manager tells me that Zankel's stage is 35 feet below street level, and just 8 feet beyond the backstage wall runs the subway (N, R, Q line-if you ever happen pass through the 57th St. station, remember we were there!). He also says that when Carnegie Hall first opened in 1891, this particular subterranean venue was the first to present a concert, before the more celebrated grand opening in the main hall with Tchaikovsky conducting. When the subway line was put in, they put a layer of rubber under the track nearest to Carnegie-but not all the lines. You can feel the rumble once in a while.
Because of extensive renovations being done to the Carnegie Hall towers, there is scaffolding enclosing the whole structure, and the Tafelmusik poster, proudly proclaiming SOLD OUT, is partially obscured. So plans for a group photo in front of the poster are cancelled-I should say, postponed, until our next appearance here. With all the pieces touched up and adjustments made, it's time to suit up for the concert!
--Allen Whear