I had my first taste of the gorgeous new Koerner Hall in the revamped Royal Conservatory of Music building on Bloor Street last night (October 21). And it was an amazing introduction to the place, as New York-based a-cappella group Naturally 7 put on an electrifying show.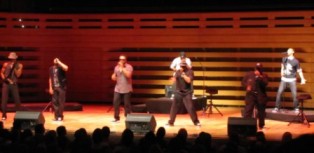 The first thing that hits you as you walk in is the "new hall smell" – all the wood features that contribute to its incredibly live acoustics, not to mention the aesthetics, are the most striking aspects of the space. The only soft surfaces in the hall – besides the audience – are the upholstered chairs and the velvet curtains that can optionally cover the side walls for amplified concerts and be put away to reveal reflective panels, for acoustic shows.
On Wednesday night, the curtains were up, since Naturally 7 makes full use of microphones, effects and loop pedals for their unique take on R&B, soul, pop and jazz. The group has been wowing crowds at the Montreux Jazz Festival and at performances with Michael Bublé with their incredible "vocal play." The seven young men each have an arsenal of sounds and abilities, imitating drums, horns, beatboxes and DJ scratches and even electric guitar, using just their voices. At one point we were treated to a dead-on recreation of Jimi Hendrix's version of the Star Spangled Banner. Alternating among intricate musical suites like their trademark Wall of Sound, quick little solos and demos of prowess, and charming anecdotes, the group had the crowd in thrall throughout the hour-and-a-half show. They even had us singing along on Feel It (In the Air Tonight) and on our feet teaching us funky dance moves.
But all the clever sounds and gimmicks in the world won't hold an audience forever; you have to give them something real, too. (As a former Irish band leader of mine once said, "You have to do a pretty ballad, or else people will think you can't sing.") So for the first song of the encore, both the hall and the group got to show us their stuff as the singers put down the mics, gathered in a tight semi circle at the front of the stage and sang a gorgeous, acoustic medley of Simon and Garfunkel songs. You could have heard a jaw drop. It was a great test of Koerner's acoustics and Naturally 7's singing skills, and they both pulled it off beautifully.
Cathy Riches