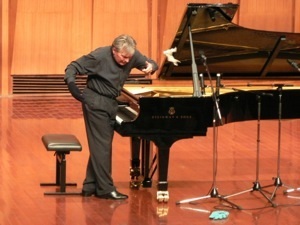 "What makes a complete musician?" That was the thought-provoking question Robert Aitken, New Music Concerts' artistic director and host of Monday night's concert at Gallery 345 asked the evening's featured soloist, Polish pianist-composer Zygmunt Krauze.
Aitken answered his own question first. He revealed that when wearing his composer's hat, his mission draws him deep inside in reflection and soul-searching self-examination. On the other hand, as a performer, he finds he must direct his energy outward to be able to engage musically with his colleagues and audience. The dichotomy is enough to tear a sensitive artist apart.
On the contrary, Zygmunt Krauze pointed out that the classical triumvirate skill set of performing musician-composer-teacher has worked for him very well. Each aspect had in his case reinforced the other to help him build a 50-year career as a "complete musician." In fact, he added, that three-cornered job-description has been the gold standard of almost all of the notable composers Europe has produced.
With philosophical matters out of the way, Zygmunt Krauze's piano recital followed on the heels of Sunday's concert. That concert featured small and large ensemble performances of the music of a cadre of contemporary Polish composers, at the CBC's Glenn Gould Studio. The present recital, however, was dedicated to the piano music of just three Polish composers, active over three centuries: Chopin, Lutoslawski and Krauze himself.
Krauze began with a muscular performance of Fryderyk Chopin's Mazurka, a-moll no. 4 op. 67 (1846), which filled the intimate gallery space with the lush sonorities of the freshly tuned grand piano. Krauze's interpretations are by no means standard, however. He regularly employs unorthodox dynamics, articulation and tempi – and even more unusual is his practice of moving off in an unexpected improvisational tangent. He did just that in this 19th-century opus, as well as in an early work by his colleague and friend, the late Witold Lutoslawski.
Zygmunt Krauze's own music for piano ranged from the early pseudo-folk – Six Folk Melodies (1958) – to the physical theatre of Gloves Music (1972), and to his mature multi-layered musical voice revealed in Refrain (1993).
For me, his Stone Music (1972) proved the most magical music journey of the evening. Performed directly on the strings of the piano and eschewing the keyboard, Krauze employed just three stones and two small metal rods to evoke slowly shifting and eerie sound clouds. Most remarkably, at times the sound which filled the space evoked quite accurately a string section and at other times a wind choir. It was soft and quite exquisite.
Andrew Timar